'First Man' Review
Damien Chazelle is 4 for 4 in this Neil Armstrong bio.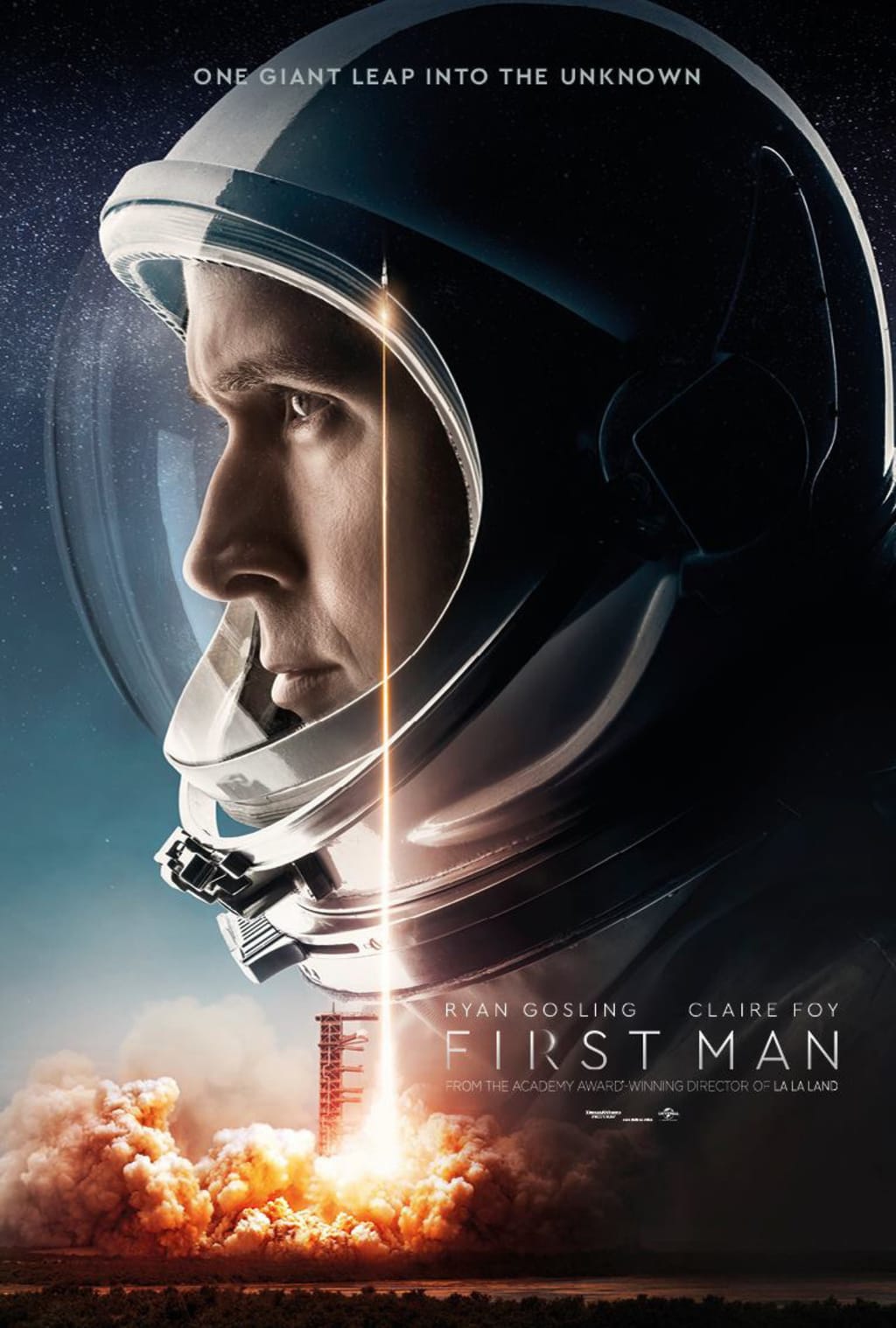 Ryan Gosling as Neil Armstrong in "First Man"
One small step for man, one giant leap for mankind. Damien Chazelle (director of La La Land and Whiplash) reunites with Ryan Gosling once again but not to be a jazz pianist—he's going to the moon and this movie is amazing.
The movie starts with Neil Armstrong testing an X-15 rocket plane going into the neck of space in 1961 and you're in the cockpit with him. There's no outside shot of the ship ascending higher like you'd see Superman flying and it feels intense because you're hearing everything rumble. You're worried the ship might fall apart but it's a success in the end but not enough to get to the moon. After that happens, he goes home to his wife, Janet (Claire Foy, The Girl in the Spider's Web, The Crown) and family.
The movie takes a bit of a turn, which I didn't know about. Armstrong has a daughter named Karen and she's sick. She has a brain tumor and there's pretty much nothing left that they can do no matter how much he tries to find help. After she dies, they have a funeral for her and Neil is stoic about it but he goes to a private room when they go home and cries.
He moves his family to Houston and goes into training for Project Gemini since he got accepted into NASA where he meets Elliot See, Ed White, and Deke Slayton. They learn that the Soviet Union has beat them to space in the Space Race but they will beat them to the moon.
By 1965, Armstrong becomes the commander of Gemini 8 with David Scott as the pilot. When they launch into space, it's successful but they end up spinning out of control and he ends up aborting the mission while on the verge of blacking out. In 1967, we find out that Ed White is going to the Apollo 1 mission but he dies in a fire in the middle of a plugs-out test and we end up meeting Buzz Aldrin who becomes Armstrong's pilot for Apollo 11.
When it's time for Armstrong to go, Janet wants him to talk to their sons about the possibility that he might not come home from the mission so after he tells them the risks about the mission, he leaves. As soon as they get in the Apollo 11, this is where the best part of the movie happens and obviously, if you read about this event, you know what happens next but it's the way that it's shown to you is what makes it so special.
Damien Chazelle is becoming one of my favorite directors today because every movie he has done is a different experience. Whiplash was not only a movie that got me into jazz but it also had me realize how it feels to want to be great. La La Land got me into jazz more but it also made me appreciate how a musical like that can play out and of course how it made me remember why I got into acting in the first place but how my dream is going to lead me to awesome people but it may separate me from people I know. Guy and Madeleine on a Park Bench was like watching a documentary of two people who were in love but they have feelings for each other even though they broke up along with the music that was amazing.
First Man was nothing but an amazing experience because of how intimate it was and I didn't know going to the moon can be so emotional. The thing that makes this movie so great is that anytime they're in a rocket, you're in the cockpit with them and you're hearing the same thing as they are which makes everything feel intense while you're hoping the ship stays intact.
The music was once again done by Justin Hurwitz and it's so good especially at the end when they go to the moon, I literally couldn't process what I saw when the credits started rolling because the music had hit me so hard. I loved the music so much that I listen to the soundtrack when I'm at work sometimes.
I don't have any complaints about the movie at all other than the fact that it's a bit too long and that Ryan Gosling's performance as Neil Armstrong was too stoic at times, which was jarring because he had more energy and personality over the radio communicating with Houston saying his famous sayings, "The Eagle has landed" and the steps for man and mankind but other than that, the movie was amazing! Lastly, the fact that they didn't show them not planting the flag on the moon and everyone is losing their minds over it is ridiculous because the whole movie is already patriotic enough so I was fine with them not doing it. Anyway, Damien Chazelle has done it again. I can't wait for the next movie that he makes because I'll be there when it hits theaters. A solid 8.5 out of 10 for me.
About the Creator
IG: eraticdemon22
Movies, memoirs, lover of music, graduate.
Tips are very much welcomed
Tips will go towards phase 2 of my traveling plan. Read "5 Decisions, 1 Change" for details of my plan.
https://vocal.media/wander/5-decisions-1-change
Reader insights
Be the first to share your insights about this piece.
Add your insights