Dummies Guide to iPhones
Learn exactly what Apple has added, taken away, and fucked with over the years with the dummies guide to iPhones.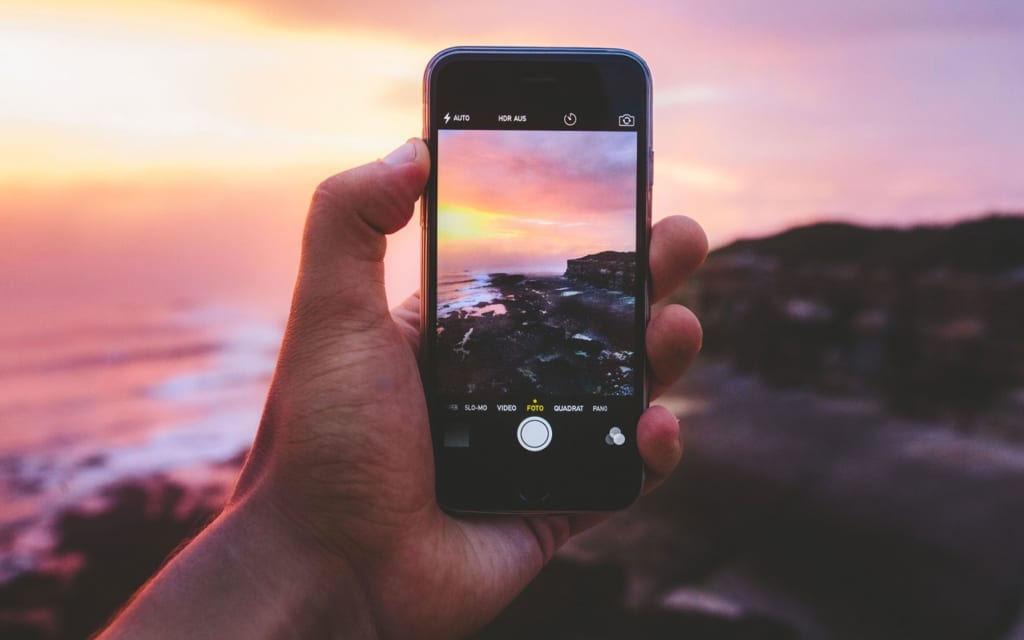 Apple continues to dominate the market for smartphones, smartwatches, tablets and portable music players—with a new grasp on the audio market with their acquisition of Beats by Dre, and new bonds with mega-corporations like Nike adding a few more pennies in Tim Cook's pockets.
One thing is for sure, though, and that's that a lot has changed with the iPhone in only nine years. For those who didn't know, the 1st generation of iPhone was released only in 2007, and since then 15 variations have been released year-on-year.
Here's a dummies guide to these changes, plus what Apple added, took away, and fucked with. I've thrown in a few of the devices' specifications too, y'know, to make myself seem a lot more technologically intellectual. Enjoy.
iPhone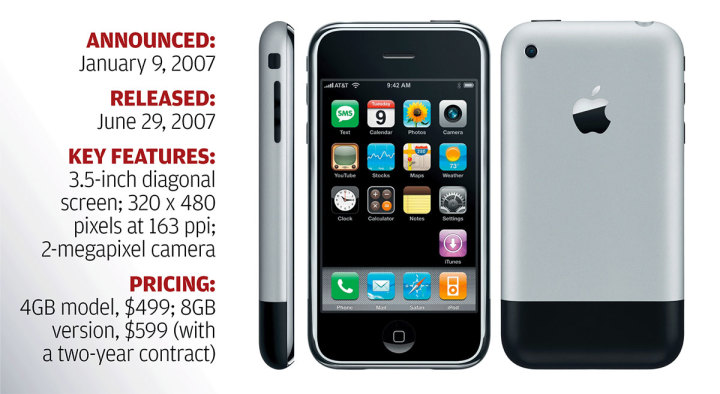 The very first iPhone was announced in 2007, revolutionizing the smartphone world with a complete touch-screen covering of the device, internal antennas, and a massive (for the time) memory allowance. Of course, the 1st generation iPhone also featured WiFi connectivity which later shook-up the portable device market beyond any other company.
Other Basic stats:
128 MB memory
3.5" screen
1400 mA-h battery
135 g
iPhone 3G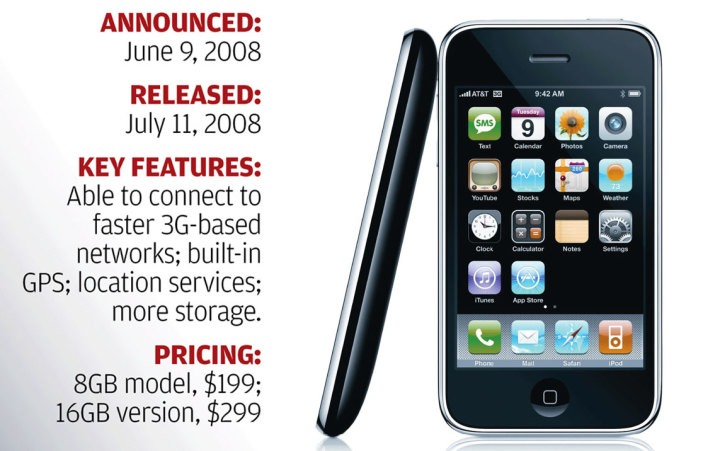 The iPhone 3G was one of the company's most popular smartphones ever, drawing on the mistakes made with the 1st generation and adding faster connectivity, improved performances, and better graphics. Whilst not a major step up from the device previous, it did make some vital steps in the right direction for the iPhone.
Basic stats:
256 MB memory
3.5" screen
1150 mA-h battery
133 g
iPhone 3GS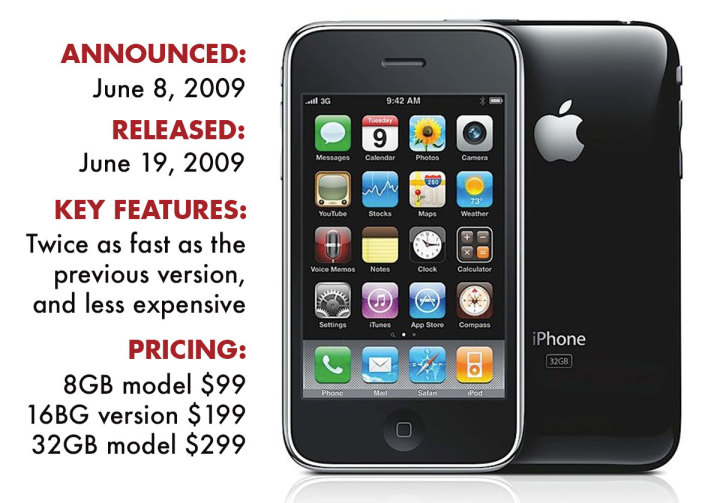 The iPhone 3GS focused on improved speed, hence the addition of the now infamous "S" at the end of the previous title. In addition, a 3 MP camera was included with a higher resolution and video recording abilities.
Basic stats:
256 MB memory
3.5" screen
1220 mA-h battery
135 g
iPhone 4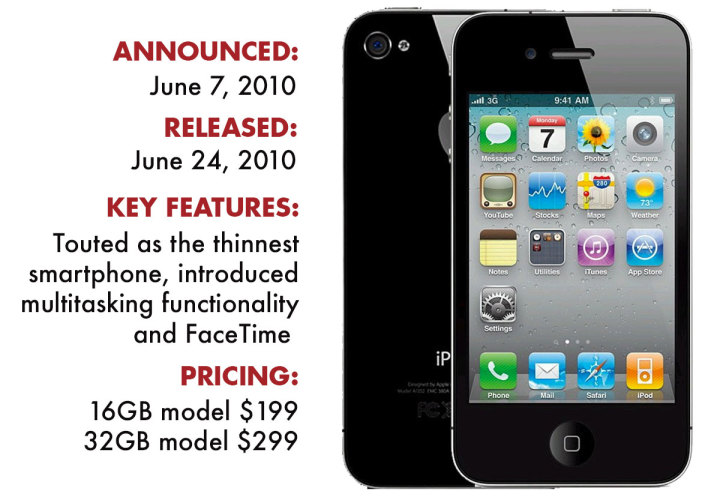 The newest in the line-up was touted as "changing everything" for the iPhone, and the company certainly heralded it for that. Specific focus was drawn on its thinness, at the time the thinnest smartphone in the world. It also had a new interface, a retina display and the beloved FaceTime ability with its new front-facing camera.
Basic stats:
512 MB memory
3.5" screen
1420 mA-h battery
137 g
iPhone 4s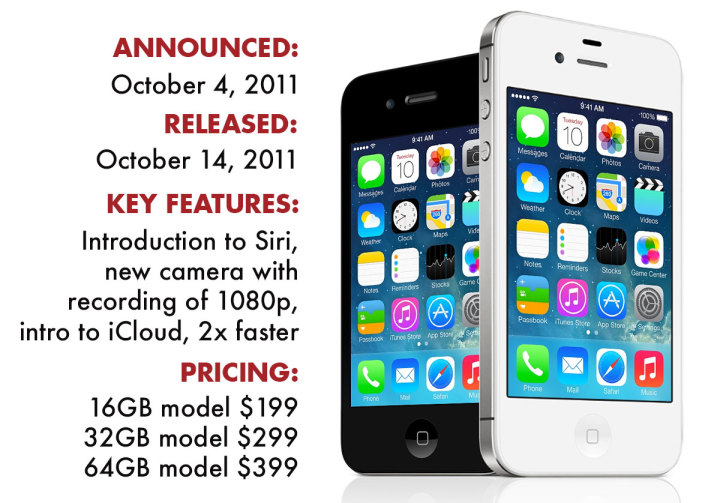 This phone was largely similar to its predecessor, except for a new feature that went on to revolutionize, and annoy many—Siri. Also, an improved camera was built, as well as a new iOS and the introduction of iCloud, iMessage, Twitter integration, and a whole load of other cool shit. Basically, this phone was pretty awesome.
Basic stats:
512 MB memory
3.5" screen
1430 mA-h battery
140 g
iPhone 5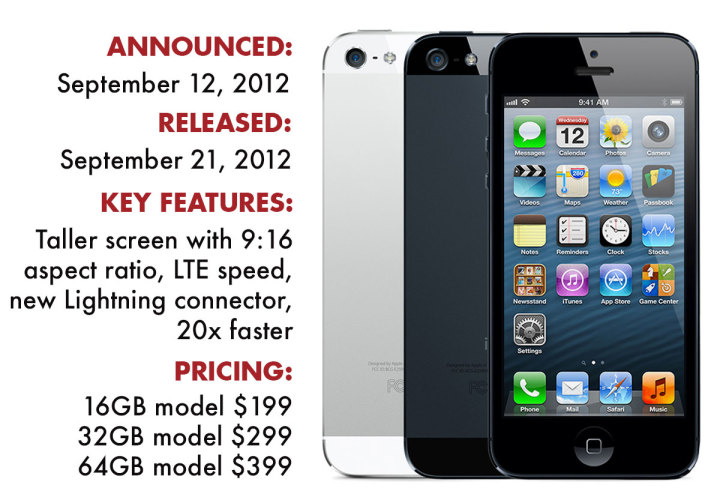 The first smartphone completely designed under the guidance of Tim Cook, the newest iPhone featured major design changes such as a larger screen, aluminum based body and the controversial lightning charging dock.
Basic stats:
1 GB memory
4" screen
1440 mA-h battery
112 g
iPhone 5s and 5c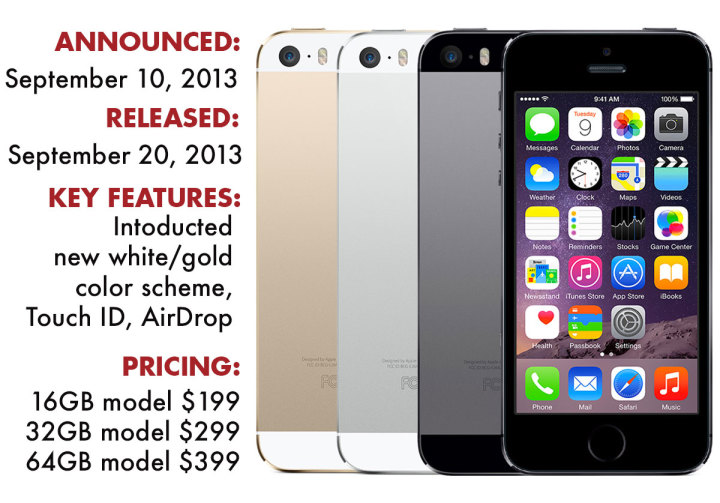 An iPhone that holds close to my heart, the iPhone 5s was my 'entry' into the Apple market; featuring incredible innovations such as new colours, Touch ID, a far-bettered camera, higher quality screen and much faster interface. The 5c was a piece of plastic crap coloured in pretty colours. It also had a worsened battery and weighed more.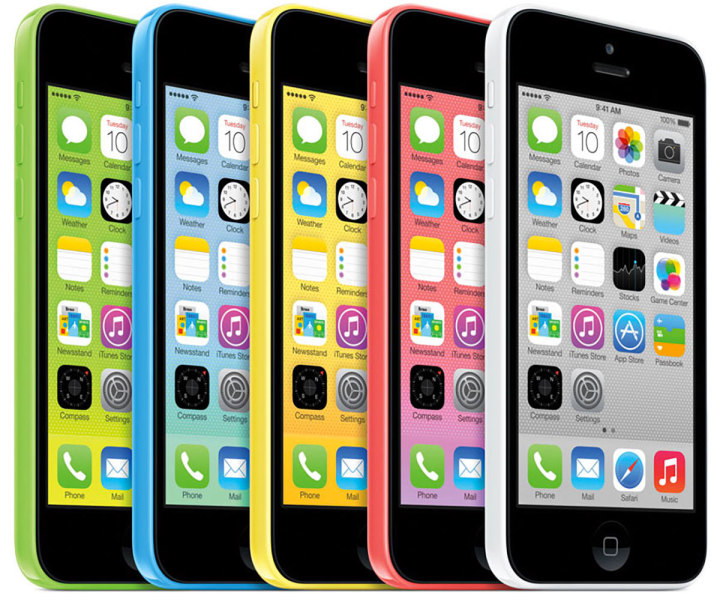 Basic stats:
1 GB memory (5s) / 1 GB memory (5c)
4 inch screen (5s) / 4 inch screen (5c)
1560 mA-h battery (5s) / 1510 mA-h batter (5c)
112g (5s) / 132g (5c)
iPhone 6 and 6 Plus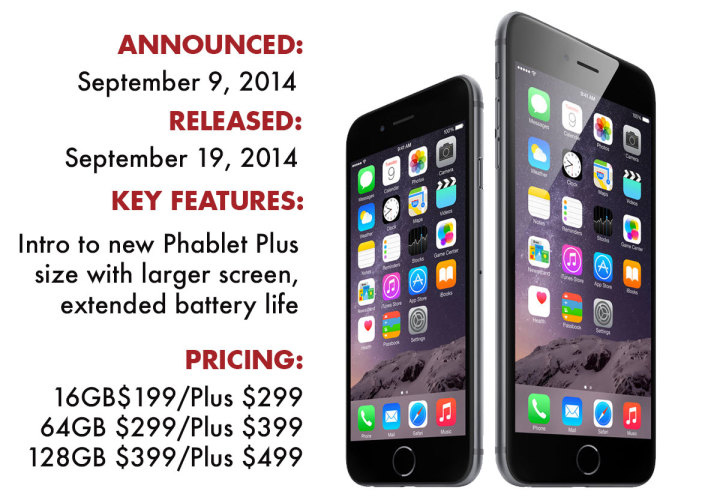 he iPhone 6 was another innovator, featuring a larger screen, superior cameras, the ability to use Apple Pay and improved WiFi connectivity. It also featured a completely redesigned body, brandishing a unique edge curvature around the entire body. The 6 Plus was just a bigger version of that, really. Oh yeah, and there was #BendGate … Google it.
Basic stats:
1 GB memory (6) / 1 GB memory (6 Plus)
4.7 inch screen (6) / 5.5 inch display (6 Plus)
1810 mA-h battery (6) / 2915 mA-h battery (6 Plus)
129g (6) / 172g (6 Plus)
iPhone 6s and 6s Plus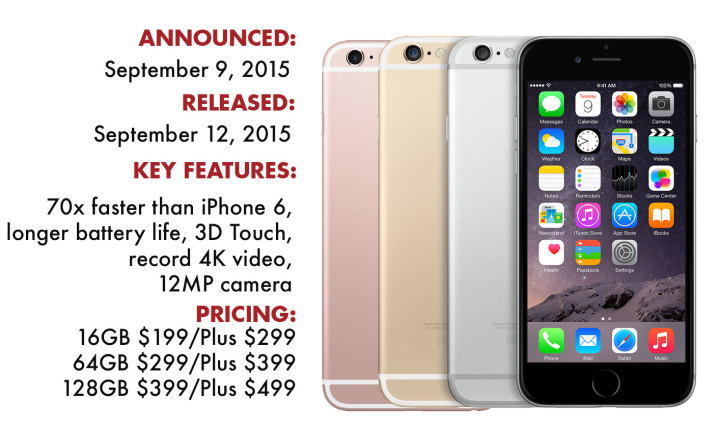 The main change with the iPhone 6s and 6s Plus was the introduction of the '3D Touch feature', designed for quicker and more integrated interfacing. In addition, the finger print scanner on Touch ID worked much faster, and it has a pretty new camera. In fact, I currently use the 6s for some of my photography – wholly recommend it!
Basic stats:
2 GB memory (6s) / 2 GB memory (6s Plus)
4.7 inch screen (6s) / 5.5 inch screen (6s Plus)
1715 mA-h battery 96s) / 2750 mA-h battery (6s Plus)
143g (6s) / 192g (6s Plus)
iPhone SE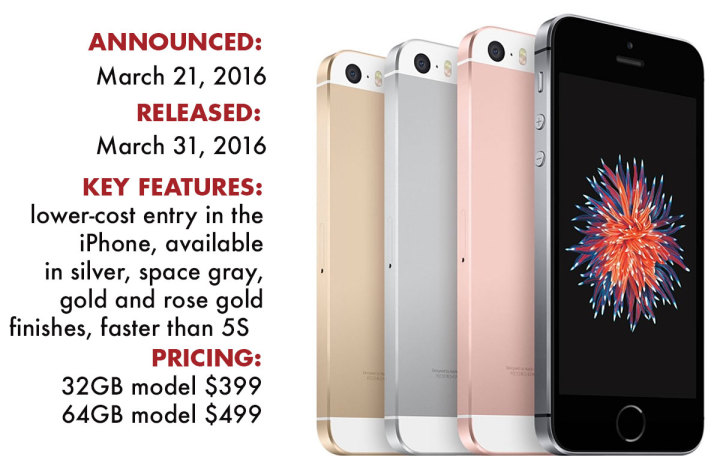 Sigh. Looks like the iPhone 5s, like, exactly. No 3D touch, smaller battery, smaller altogether. Sigh. My dad has this and I still cringe. Sigh.
Basic stats:
2 GB memory
4 inch screen
1624 mA-h battery
113g
iPhone 7 and 7 Plus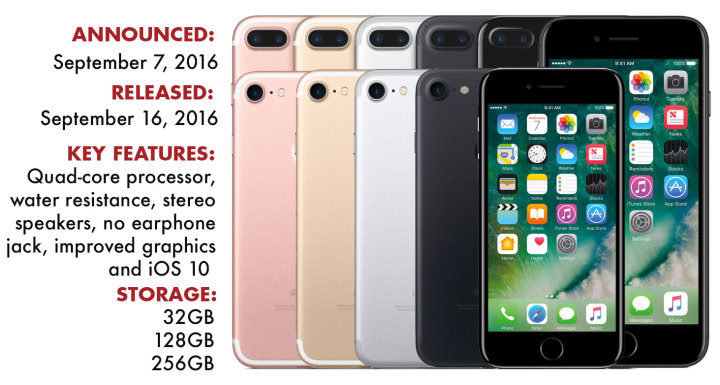 The absolute newest in the iPhone line-up, the iPhone 7 and 7 Plus are really awesome looking (they're not in public hands, as of typing this). Featuring new stuff like a quad-core chip, improved graphics, stereo speakers, water resistance, insane new cameras and a dual-camera system on the 7 Plus (that can take images with indescribably orgasmic depth-of-field profile), these are serious power-players in the smartphone world. 9Okay, so they're missing the 3.5mm audio jack for the first time, ever, but ignore that okay?)
Basic stats:
TBA memory (7) / 3 GB memory (7 Plus)
4.7 inch screen (7) / 5.5 inch screen (7 Plus)
TBA battery (7) / TBA battery (7 Plus)
138g (7) / 188g (7 Plus)
So that's it – you're now up to date with everything iPhone. From the brick-ish beginnings of the 1st generation, to the paperweight SE, all the way up to the revolutionary cameras of the 7 plus and controversy surrounding the missing audio-port. Hopefully you're now well-informed on all things iPhone, and my bias didn't hurt too much.