Disney 'Star Wars' Galactic Star Cruiser Will Feature An Immersive Experience
Are You Excited?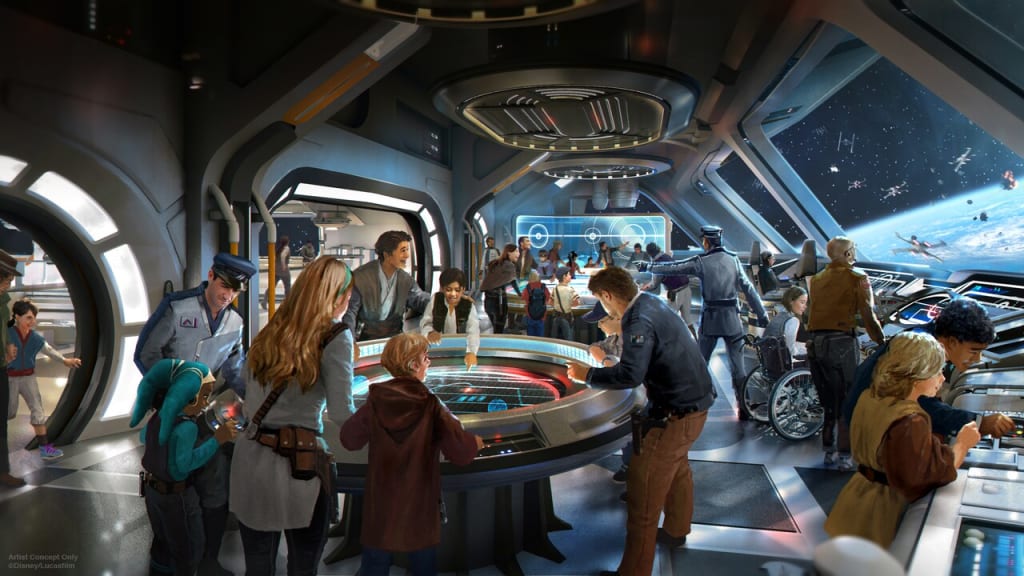 Disney's Galactic Starcruiser Hotel, designed to resemble a Chandrilan Star Line Fleet ship and christened the Halcyon, will be launching exclusively at Walt Disney World sometime during this year. While it first began development in 2017, like with so many things, the COVID-19 pandemic greatly delayed its completion, and we still do not have an exact opening date. The actual cost of the experience also has yet to be announced.
However, based on some of the details and concept art that has been released by Disney to date, the wait appears to be well worth the time waiting for it. What might the Halcyon have in store for its guests? Disney World is, as ever, seeking to create immersive experiences for its guests during their two-day stays aboard the Halcyon. To this end, Disney has announced all kinds of different activities and experiences that are expected to be made available for its guests, ranging from a lounge, guided tours of the ship, and an entertaining dinner show for its guests aboard the Halcyon.
The dining experience in the "Silver C Lounge" is expected to feature table seating surrounded by stages with various performers, although it's uncertain right now whether those performers will be Disney Cast Members decked out in costumes and apparel from the galaxy far, far away, or holograms, or possibly even a little of both.
In keeping consistent with the timeline in which Galaxy's Edge and its attractions reside, specially during the sequel trilogy, the Starcruiser experience will also include the ability of guests to accept "missions" for either the Resistance or the First Order, whatever your individual leanings might be, as well as training in the art of the Lightsaber. There are rumors that these missions may intersect narratively in some way with the Rise of the Resistance Ride, also located within Galaxy's Edge.
Or, if you maybe prefer a more casual visit experience, you can just kick back in the lounge and hit the Sabacc Table. Maybe Lando Calrissian or Han Solo will even show up to deal you in for a round. No word yet as to whether drawing an Idiots Array might win you your very own Millennium Falcon, though.
The Galactic Starcruiser Hotel, as has been previously reported, will be situated in Galaxy's Edge at the Hollywood Studios Theme Park, and, to help complete the experience of being aboard a ship, will also allow for a scheduled "shore excursion" into Galaxy's Edge for a visit to pick up supplies and enjoy its attractions. While the Galactic Star Cruiser will be located within Galaxy's Edge, its inner appearance will contrast greatly with the dusty Route 66-like trading outpost setting of Batuu. In terms of inner appearance, guests should expect a more luxurious appearance more akin to Crimson Dawn crime lord Dryden Vos' elegant Yacht as featured in Solo: A Star Wars Story or the posh Canto Bight casino featured in Star Wars: Episode VII - The Last Jedi. The Halcyon, which is first and foremost a hotel, will also feature elegant and "spacy"- looking bedrooms for its guests with full beds and also bunks, presumably for the children, with all of the typical amenities associated with any other hotel for the two-night experience.
It is unknown what the penalties might be for pocketing some of the complimentary soaps and shampoos upon your departure. Ultimately, the choices made by each guest during their stay will heavily inform the immersive story that unfolds around them. Whatever the path one chooses, the Galactic Starcruiser experience will provide its guests as much or as little excitement as they crave while floating among the stars in luxury.
Written By Mara Butler
Source(s): Cinema Blend, Delish.com, Inside The Magic
Syndicated From Culture Slate