Digital Adaptation after covid-19
Covid-19 has Digitally transformed our everyday life. Our new normal is here to stay. From E-Learning to E-commerce, find out how we have adapted Digital transformation.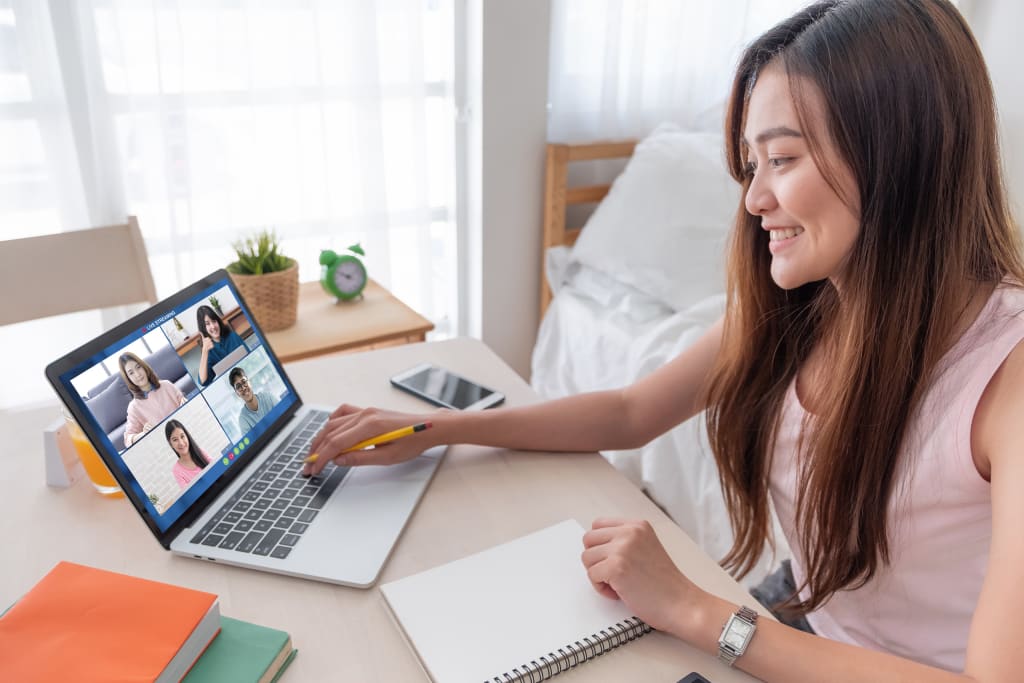 Image Source : Divine You Wellness
As the pandemic struck, it coerced radical social changes across the globe. To battle the gruesome disease, governments circulated safety and health measures that restricted face-to-face business operations, restricted large congregations, and encouraged people to work from home. Subsequently, businesses and educational institutes began to seek alternatives to continue their operations. Fortunately, technology came to the rescue with remote working options and an online education system. Simultaneously, customers began engaging in remote shopping more enthusiastically. These factors contributed to digital transformation, which has impacted businesses to thrive in an ailing economy. Hence, exploring and evaluating how digital transformation can assist people and businesses contributed significantly to the growth and development of societies even during Covid-19.
1) Digital Workplace Transformation
With Covid-19 calling the shots, businesses began to lose heavily. They quickly needed a solution to bounce back; remote working emerged as the star of the hour. Companies that quickly adopted remote work had to grapple with overwhelming new workplace requirements. They embraced transformation initiatives to make radical changes to the new way of operations but had to struggle to keep afloat. However, businesses that already had work-from-home options or employed remote staff seamlessly adopted the transformation on a larger scale with higher success rates.
Marketing automation played a pivotal role in the operational efficiency of the workforce with a mix of collaboration tools, chatbots, and other productivity tools. Nonetheless, integration of automation tools doesn't always work accurately, and employees spend more time trying to understand the tool's operation than actually utilizing it. Subsequently, companies lost several precious work hours, resulting in poor quarterly sales and revenues results.
On a positive note, digital transformation has significantly improved collaboration and productivity for remotely working for staff during the pandemic. For companies to succeed post the pandemic, they must re-assess and implement new digital tools sensibly.
2) Digital Health Solutions
The US healthcare system has significantly minimized the spread of the disease by adopting digital health solutions. Remote diagnostics and telemedicine have empowered patients to receive diagnoses and medicines conveniently from their homes. Pharmaceutical companies now utilize 3D printing technology to accelerate the production of critical medical supplies like PPE kits.
In the absence of a proven treatment or a vaccine, optimal preventive medicine is information-sharing. Subsequently, digital contact tracing is a powerful weapon to use, if we are to reduce the speed of the COVID-19 spread. Since this technology makes use of individual confidential data, it's not readily accepted in the western countries due to privacy rights. However, if we are to emerge as winners from the pandemic, data collection regulations may need to be eased.
3) Increase in Automation and Building Contactless Services
As customers have indicated a strong interest in contactless services, companies and brands are readily embracing automation. Since automation offers few processes for employees to handle, companies can now offer an enhanced user experience to their customers.
Automation offers tremendous potential to brands for managing their operations from email subscription lists to inventories, which eventually amalgamates into positive and safe customer experience. This trend has gained popularity in the manufacturing industry where employees on the shop floor work in close proximity. With automation, the processes are streamlined and the workforce is engaged in demanding roles that generate profits.
4) Digital Content Consumption
Did you know - 51% of global internet users are viewing more shows on streaming services during the pandemic?
Netflix witnessed a whopping 16 million new signups for its service in the first quarter of 2020 as homebound consumers embraced digital content services for their entertainment needs. No wonder, media houses are rapidly pushing new releases on the streaming services to captivate their audience quickly.
5) E-Learning
To maintain the continuation of education, educational institutions have adopted e-learning solutions quickly. It empowers the educators to impart knowledge and skills to our budding generation hassle-free while protecting their health.
The pandemic has severely impacted the education system across the globe, but it has opened new avenues that were not thought of before. Several academies have announced their intention to continue e-learning post the pandemic, facilitating students to gain skills remotely from any part of the globe.
With a strong need for additional skills, professionals were previously enrolled into online programs. Now, due to the pandemic, e-learning portals are gaining greater importance as more people indicate their preference for upskilling remotely, and the governments announcing the launch of digitalize training programs.
6) Digital Shopping experience
Did you know - E-commerce stores have witnessed a whooping 1000% increase in their revenue during the pandemic?
The convenience of product comparison, reviews, and same-day delivery has encouraged consumers to make online product purchases anytime, from anywhere, and with greater safety during these trying times. Subsequently, it has proved a boon for retailers to accommodate a heavy influx of demands by expanding their business online.
Conclusion
Covid-19 pandemic has certainly forced us to renew our existence. Nonetheless it has opened new avenues for businesses and people to earn their livelihood, with market automation, e-commerce, e-learning, and e-entertainment.
Login or Register With Divine You Wellness to find more blogs on Relationships, Business, Finance, Health. Click here.
tech
About the author
Ellice is a Life coach, She is an expert in giving guidence for Relationships, Health,Finace and Menatl Health.
She is also a Black Equality supporter.
For more information please visit https://divineyouwellness.com/
Reader insights
Be the first to share your insights about this piece.
Add your insights