Did Mena Massoud Just Tease Possible 'Star Wars' Casting?
Could This Be A Clue?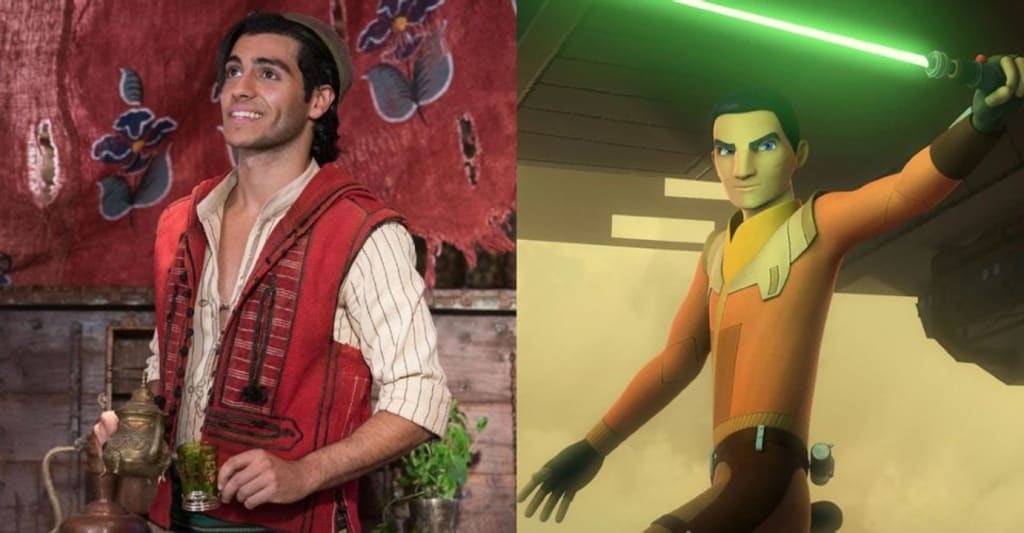 Some may recognize Mena Massoud as the actor who played the titular character in the 2019 live-action remake of Disney's Aladdin. Not too long ago, about a month ago, the Egyptian-born Canadian actor was reported by Kessel Run Transmissions to be portraying Ezra Bridger in the near future, presumably in the live-action Ahsoka series since Ahsoka Tano is looking for Grand Admiral Thrawn when we last see her in The Mandalorian. Viewers of the 3D-animated series Star Wars Rebels will remember that Ezra disappeared with Grand Admiral Thrawn, as the purrgil (space whales) summoned by Ezra take the ship on which they are to parts unknown. For three years, their whereabouts have been a mystery, and fans have been aching for answers.
It is understandable for people to be skeptical about casting rumors. However, earlier this week, Mena Massoud made an Instagram post that seemed like a clue pointing in the direction of him playing Ezra Bridger.
The caption for the shirtless picture reads, "Hey, just so you know, when I escape I won't hurt any of you." This may not seem like much, but eagle-eyed Rebels fans have pointed out that this exact quote is said by Ezra Bridger himself. Specifically, it is said in season 2, episode 9, "Stealth Strike," when he is in the custody of stormtroopers. If you are on Disney+ or what have you, you can skip ahead about 8 minutes and 45 seconds into the episode and hear Ezra say that quote.
There are sure to still be some people skeptical about all of this. After all, a few months ago, another actor, Rahul Kohli, jokingly implied that he may be playing Ezra Bridger, before revealing later that he was simply joking. One might expect that Massoud could be pulling a similar prank. Then again, this could very well go the Bo-Katan and Ahsoka Tano route, where the people portraying them on The Mandalorian were known very far in advance before they were officially revealed in the series.
With all of the characters making the jump from the animated format to the live-action format, it is only a matter of time before Ezra Bridger and perhaps some other characters from Rebels make the same transition. Recently, there have even been rumors of Hera Syndulla becoming a main character in the upcoming Rangers of the New Republic. While this has not been officially confirmed, many fans would love to see her again. There has even been speculation that Sabine Wren could appear in live-action, which would make sense given that Rebels ends with her joining Ahsoka Tano in the search for Ezra Bridger. And with Temuera Morrison having made a return to live-action Star Wars in the form of Boba Fett, perhaps he would even be game to portray another Jango Fett clone known as Captain Rex.
Of course, the future is always in motion, and we will just have to wait for confirmation of any sort of casting decision for any of these characters.
Thank you for supporting us by reading Culture Slate. We would love to hear your feedback on this topic in the comment section below. Feel free to go follow our social media so that you can stay up to date on all of our articles. You can follow us on Facebook here and also on Twitter here. Additionally, we have a Twitch channel that you can follow here and a YouTube channel that you can subscribe to here. Lastly, if you are interested in writing for us yourself, please do not hesitate to fill out our team member application form here.
Written By Steven Shinder
Source(s): Game Rant
Syndicated From Culture Slate