Designing Supermarkets of the Future
How to Innovate Supermarkets to Win the Future of Grocery Shopping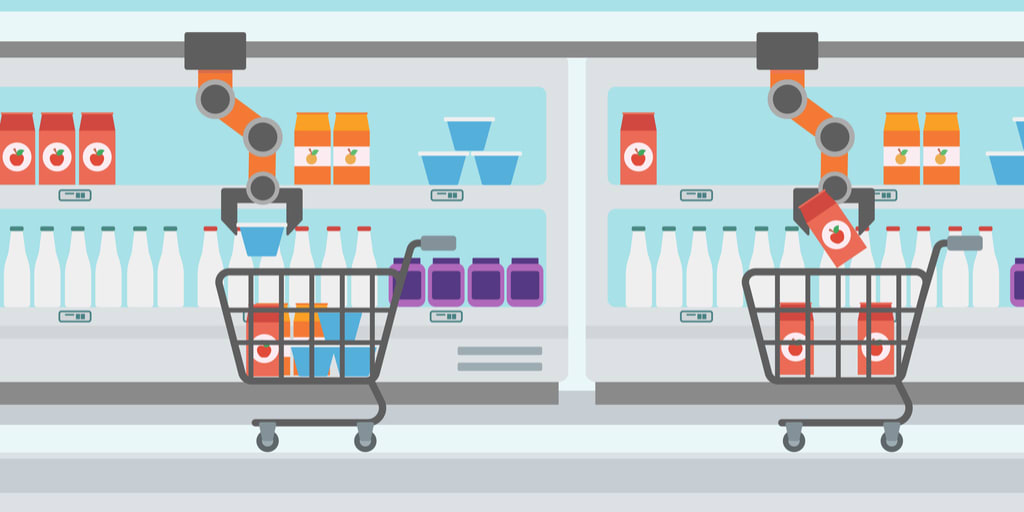 Digital disruption is reshaping every aspect of modern life. Grocery shopping is no exception. The grocery store of the future will be all about robots, artificial intelligence (AI) and self-driving technologies. And grocers and retailers will be able to leverage the power of these innovations to provide a more satisfying experience for the end-consumers. Unexpectedly, the driving force behind this innovation will be the real-world constraints in the densely populated urban areas of emerging markets.
Supermarket Challenges in the Emerging Markets
In the last century, most grocery retailers expected the supermarket model to work throughout the world. The consensus was that retailers would be able to open supermarkets in new territories and expand their user base. However, the grocery industry ran into some challenges in China, India, Bangladesh, and other fast-developing countries.
When multinational grocers tried to expand into these developing countries, they used the model that worked in the US and European markets. But in the developed nations, these stores had access to roads that could run giant trucks and ample real estate, a luxury in urban centers of developing countries, where all land is built out, and where land is sometimes more expensive than Manhattan.
The net result was that the supermarket model didn't work in the context of the emerging markets. Multinational grocers couldn't compete with smaller local grocers in these countries.
Technological Innovations Helping the Supermarket Business
While supermarkets are notoriously difficult to build and run profitably in these markets, the demand for groceries only keeps increasing. Today large grocery retailers in these areas are using the latest technologies to run online stores. They are optimizing their pipelines to bring costs down while providing faster and better services. Here are some of the key technologies that are contributing to the improvement of the grocery industry:
Big Data Analytics and Artificial Intelligence
The grocery industry has access to day-to-day information about their consumers. This enormous dataset is playing a crucial role in defining the next generations of tools. Retailers like Amazon are combining big data with artificial intelligence (AI) to create predictive analytics.
A big challenge for large grocery retailers is creating a balance between overstocking and understocking. Overstocking leads to wasted inventory space (and in the case of perishables, wasted food) while understocking results in late deliveries and poor customer experience. Predictive analytics are helping businesses strike a balance.
Retailers are using deep neural networks, a branch of AI, to train models that can better predict customer needs and environmental factors such as weather and traffic. For example, we at Chaldal, a grocery provider operating in Bangladesh, train machine learning models in the cloud to predict daily and hourly demands which help us run leaner operations. These machine learning models allow grocers to easily respond to changing demands and maintain the balance between overstocking and understocking.
Robotics and Automation
Grocers are introducing robotics to automate their processes. Shelf-stacking and store-cleaning robots are eliminating the need for human labor, which means fewer mistakes are made during shelving and packing. With these robots taking up stacking and packaging jobs, warehouses don't need aisles for human mobility, leading to highly compact warehouses, which leads to huge cost savings in real estate.
Robots are also more versatile than traditional automation that uses assembly line models. Traditional automation models are faster for repetitive tasks, but they are not very adaptive. If something changes in the pipeline, the whole automation process needs to be reevaluated. But robots are easier to reprogram, recreate and redistribute which makes the pipeline easily customizable.
Ride-sharing and Third-party Logistics
Grocers are trying to deliver products to the doorsteps of their customers within an hour. Maintaining a fleet of delivery cars and trucks to achieve this level of service is expensive. So grocery retailers are taking advantage of ride-sharing and third-party logistics.
When a single driver makes only one delivery, the delivery cost is not optimal. So grocery businesses are moving towards tight integration with ride-sharing services. It is helping retailers optimize the process by combining multiple deliveries together. The integration ensures that a large pool of drivers is always available to fulfill customer orders. Excess capacity of the delivery feet (during off-peak hours) is used to deliver packages for other firms, keeping the cost of running this vast logistics network to a minimum, and passing on the cost savings to the end-consumer.
For example, one key to Chaldal's logistical success has been pairing with a ride-sharing service, Chalao, that allows our delivery drivers (mostly on mopeds and scooters) to double up as pick up drivers under ride-sharing. This way, we're able to employ a large force of delivery drivers, and they still get work during off-peak delivery hours.
Since in emerging economies, motorbikes are predominant vehicles for transportation, using motorbike ride-sharing services for deliveries work quite well for these markets. You can expect to see similar localized integrations in other markets because they provide the optimal solution.
The Supermarket Experience of the Future
Technological innovations are fundamentally changing how supermarkets operate. More grocers will move to online models with an optimized supply-chain that will drive costs further down. Consumers can start expecting 15-minute deliveries as grocery retailers tightly integrate with ride-sharing and self-driving technologies.
15-minute deliveries at the lowest pricing will afford consumers a lot more choice, which will likely break the habits of weekly or bi-monthly grocery shopping. Instead, imagine a recipe book that you could browse and order means from, with ingredients arriving (almost) instantly. That's the world we're going towards.
The changes in the supermarket business are happening fast. For grocery retailers, it's important to keep track of the transformations in the space and make sure they are implementing the latest innovations in AI, robotics, and ride-sharing. Organizations who delay adopting these technologies will be left behind as grocery develops from retail outlets into city-wide networks.
food
Software architect & researcher specializing in high-performance, scalable and secure computing. I co-founded Chaldal.com, the world's first 1-hr grocery delivery service, to redefine high-density Urban Logistics.
Receive stories by Tejas Viswanath in

your feed