Competing with Microsoft: Google delivers new AI services for Gmail, Docs and Co.
Google would like to herald a new era for AI services and in the Workspace AI offers tools for creating slides, images and texts, proofreading e-mails and also for brainstorming and summaries.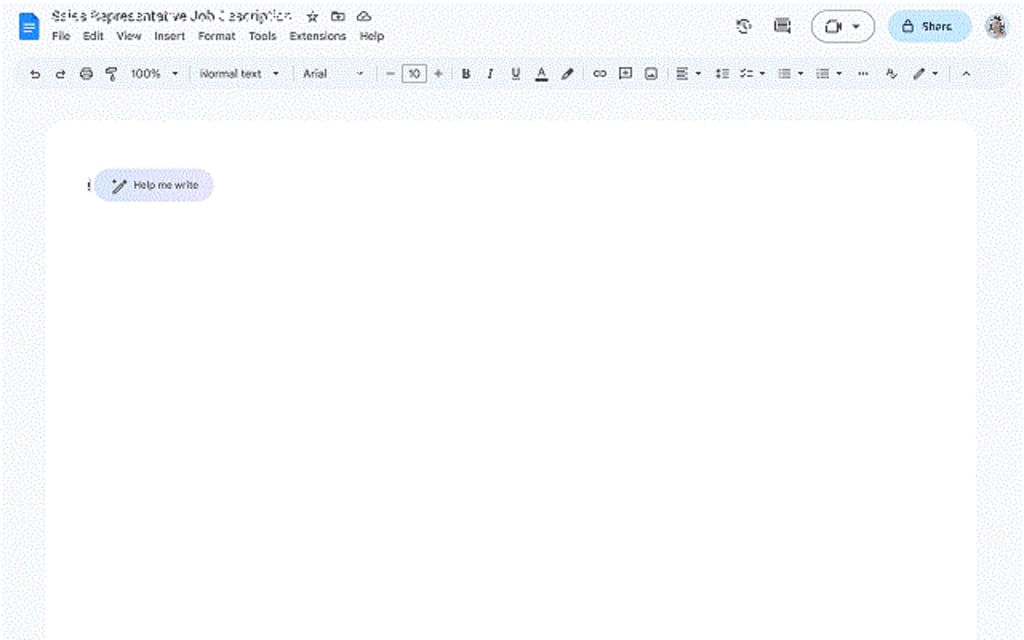 Competing with Microsoft: Google delivers new AI services for Gmail, Docs and Co.
Good news for anyone who enjoys using both AI tools and Google's Workspace services. The Alphabet subsidiary has presented a number of new application options for areas such as Gmail and Docs that make it easier for users to implement their projects quickly: from e-mails to presentations to brand videos.Google also introduced the PaLM API and MakerSuite, which developers can use to easily create and test AI apps. The company is providing these features while the AI ​​competition is entering a hot phase. Microsoft and OpenAI recently announced the launch of the GPT-4 model.
The new AI era for the Google Workspace: Simply have job descriptions or meeting summaries created by AI
On the official Workspace Blog, Johanna Voolich Wright , Vice President for Product and Google Workspace, explains which new AI tools Google is providing in this area. She writes:
We're now making it possible for Workspace users to harness the power of generative AI to create, connect, and collaborate like never before. To start, we're introducing a first set of AI-powered writing features in Docs and Gmail to trusted testers.
The following features are provided for first-time users for the Gmail, Docs, Slides, Sheets, Meet and Chat sections:
creating drafts, replies, summaries and prioritization in Gmail
the options for AI-based brainstorming, proofreading, writing and rewriting in Docs
automatically generated images, audio files and videos in slides
Transforming datasets into insights and analysis using auto-completion, formula building, and contextual categorization in sheets
generating new backgrounds and automatically taking notes in Meet
automating workflows in chat
Google demonstrates how these functions can look in action in a video:
First, the company will roll out generative AI-based features for Gmail and Docs. However, for the time being only for the so-called Trusted Testers in the USA and in English. As Johanna Voolich Wright explains :
From there, we'll iterate and refine the experiences before making them available more broadly to consumers, small businesses, enterprises, and educational institutions in more countries and languages. When it comes to delivering the full potential of generative AI across Workspace, we're just getting started.
Writing assistance on Gmail and Docs
With both Gmail and Docs, the first testers can simply specify a topic using Google's AI integration and the AI ​​will write a first draft. This can then also be fine-tuned with the help of the AI ​​in terms of tonality, text layout, wording, etc.
Google's generative AI helps write a job description, © Google
Google's generative AI helps write a job description, © Google
Furthermore, the AI ​​can help to turn notes from a meeting into a text or an e-mail. And with the help of the rewrite feature, various adjustments can be made, such as using bullet points, shortening text sections or integrating more detailed explanations.
AI rewrite feature in Google's Gmail, © Google
AI rewrite feature in Google's Gmail, © Google
These features are available on Google Workspace - initially for the tester group.
AI App Building: Google launches PaLM API & MakerSuite
Virtually parallel to the launch of the new AI tools for the workspace area, Google presented the PaLM API. This interface should allow developers to develop their own applications based on Google's highly functional language models. In line with this, Google is also presenting the MakerSuite tool. Thomas Kurian , CEO of Google Cloud, explains in this context :
The API also comes with an intuitive tool called MakerSuite , which lets you quickly prototype ideas and, over time, will have features for prompt engineering, synthetic data generation and custom-model tuning — all supported by robust safety tools. Select developers can access the PaLM API and MakerSuite in Private Preview today, and stay tuned for our waitlist soon.
The Google Developers Blog explains how developers can use the tool. Accordingly, they can use the tool to iterate prompts, augment their own datasets with synthetic data, and easily tweak custom models. And when it comes to coding, MakerSuite lets you export prompts as code in your favorite languages ​​and frameworks like Python and Node.js. In addition, Google offers the tuning, scaling and generation of suitable embeddings with MakerSuite.
The functions are initially only available to selected developers in a private preview, but will soon be rolled out to even more developers.
Meanwhile, the search engine company continues to work on numerous AI integrations – also in the cloud. In the Google search, on the other hand, AI features have been available for a long time, not least since the integration of the MUM technology . Most searchers may have to wait a little longer for the AI ​​chatbot Bard, Google's answer to ChatGPT.
About the Creator
Dan Oproiu is an IT Programmer, providing digital transformation services for businesses from small sized to large enterprises.
Reader insights
Be the first to share your insights about this piece.
Add your insights