Chadwick Boseman Was Originally Supposed To Be in 'Mandalorian' Season 1 According to Concept Art
What Could Have Been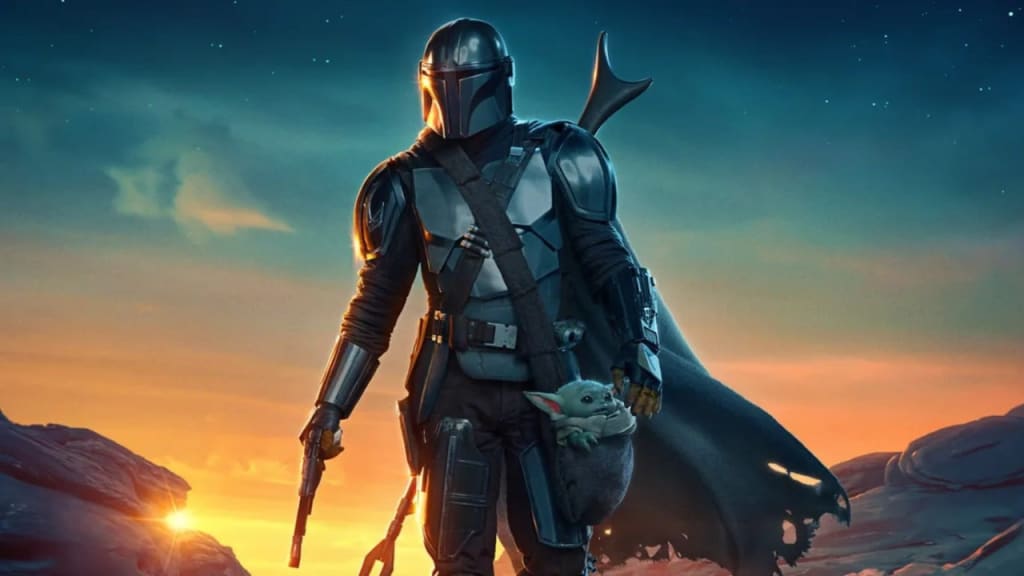 The Mandalorian is easily one of, if not the best, shows on Disney+ right now. It is also the best Star Wars show available on the platform. The adventures of Din Djarin and Grogu through the galaxy has been a great ride for fans everywhere. Mando hasn't always been alone in his journeys, though. He has had a lot of help from friends, mentors, masters, enemies, and creatures along the way. These characters have also been brought to life by some truly fantastic actors and actresses, such as Carl Weathers as Greef Karga and Rosario Dawson as fan favorite Ashoka Tano. There have also been some cameos from equally impressive stars like Jason Sudeikis and Bill Burr. But fans have recently gotten a look at some early concept art for the show that reveals some more impressive stars we almost got in the series.
A concept artist for Lucasfilm named Brian Matyas, who was the lead character designer for The Mandalorian, did an interview with the National Arts Club to talk about the show. During the interview, Matyas showed off some of the concept art he did for the show, and some of these featured never-before-seen designs of some of the characters. The biggest surprise came when he revealed some of the original actors he wanted to be in the show and who he based his designs on.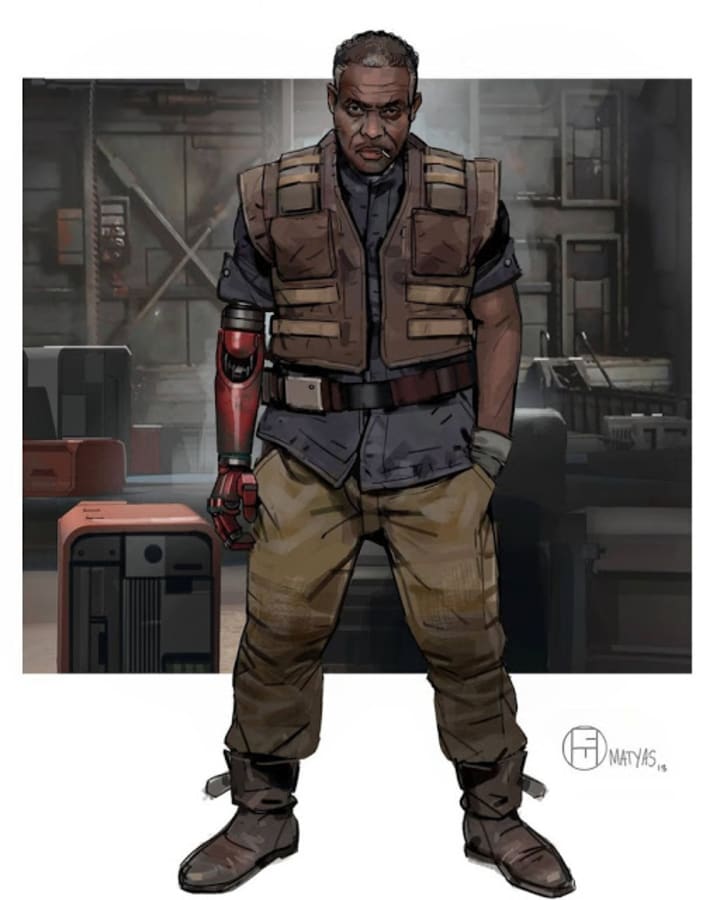 One of the slides in his presentation showed Idris Elba in the role of Ranzar Malk in the first season. Ranzar Malk was introduced in "Chapter 6: The Prisoner." In the show, he was played by Mark Boone Jr. However, Matyas' later mentioned in an Instagram post that he originally wanted Elba during the conception phase. He wrote, "When I tried to get Idris Elba into Mando s1 as what later became Ranzor Malk."
That was soon followed up by an even more amazing reveal. Soon after the concept art was shown of Elba as Malk, another piece came up showing the late Chadwick Boseman. He was dressed in what looks like a smuggler's outfit, although no description was given. Matyas also did not post or mention what role he had envisioned for Boseman or who this character was. There is also the chance that this character, through the creation process, became a different character in the show that we have seen portrayed by someone else. Still, it is amazing to think that we could have had both Idris Elba and Chadwick Boseman in Star Wars. It is also a great testament to Matyas' skills that he put this much thought and detail into his concepts for the characters.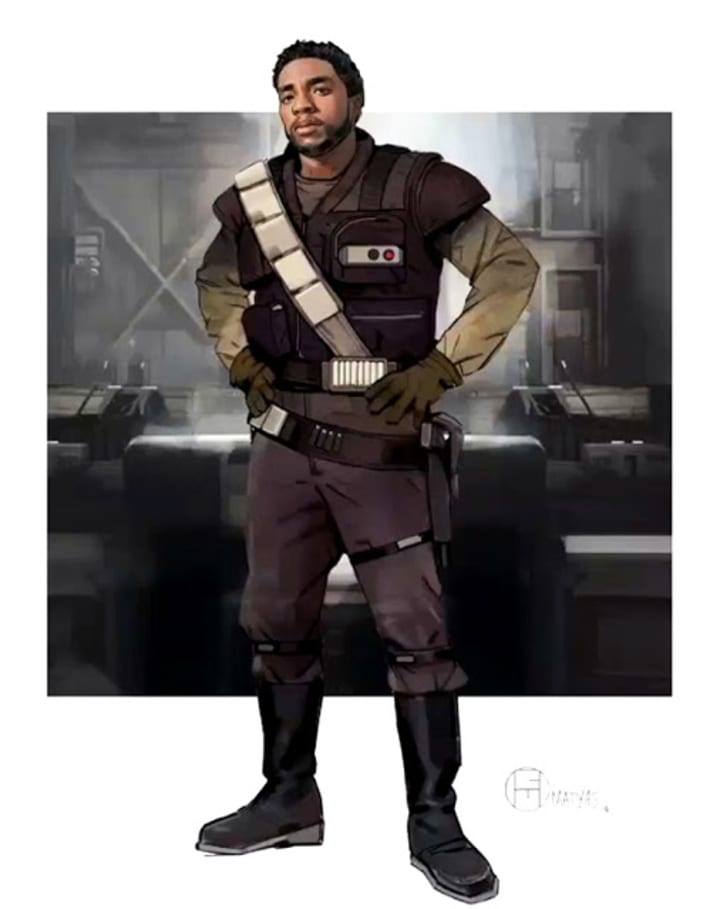 It seems unlikely that Disney would cast such high-profile actors in minor roles in a TV show, or that they would have had the budget for casting either one or both of them. With both of these actors having large roles in the Marvel Cinematic Universe, it would seem odd not to use them as major parts in their extremely successful Star Wars show. However, seeing them in the Star Wars universe in any way would have been amazing. The thought of either of them as smugglers, bounty hunters, Jedi, Sith, or anything gets me excited! That is what makes the tragic loss of Chadwick Boseman late last year even more tragic. He was truly an incredibly talented person who had a lot more to offer. Fans will unfortunately be left to wonder "what if?" At least we know that Matyas tried to make his what-if a reality. This also may not be then end of the Star Wars line for Idris Elba. He has a knack for appearing in some of the more "genre" movies like Thor and now The Suicide Squad. Maybe we will get to see him pop up in a galaxy far, far away sometime soon.
Written By Alex Lenzini
Source(s): The Direct
Syndicated From Culture Slate