Brutalist Stories #53
Exposed Lines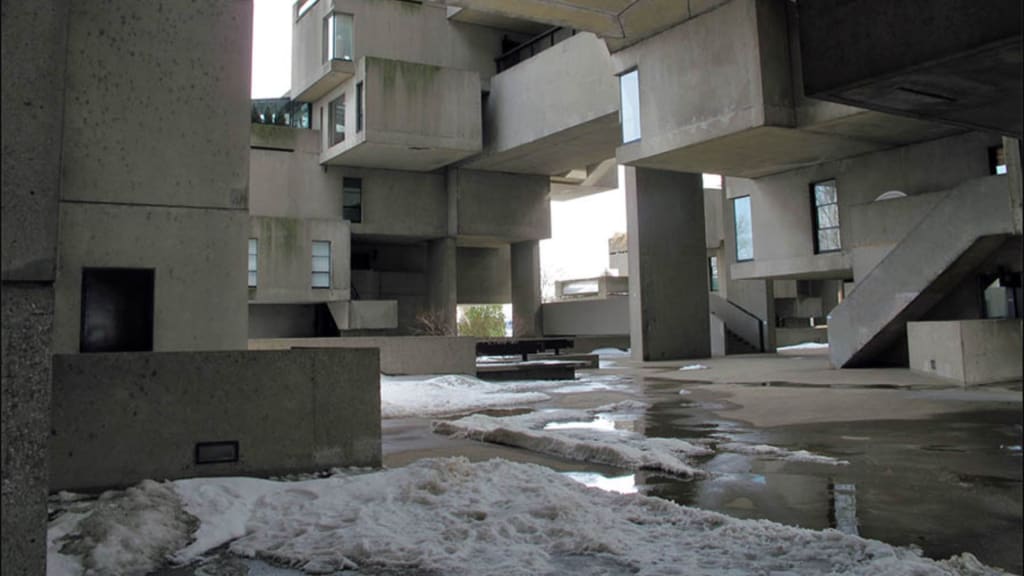 Building inspiration: Habitat 67 Montreal
I'm stood and trying to remember the days of the South West Four. That group of men and women that tried so hard for so long to bring about change. What did they do in the end? For all their hardship and fight and grit, there really wasn't much they could do. Two men and two women against the Party that had the entire resources of the interplanetary system behind them? No, not much good, not much hope there, but they tried.
"No chance, no, they never existed. How could they? They're just a ploy by the Party, they're another dirty trick to get into our heads. Just another tactic that says to us, 'Look, stronger, smarter, quicker people than you tried to take us on, and they didn't stand a chance, we foiled them at every opportunity and in the end, we caught them and strung them up and skinned them alive for you all to see.'"
"Quiet, Jerry," I say as we warm our hands on the oil-drum fire, the embers flickering up into the night, our cold breath visible in front of our noses. The night sky has an illuminance from the drones hovering above covered with thousands of images that the Party want us to see.
"Don't 'quiet Jerry,' me you asshole, I'm telling the truth, sooner you accept that the better," he says and puts his mitten covered hands underneath his armpits, shaking his head.
"You know, for you Jerry, and your kind, the South West Four, they represent a sort of fear, something to make you think that any act against the party isn't a good idea." I look at him across the fire and see his furrowed brow. "But for some of us, you know, the Four, they show that even if it might be futile, even if it might be completely worthless, there is still the idea that we can try. That there's still some guts left in this world, and that there's still some fight left in some of us."
"Oh, so you're one of the believers, one of those that thinks they were real and that everything that happened and was reported on and shot through the feeds and you heard on the grapevine actually happened? That a band of four people acquired some Party nano-tech that made them super strong and super intelligent and that they gave the ol' Party hell? Bullshit."
"I gotta believe it, Jerry. I have to, what else is there?" I say as an artificial police-officer walks up to us, and in its hollow, robotic voice says.
"It has been observed that you have been talking for approximately 180 seconds. This has been noted and recorded and your rations have been duly deducted in compliance with the 'Extended Fraternisation Code,' Statue 127. If you wish to raise an appeal, please contact your local ration officer."
Just silence between the two of us as the machine walks away. Just silence as we both try to warm ourselves knowing that we'll go hungry for the next month now. Just silence as we both realise that one or both of us might not make it that long with limited rations. Just silence as I think of the South West Four, and how I might die, for the sake of hope.
Building inspiration: Habitat 67 Montreal
Musical inspiration: Eliane Radigue - Kyema
science fiction
Short sci-fi stories in 500 words or less deriving from the stark style of the functionalist architecture, that is characterised by the use of concrete.
Receive stories by Brutalist Stories in

your feed