Brutalist Stories #10
BLACKSTONE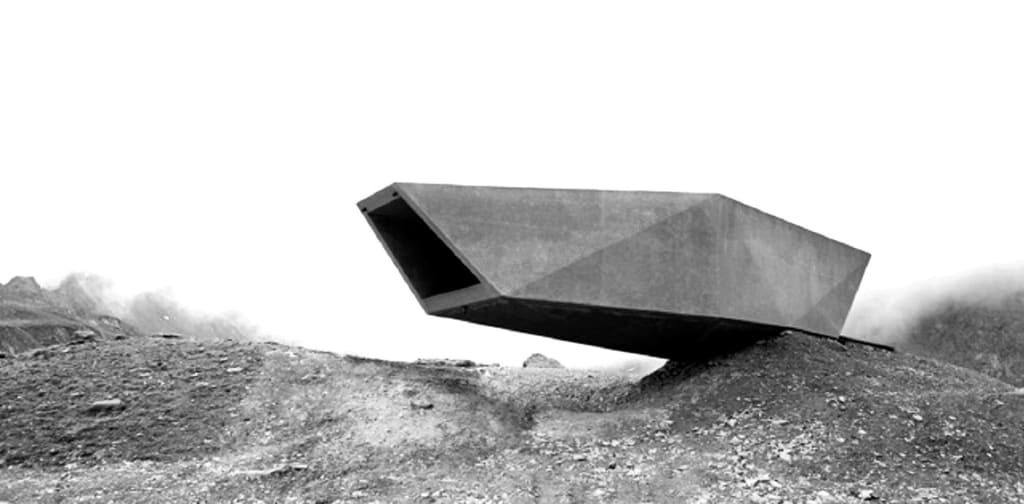 The Timmelsjoch Experience
He had decided the previous night that they were guilty. There was no future here, a finger tapping an ivory key on an out of tune piano, forever. Nothing could sync in this place, always it resonated with wrongness.
His right arm stretched out, leaning him against the wall, hand flat on the course concrete surface, fingers curling just enough for nails to scrape a fraction, sending a faint echo of tactile feedback down his spine.
The sky lit up flaming yellow outside, the panel in front of him flashing with the command signal. "Sir, we need the order, do you wish to proceed?" His lieutenant asked him from behind.
He hadn't, he didn't, he wanted to know something could be saved, but over and over again they had failed to make it work and last night, he had made that decision. They were guilty, all of them.
Out here on this desolate planet, with this peculiar race that had been given so much and ruined every part of it. There was nothing to save of them, they were guilty of it all. They had denied themselves a future from the actions they had taken, but were they responsible? Was there any salvation for them? The questions over and over again, he was their Judge, and he was about to take away the pitiful remnants that they had left.
"They cannot be saved sir, the planet is best set to reclamation. If we leave them, they may one day spread."
He knew the logic behind it and what hope did they really have? Millennia rising up and up, billions of them toiling and fighting for life. They had strength, a will that he had rarely seen, but it was out of sync, they could not control it, wild and guttural and all but a few had refused to be taught. So, now he stood here, with the panel flashing in front of him and their fate floating in his mind. They were guilty, surely.
"Who are you, to judge us?" That's what they would say, he knew that's how they would respond. "We may have done wrong, but it was ours to do, this is our home!" They would scream the air from their lungs and demand their right to life.
He lowered his head, he knew their life would consume others, so many others, that have and might yet find harmony, but theirs was a path that had forked a long time ago, and they had chosen the wrong way.
"BLACKSTONE." He said and pressed the flashing panel in front of him.
"Immediately, sir." He heard his lieutenant reply with a click of his heels followed by the heavy step of his boots on the grey floor.
BLACKSTONE, wipe them out, entirely. No history, no remnants, they were guilty and they would be disappeared, so that others might have their chance.
Building inspiration: The Timmelsjoch Experience