Brian Ghannam on 5 Industries That Will Benefit From AI | Atlanta, Georgia
Tech leader Brian Ghannam provides insight on how artificial intelligence can benefit different industries.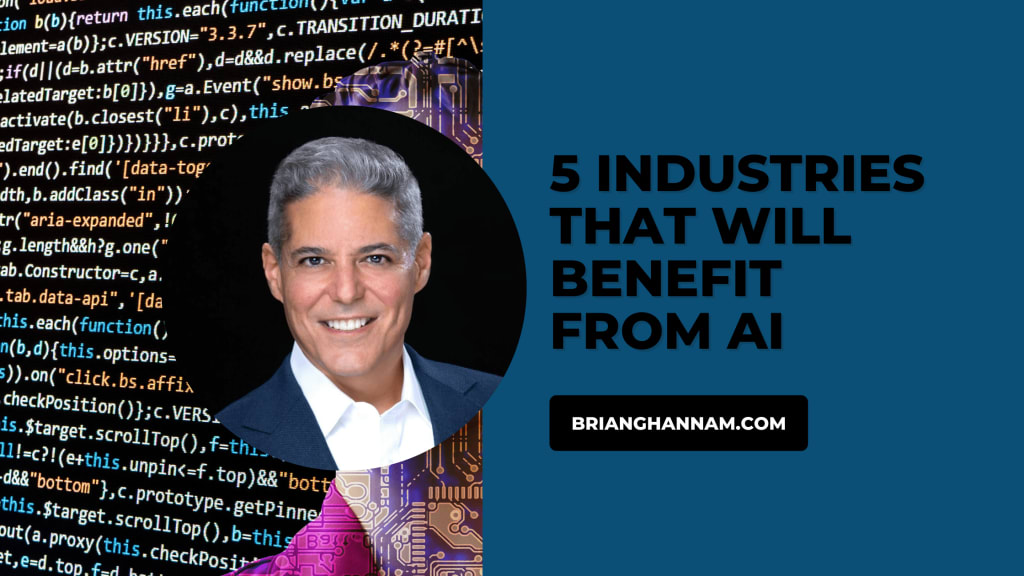 https://brianghannam.com/5-industries-that-will-benefit-from-ai/
AI is quickly becoming integral to almost every industry, sparking new directions and innovations. AI is being used to improve the efficiency and effectiveness of their operations. Here are a few of the most prominent sectors that will benefit from its use.
Education Sector
In the past few years, the education sector has undergone a radical transformation due to the emergence of new technologies and the shift toward remote learning. Despite the changes, there's still room for AI to improve how students are taught and receive an education. Currently, school curriculums are very rigid and do not consider students' individual learning needs. With the help of AI, teachers can create personalized learning plans for each student.
Healthcare Industry
AI could be used in the healthcare industry to improve the accuracy of pathology reports and provide more effective and personalized care. It's unclear if patients would accept the idea of having their doctor replaced by an automated system, but this technology shows how it can support existing processes. Even though trained healthcare professionals will still need to interpret data and provide effective diagnosis and treatment, AI can help them do so more efficiently.
Agricultural Sector
AI can help the agricultural sector improve its efficiency and achieve precision agriculture. Through the use of machine learning and AI, the sector can automate certain functions and increase the effectiveness of its operations. This technology can help farmers identify the most effective and efficient ways to implement their inputs.
Real Estate Industry
A recent report noted that AI could help the real estate industry by providing buyers and sellers with more accurate and timely information. This technology can also help them find the ideal property and speed up the process. It additionally claimed that this technology could help developers perform market analyses to improve their returns.
Retail and Goods
Through the use of AI and machine learning, the packaged goods and retail industries can improve their supply chains and maximize their profits. Machine learning can help them analyze vast amounts of data and provide shoppers with customized recommendations. Knowing the buying patterns of their customers allows businesses to keep their shelves stocked and make more sales.
About Brian Ghannam
Brian Ghannam is an Applications Sales Manager with Oracle, one of the top purveyors of cloud-engineering and database management systems worldwide. Brian has spent over two decades in leadership roles within the world of tech sales and business development. One of the many ways in which Brian stands out from his competitors is the ease at which he performs in various settings. He is similarly at ease helping start-ups gain a foothold as he is with launching products for the world's most reputable technology companies. Throughout his career, Brian has helped businesses thrive from the ground up and guided C-level executives through product launches and marketing strategies. His diverse skill set encompasses a wide range of technical areas, including SaaS, ERP, inventory management, business analytics, human resource management, customer relationship management, supply chain management, and financial reporting.Brian Ghannam received his Bachelor of Science degree in Packaging Engineering from Michigan State University, located in East Lansing, Michigan. While at school, Brian played for the Michigan State Golf Team. His love of golf has stayed with him ever since.
Brian's first job after graduation was with Berlin Packaging. Brian exceeded his sales quotas as a sales representative for the Chicago and Atlanta teams. Following this position, Brian became the National Account Manager of Enterprise Solutions for MASTECH Digital, a staff enhancement firm. While employed, Brian Ghannam consistently proved his sales acumen by exceeding sales quotas yet again.
As an Account Executive for J.D. Edwards, Brian spent several years learning the ins and outs of ERP and SAP solutions and how they consolidate all aspects of a business. Brian closed over $500K in professional services and exceeded sales goals by 50%. During this time, Brian Ghannam also oversaw the launch of J.D. Edwards in the Southeast Region.
About the Creator
Brian Ghannam attended Michigan State University and received his bachelor's degree in Packaging Engineering. During his time at college, Brian was actively involved in golf & fraternal organizations. He immediately began a career in sales.
Reader insights
Be the first to share your insights about this piece.
Add your insights