Book Review: The Poppy War by R.F. Kuang
The Poppy War [Harper Voyager May 1, 2018] offers a thrilling grim-dark fantasy epic that twists and jerks you with every turn of a page.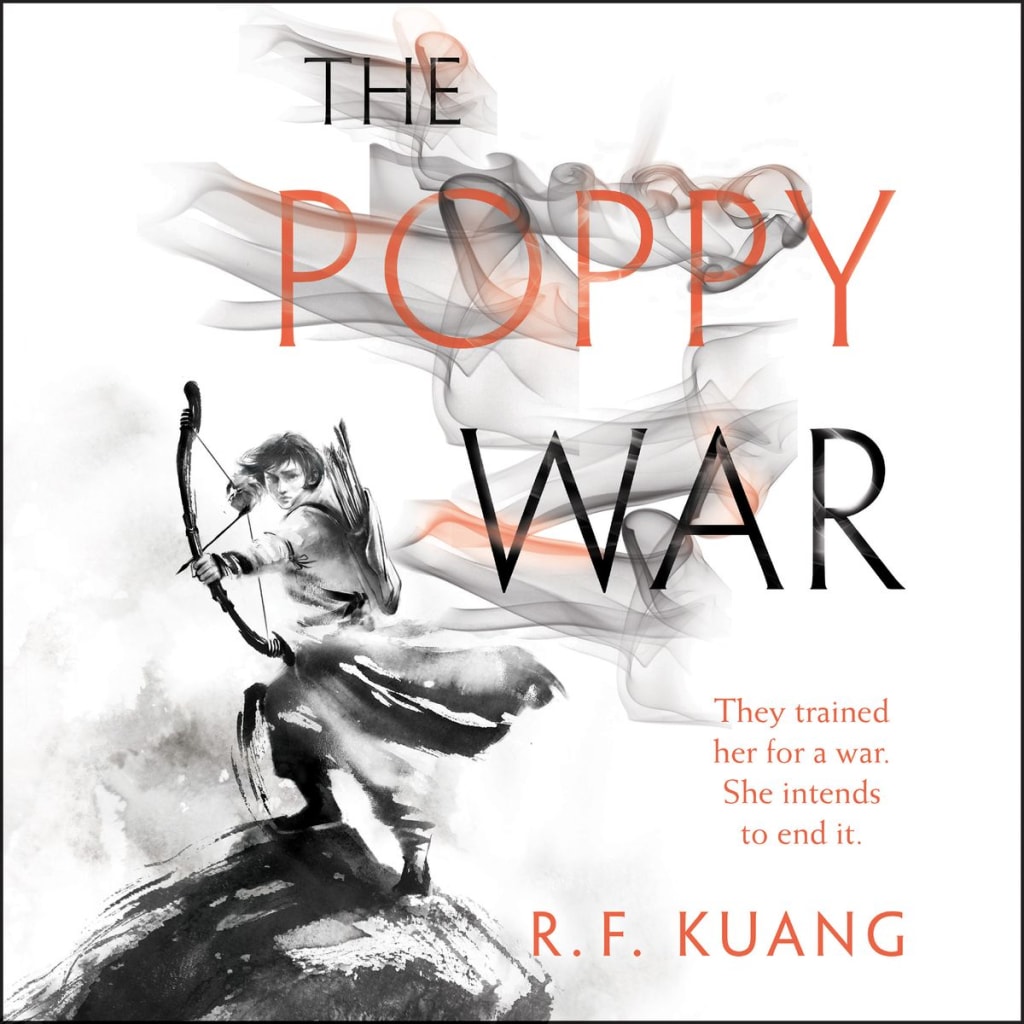 Despite being a war orphan, the dark-skin peasant girl, Rin, surprises her entire village when she aces an Empire-wide test called the Keju through hard work and dedication. Rather than help further her guardians' criminal enterprise or live out the rest of her life serving someone - Rin seeks her path in the prestigious Imperial Academy of Sinegard.
While studying at Sinegard, Rin learns the true and destructive power of Poppy and a connection to Nikan's Gods through shamanism. She faces adversity from her instructors and fellow peers from her lack of skill, inheritance, social class, gender, and skin color. But this doesn't stop Rin and just like acing the Keju, it only fuels her desire to rise above everyone one else like the Phoenix God.
The coming-of-age story and battle-academies are quickly shattered when the rival country, the Federation of Mugen, launches a military occupation of Nikan. Rin's shaman training is cut short and the young woman is thrust into a war that kills soldiers and innocents alike and Rin must decide how far she's going to go to end the Poppy Wars once and for all...
The Poppy War was a novel that I had wanted to read for some time but with my senior year at school and work and then the event of 2020 that won't be mentioned, I decided to catch up on that very long reading list of mine.
Since it would have taken weeks to get the physical copy sent to me, I opted to try out the Audible version of the novel narrated by Emily Woo Zeller. [audio review at the end]
My thoughts and Feelings
R.F. Kuang masterfully crafts a coming-of-age story in the guise of a Chinese-influenced fantasy that takes aspects from the real-life Second Sino-Japanese War and the Opium Wars. The way Kuang is able to introduce the familiar: an orphan who aspires to rise above the rest, goes to a special war academy, learns of using ancient magic - and then proceeds to turn us down a road that is less-glorious and familiar.
Kuang shapes a story of war that slaughters both soldiers and innocent civilians and the difficult decisions that Rin has to make that costs her humanity. What I loved the most was that Rin was ambitious and rarely do we see a protagonist in a story that always makes morally correct decisions and when your in the thick of the novel every thought, reaction, and decision Rin makes seems completely understandable as to why she does the things that she does. Rin manages to be a strong female protagonist but has real, human, flaws and an ambition that'll rule the world if she wants.
On a technical level, Kuang's writing is a master-piece and truly sends shivers down your spine as you follow Rin through this gruesome war from a brutal siege battle, a bloody occupation and stand-off, to mass-destruction and deadly magic. I was absolutely enthralled with this book and Rin's character.
Audiobook Review
Emily Woo Zeller does a great job with the narration throughout this entire novel. My only complaint is that while Zeller gave a good performance, at times it was hard to keep up with who was speaking in conversations and the different voices were almost always the same, making it hard to tell who was speaking at certain times. Of course this may be a "me problem" and you might not find issue with that (and if that's the case, more power to you). I do suggest finding an image of the map as well because when locations get tossed around, you'll find yourself pretty confused at times.
Zeller has a great voice and her narration perfectly matched how it would feel to have Rin recount her tale or be inside Rin's head. If you like audio books or are thinking about trying audio books, this is definitely a great pick.