Boggart Hole Clough
Angels Hill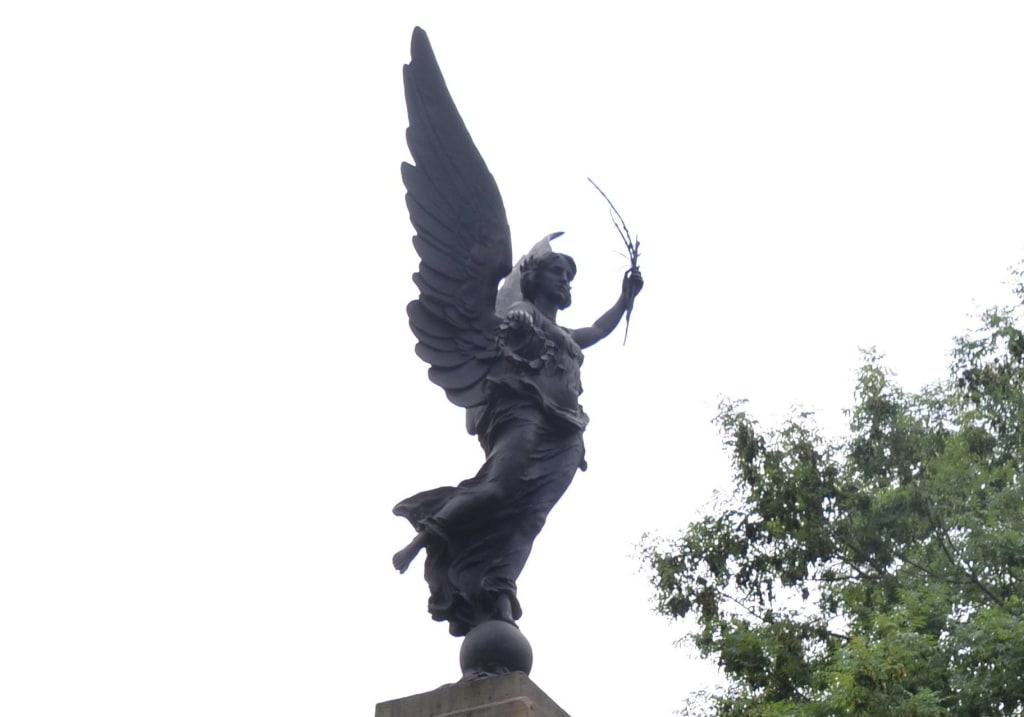 The Angel
Once upon a time not too long ago, a young family moved to a wonderful place called Blackley, and in Blackley was an even more wonderful place, called Boggart Hole Clough.
One winter's day little Avé looked out of her window to see the best thing ever… snow!
"Come on Wyn!" she said, "it's snowing! Let's go to the Clough and play!!"
"Yay!" said Wyn, "Let's go to Angels hill and slide down it!"
"Angels Hill?" said dad, "I used to love going down there in the snow. Best take a cardboard box with you!'
"A card board box?" said Wyn.
"The best sleigh a poor boy had!" said dad, and he showed them how to turn a cardboard box into a sleigh!
Off they went to Angels hill! and as they went up, the snow got thicker. They went past the bowling greens, past the tennis courts, down the brew, round past the café and the hen house, and up the top to Angels hill.
The snow was so thick you could hardly see the Angel! And the snow spread all the way to bottom of the hill, and only the stream cut through it. Pretty soon they were at the top.
"Come on Avé" said Wyn "Jump in!" and in they jumped into their new "Sleigh"
They started off slowly and slid down the hill As they went down, they went faster and faster until they got near to the stream, and then as the ground flattened off they came to halt in a pile of snow!
"That was awesome!" said Avé "Let's do it again!"
So, up they ran, back up to the top of the hill ready to go again.
"Let's go faster this time!" said Avé.
"You want it, you got it!" said Wyn.
This time Wyn pushed off really hard, and they went flying down the Hill. This time they went even faster!
As they got to the bottom near the stream, Wyn realised they were going too fast, and wouldn't be able to stop in time!
"Oh no!, look out Avé!!" shouted Wyn.
Just then, as if by magic, they floated up in the air and softly glided like a magic carpet ride above the stream, and gently down onto the other side.
Wyn quickly turned around to check what happened, and they were safely across the other side, and as he did he thought he saw the Angel move, ever so slightly!
"Did you see that?" said Wyn to Avé.
"See what?" she said.
"Nothing," said Wyn.
"That was brilliant!!" screamed Avé, "Let's go again," she said, running back up ahead of Wyn.
As they got to the top Wyn looked closely at the Angel, and noticed there wasn't as much snow on her.
"Come on!" said Avé, and she had already started to push the sleigh down.
"Wait for me!" said Wyn and he had to run and jump on the back of the sleigh, which made the sleigh go even faster!
"Wheeeeee!" screemed Avé as they raced down the hill.
"Noooo!" said Wyn, "we are going to land in the stream for sure this time!!"
And just like a miracle again, as they approached the stream, they started to float up and over the stream, and landed gently on the other side!
This time Wyn looked quickly around and was sure he saw the Angel move back into place.
"I was right Avé! the Angel did move, it must have come down and saved us! Quick let's go and tell dad!!"
The pair ran off back home, not sure what had just happened, and they didn't even notice the peacock in the Hen house, with its feather out for all to see.
When they got home, Wyn started to shout out what had happened before dad could even ask. Wyn was talking super fast!
"Dad! We went too fast down Angels hill, and I was sure we were going to splash into the stream, but then we just floated over it. And when I looked round, I thought I saw the Angel move, but Avé didn't, and she ran back up, and before I could stop her she was off again. So I jumped on, only this time we went even faster and I knew for sure that we would crash into the stream, but then it happened again, and I looked around quickly this time, and I saw the Angel for sure getting back into place!!"
Wyn was panting now as he tried to get his breath.
"Good job, you didn't go a third time!" said dad.
"What? what do you mean?" said Wyn
"The Angel looks after all the kids in the Clough. And because they all make mistakes and could hurt themselves, she makes sure they are alright, and she knows they might even make the same mistake twice. But if you're silly enough to do it a third time, she won't help and you'll have to deal with the consequences yourself!"
"You mean she's a REAL Angel?" said Avé.
"She sure is!" said dad, "She saved me a few times I can tell you!"
"Wow! the Clough is amazing," said Wyn.
"That's right son and you haven't seen half of it yet!"
"Why what else is there?" said Wyn.
"Well that's for you to find out," said dad with a smile.