Big Windows 11 update brings Bing with ChatGPT
Microsoft is releasing a major Windows 11 update. Among other things, it brings a Bing search with AI support to the taskbar. Teams chats can now be found in the same place. The operating system will be more attractive to iPhone users, and Spotify and Facebook Messenger will receive widgets.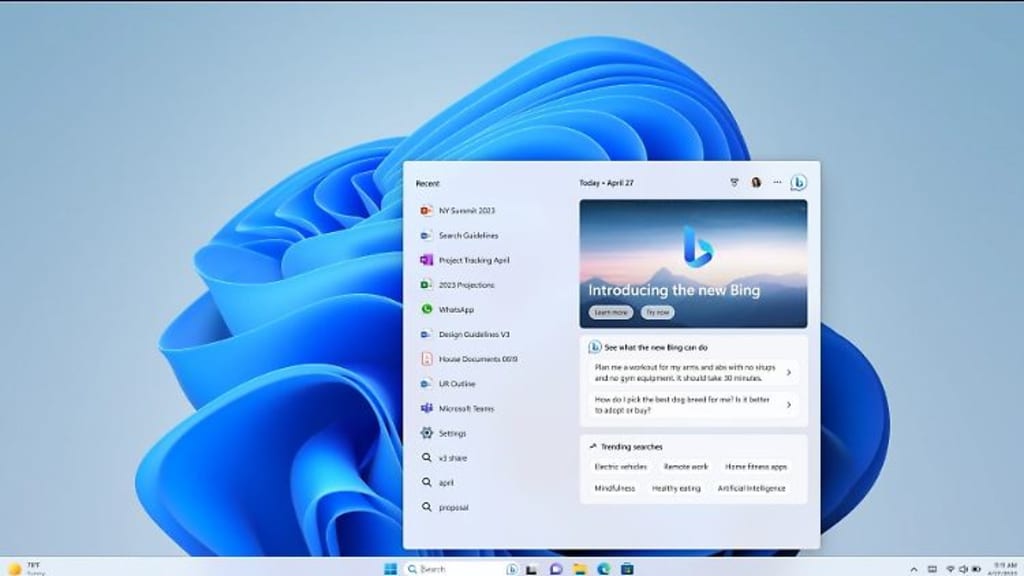 Although the first experiences with the web variants of Bing search and Edge browser were not only positive , Microsoft is already integrating AI support into its Windows 11 operating system with a major update. The update also brings other practical innovations.
Just ask the AI
According to Microsoft, the search box in the taskbar is one of the most used features of Windows with more than half a billion users. With the integration of the artificial intelligence of ChatGPT-maker Open AI, it should get even more access, not only by expanding the Bing search, but also by the AI ​​answering questions or allowing users to create content with their help.
Phone Link iOS.jpg
iPhone users can now also receive text messages on their PC screens via Phone Link.
(Photo: Microsoft)
For the time being, the new Bing field will only be available immediately after the update if you have already signed up for the Bing preview . When the function will be generally available is still open, according to Microsoft "soon".
To make iPhone users less attracted to Mac computers, the update comes with Phone Link for iOS. This means that they also receive calls or SMS on the PC screen. Here, too, normal users have to wait a bit, first of all participants in the Windows Insider program have access to the function.
Special for Samsung users
For Android users, "Link to Windows" has been around for a long time. Anyone who owns a Samsung smartphone can also activate the personal hotspot of the device with one click in the WiFi network list on the Windows computer after the update. With the "Recently Visited Websites" function, Samsung users can now easily transfer their browser sessions from their smartphone to their Windows PC for seamless surfing.
Is ChatGPT just a lying kid after all?
Probably not many users know the studio effects in Windows 11, which are available with a computer camera and microphone. These include eye contact, background blur, auto frame, and voice focus. With the update, it's easier to access from the taskbar's quick settings.
Team is the star
The effects are also seamlessly integrated into Microsoft Teams, whose chat function can also be found in the taskbar with the update. The function has been revised to simplify video previews, accept calls directly or share call links via apps. You can also easily switch between different conversations in the new window.
Facebook Messenger) are now represented in the widgets. In addition, Microsoft improves the touch operation of Windows 11 and accessibility.
It's now easier to help other PC users remotely with Quick Assist, and you can now record videos with the Snipping Tool. Developers get new tools, new suggestions help to save energy and the Windows 365 app for quick access to the cloud is now available in the Microsoft Store.
Empowering today's digitally connected, distributed workforce
Microsoft 365 is the cloud-first platform for all the ways that people work today—wherever, whenever, however. From information workers to frontline workers. No matter how you run your company or your team. And, with Microsoft 365, organizations save more than 60 percent compared to a patchwork of point solutions.2
Microsoft 365 comes alive in the new Microsoft 365 app, home to all your favorite productivity apps—Teams, Word, Excel, PowerPoint, and Outlook—along with new apps for creation and expression, like Loop, and any third-party apps you choose. It's a secure, integrated, experience built on the Microsoft Graph that brings together all your documents, files, contacts, meetings, and more—with intelligent, Graph-powered recommendations personalized for you. Simply put, it's a better way to work. And the Microsoft 365 app will be available to customers across our business, education, and consumer segments.
About the Creator
Dan Oproiu is an IT Programmer, providing digital transformation services for businesses from small sized to large enterprises.
Reader insights
Be the first to share your insights about this piece.
Add your insights