Best 'Star Wars' Board Games
Get into the spirit of the rebellion while waiting the long months between movies with the best 'Star Wars' board games.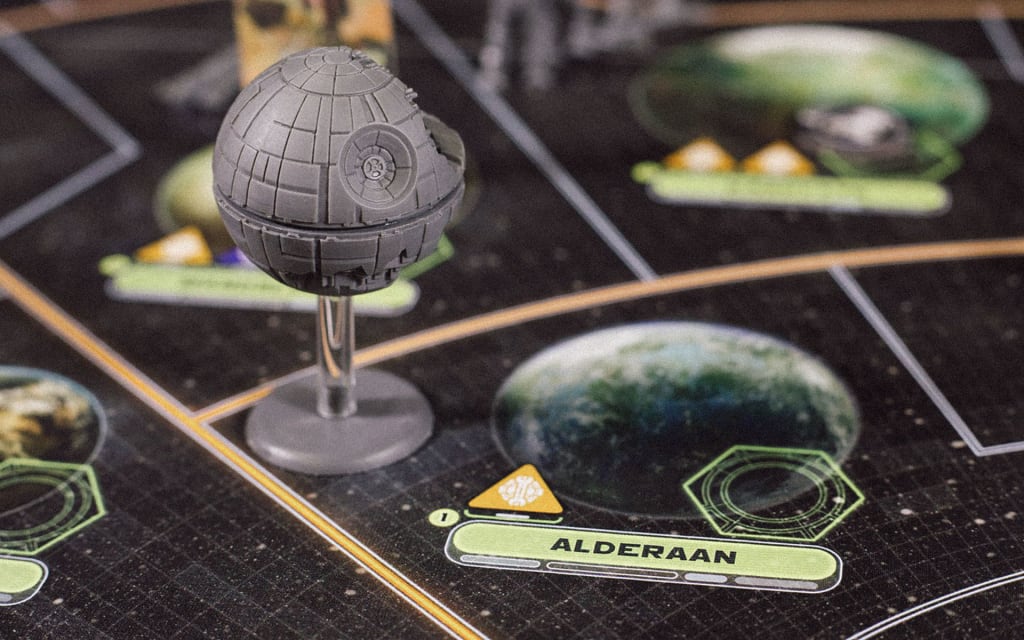 Whether you're a die-hard fan of the original trilogy, have caught the Star Wars bug after the release of A New Hope and Rogue One, or even have a soft spot for the prequels, we're sure that the best Star Wars board games are going to help you recapture everything you love about one of the greatest sci-fi series ever made. With all sorts of different formats making the list, including card games, strategy games, and even some Star Wars twists on old classics, there really is something for every type of gamer. So gather some friends together, set the imperial march playing, and while away an evening with one of the best Star Wars board games.
Less than a year after its release, Star Wars Rebellion is already picking up a big following within the Star Wars fan base—and as a game which pits everybody's favorite rebel heroes against the might of the Galactic Empire, it's hardly difficult to see why. With traditional conquest style mechanics, you not only take control of troops and starships but also send individual heroes and villains including Luke Skywalker and Darth Vader into battle to change the course of the game.
While it's the games simple but engaging mechanics that really set it apart, it's also noteworthy for being set during the events of the original trilogy, making it great for fans who want to return to the glory of those first three films. It also comes packed with a wealth of mini-figures and a detailed board to help perfect your board gaming experience. We've heard that this game plays best with just two players, although it's suitable for up to four.
If you're a die-hard fan of the quintessential board game Risk then it's important to know that this plays somewhat differently to the original, which is known among avid board gamers as one of the best strategic board games of all times. You shouldn't let that put you off, though, as by updating the mechanics and introducing three simultaneous battles to the gameplay, Hasbro have created something that feels both familiar and fresh.
The game's premise centers around reliving the pretty epic final act of Return of the Jedi, which means that you'll have an assault on the shield generator, attack of the Death Star, and that one-on-one battle between Luke Skywalker and Darth Vader to take care of. The fact that all three sections of the game manage to be equally engaging land it this spot on our list of the best Star Wars board games.
You might have to splash out a little more money to get your hands on the Imperial Assault game, however, if you'd like to try out a hugely popular and complex game that'll keep you entertained for hours on end then you can't really beat it. There's a reason that it frequently comes out at the top of lists not only of the best Star Wars board games, but of the best board games ever made.
Something that sets this game apart from many other options is the fact that the main campaign is co-operative, with four trusty rebels taking on just one representative of the empire. There's also a competitive skirmish option, a wealth of detailed figures for you to paint, and plenty of different board configurations to keep things interesting. Yes, it's in-depth, and yes… if you're a Star Wars loving board game fan, you are going to find this game nothing short of wonderful.
The classic board game played by families across the country, only with a Star Wars twist: there's not much more to it than that, but then again that's really all you need. So, if you're not a huge Monopoly fan then you can sit this one out while the rest of us race around the board buying up planets in the classic money-making game. They've also added the force power, which can be used to steal from your friends and ruin relationships forever.
If you've ever wanted to become the commander of a space battle then it's time to play X-Wing, with a fleet of miniature spaceships that you can use to wage epic war against your friends. Buying the core set will give you an X-Wing and two Tie Fighters, after which you can build up your fleet with additional expansion kits, with options including the Millennium Falcon and Slave I.
Your opponent will need to build up their own squadron, but once you have your fleets ready to go it's quick to set up—and the fact that you don't need a board means it can be played even when space is tight. So, while you'll need to make an initial investment if you want a good selection of ships, the tactical experience makes it all worth it.
Both one of the simplest games on our list of the best Star Wars board games and one of the cheapest, Empire vs. Rebellion is a quick-to-play card game which, as the name suggests, pits the Empire against the Rebellion in a battle for resources and objectives. Deceptively simple, the addition of a variety of different strategic considerations keep things interesting. Perhaps best of all, though, is the fact that this game sets itself apart from other Star Wars card games by doing away with the need for expansion packs: get it out the box and you're ready to go.
From one Star Wars card game to another, and while we championed Empire vs. Rebellion for its great value and easy use, Star Wars: The Card Game wins hands down when it comes to depth and engagement. The fact that you build your own deck of cards means that you can constantly change the course of play, with character options including all of the biggest names from the films.
While there's plenty to get you started in the initial set, the fact that this is a "living" card game means that the idea is to keep building your collection—and most fans agree that you definitely need to grow your deck if you want to get everything that the game has to offer. And, of course, that's all part of the fun; whether you choose to play as the Jedi or the Sith, it's possible to sink hours into customizing your deck to suit your play style.
We couldn't compile a list of the best Star Wars board games without including at least one RPG, and although all three of Fantasy Flight Games' titles had us gripped, Edge of Empire is the one that made the cut. With the core rulebook in hand you're ready to embark on what the game's creators call a series of "grim and gritty adventures"; more than enough to have you feeling like an adventurer from the Star Wars universe in no time at-all.
For seasoned RPG gamers, you'll find that there's plenty of content here to keep you engaged, while people who are new to the genre will be pleased by an informative guide that doesn't take any former knowledge for granted. The core rulebook itself offers incredible quality, with glossy color images and a wealth of background information to help you immerse yourself in all things Star Wars.
The majority of games on this list include the type of strategy and complex rules that make them best suited to teenagers and adults, and we wouldn't have it any other way. That said, we also wanted to find a great game that would suit families—and with that in mind, our honorable mention goes to Labyrinth, recommended for ages seven and up.
Playing more or less exactly the same way as the original Labyrinth game but with a Star Wars makeover, there may not be any surprises here; what there is, though, is plenty of family fun in a game that's never the same twice. Find it here.
Well, that's our rundown of the best Star Wars games and, whether you aspire to taking to the skies, roleplaying as a bounty hunter, commanding the troops of the empire or having heroes like Luke, Leia, and Han under your control, there's something to love on this list! And remember… always let the Wookie win.
games
star wars
list
Spends his days making his own Star Wars figurines. His craft has driven him to look towards the future, drawing inspiration from past technological advances.
Receive stories by James Lizowski in

your feed