Best Sci-Fi Movies About Mars
A list of the top best sci-fi movies about mars is sure to have you interested in our neighboring planet's world.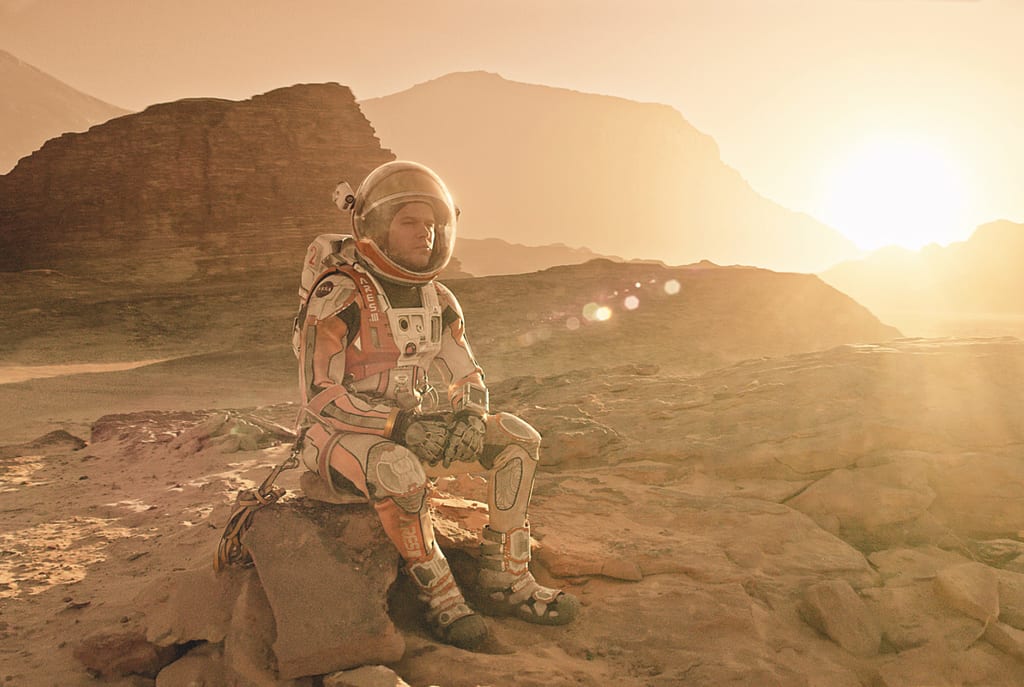 If one setting is frequently used for sci-fi movies, it would be our planet neighbor, Mars. Why is Mars so fascinating to us? Well, it has been said that there had once been a climate capable of supporting life in years past. It's not as crazy to dream of as you think. And that's why these best sci-fi movies about Mars are so popular among science lovers. Here are the best!
Mark Watney, played by Matt Damon, is left for dead on the planet Mars after a rough storm in The Martian. This begins Watney's fight for survival with only a mear amount of accessible supplies. Will he survive on his own?
Without his knowledge, NASA is teaming up to bring him home, but the team who left him behind also creates their own master plan for his escape. Who will ultimately save him? NASA, his team, or himself?
Set in New Jersey, one of the best sci-fi movies about Mars is War of the Worlds, with Tom Cruise. An invasion of Earth by Mars prompts a defensive state of war.
Prior to this, the main character Ray Ferrier is in a dilemma between his two children and ex-wife, who he wants to regain a positive relationship with. And with a narrator like Morgan Freeman, how could this movie not be exciting? Alien invasion, plus an emotional family oriented plot line, equals the War of the Worlds.
Mars Attacks! is one of Tim Burton's comic science fiction horror films, and of course it's set on the planet Mars. Released in 1996, the screenplay was based on Jonathan Gems' cult trading card series.
Featuring Jack Nicholson, Glenn Close, Annette Bening, Pierce Brosnan, and many more, the film follows a fleet of Martian spacecraft as they invade the major cities of the world. The President of the United States is assured that they are friendly aliens, but is this true?
Another one of the best sci-fi movies about Mars is Red Planet. Directed by Antony Hoffman and starring Val Kilmer, Carrie-Anne Moss, and Tom Sizemore, this movie released in 2000 and was Hoffman's only film.
Based in the year 2050, this Mars movie stars Kate Bowman, who is in charge of ultimately saving the earth. Mars is the human race's only hope as it is declining fast. Bowman's crew arrives on the red planet with plans to repair. What will they encounter that they are not prepared for?
Mission to Mars was an American science fiction film produced in 2000, and directed by Brian De Palma. The movie takes place in 2020, as the first manned mission to Mars is happening. However, it ends in disaster with three of the four crew members being killed. The last to remain is Luke Graham, played by Don Cheadle.
This triggers a rescue mission made up of Jim, Woody, Phil, and Terri. In attempts to save Graham, the team uncovers information that might shock the world about Mars.
One of the best sci-fi movies about Mars stars Arnold Schwarzenegger in the 1990 original version of Total Recall. Directed by Paul Verhoeven, the movie is based on Philip K. Dick's short story, "We Can Remember It for You Wholesale." It was even one of the most expensive movies ever made during the time of its production.
The story follows Douglas Quaid, who is bored of his life as a construction worker, set in the year 2084. He goes to Rekall Inc, which plants memories of living on Mars into his mind, because this is what he has always dreamed of doing. However, something goes terribly wrong...
In 2012, John Carter was released, based off A Princess of Mars by Edgar Rice Burroughs. It was praised for intense visuals and a fitting soundtrack.
The plot follows a Civil War veteran as he wakes up on Mars, unexpectedly. However, there is an immediate conflict between the locals and himself. The planet turns out to be in rash danger as they are poisoned. It is now on John Carter's shoulders to determine the fate of the planet and everyone who inhabits it.
Andrzej Bartkowiak directed one of the best sci-fi movies about Mars in 2005, Doom. Unfortunately, the planned sequel was never put into production due to the unexpected box office bomb.
The original movie stars Karl Urban and Dwayne Johnson. The plot follows a team of space marines who land on Mars after a security breach is reported. When they begin the search, the team discovers a mass murderer is on the loose.
The Last Days on Mars follows Liev Schreiber, Elias Koteas, and Romola Garai, astronauts who have landed on Mars. They discover a microbe that has turned anyone infected by it into zombie-aliens. What will they do to regain control of our neighboring planet?
Released in 2013, the sci-fi horror film was directed by Ruairí Robinson. The film was based on Sydney J. Bounds' short story titled "The Animators."
Out of the best sci-fi movies about Mars, Robin Crusoe on Mars is the oldest. Released in 1964 and directed by Byron Kaskin, Paul Mantee and Victor Lundin starred in the science fiction film.
The film follows Paul Mantee, an astronaut, and Victor Lundin, a runaway slave, as they are trapped on Mars. Will Mantee risk his life in order to save Lundin from the alien masters?
scifi movie
About the author
Second grade teacher by day, at home therapist for two middle school daughters by night.
Reader insights
Be the first to share your insights about this piece.
Add your insights