Behind The Mystery Of The Phoenix Lights With 'Phoenix Forgotten' Star Florence Hartigan
"They've Been Lying To You."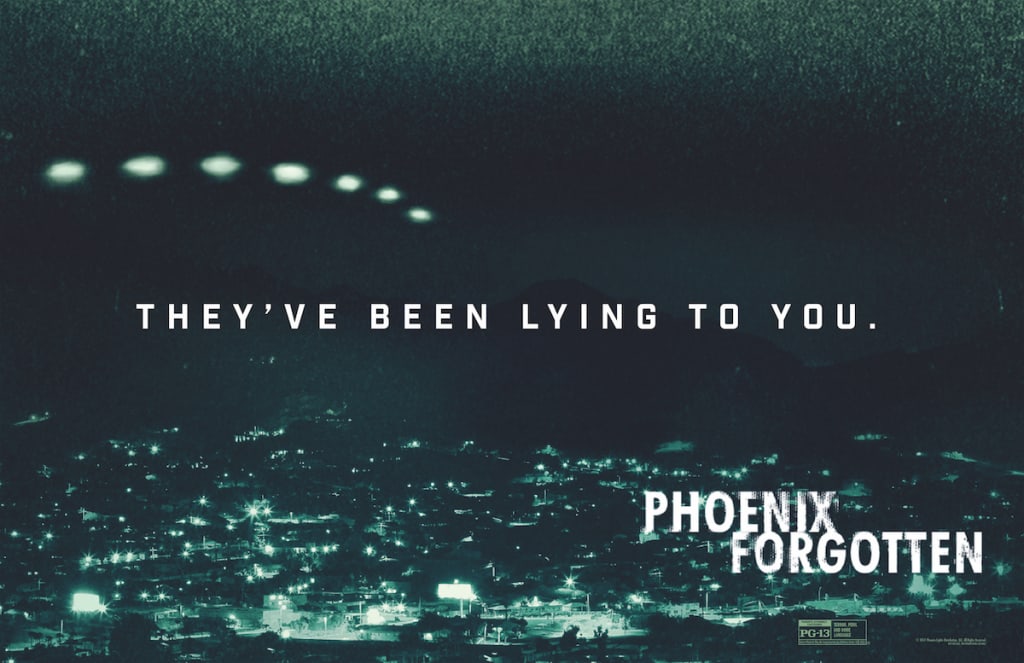 March 13, 1997 is a date that the residents of Phoenix, Arizona will never forget. Spanning nearly 300 miles and witnessed by thousands of people, an extraordinary formation of synchronized lights began to invade the airspace over Phoenix, Arizona all the way down to Sonora, Mexico. Although the incident, as always, was discredited by the US government with their own version of the events, the Phoenix Lights remains the largest UFO sighting in history.
Whether you find yourself standing on the side of the skeptics, with the believers or somewhere in between, Phoenix Forgotten promises to shed light on the chaos surrounding the infamous night with a found footage horror that gazes deep into the "what-ifs," that still remain.
Behind The Mystery Of The Phoenix Lights With 'Phoenix Forgotten' Star Florence Hartigan:
Rachael Rumancek: So although the film is inspired by real events, your character (Sophie) is not. How does she fit into the chaos following the Phoenix Lights?
Florence Hartigan: My character Sophie is a documentary filmmaker who grew up in Phoenix, Arizona. When she was a little kid her brother, Josh [Luke Spencer Roberts], went missing after going out to the desert with two of his friends, trying to find answers to mysterious lights they'd seen in the sky. 20 years later, Sophie is still haunted by her brother's disappearance. It's like she's grown up in the shadow of this tragedy, so she comes back to her home town to do some digging. She's driven to find answers, to shed any light she can on Josh's disappearance.
RR: Phoenix Forgotten was inspired by actual events, like so many other found footage horrors, but what made this film seem particularly promising?
So with this film the idea was for it to feel for the viewer, like you're watching the actual documentary that Sophie has made. So, it was important to me that my performance felt as grounded and real as possible. I mean that's always my goal, but particularly in this project we actually have real residents of Phoenix who aren't actors in the film, people we interview about their real life experience and thoughts, so knowing I was going to be in scenes with people just being themselves set the bar for where I wanted my performance to land. We also did a lot of improvising in this shoot. Pretty much every scene has an improvised component, so that obviously involves a lot of thinking on your feet.
RR: That sounds like a genuinely challenging role. With all the improv, how did you prepare yourself for taking on Sophie and making her authentic?
I found it really interesting to play somebody who experiences a tragedy like this. It's such a terrible thing to lose a sibling and for parents to lose a child like Sophie's parents did, especially in an instance where there's no closure. They don't know what's happened to him so there's no saying goodbye really, just this endless wondering. And for Sophie, not only did she lose her brother but she essentially lost both her parents too. They both never recovered from losing Josh, so there's all these subsidiary tragedies that go along with the main loss. I actually watched a lot of documentaries preparing for this role, especially Werner Herzog docs. He's someone who interviews a lot of people whose lives have been shaped by tragedy. I was fascinated by how people talk about really painful things that have happened a long time ago, that's the space Sophie occupies. When tragedy happens to you, you keep on keeping on, you have to, but there's still all this deep emotion just under the surface. So that was a pretty interesting thing to explore. As I mentioned before, I watched a lot of Werner Herzog documentaries. 'Grizzly Man' and 'Into The Abyss' were two that really stuck with me. I also listened to a lot of Terry Gross interviews and I revisited 'Serial' knowing I was going to be improvising and interviewing real subjects, I wanted to hone in on how really great interviewers get good material out of the people they interview. I also did a bunch of research into how missing persons cases are handled in that area, on other cases where people go missing in the desert, that kind of thing.
RR: Being unlike the other projects you have worked on in the past, is there anything special you took away from this experience?
I think there are a couple of interesting things I took with me. For one, I had never really thought in detail about what a hostile environment the desert is and how vast it is in Arizona. We interviewed a real pilot for our film, Kevin Boontjer, who has been involved in this kind of search and rescue mission in missing persons cases like the one in our movie and you'll see in the film, he told us just how easy it is to just disappear out there. There's just so much ground to cover and so much rough terrain, it's just so easy to lose people, even with dogs and planes and people looking. On the other hand, in a case like ours you will usually find something, especially with three people. And in our story, obviously nothing has been found for 20 years. So yeah, it was interesting talking to people with real experience about that stuff.
RR: Before signing on to play Sophie, were you aware of the Phoenix Lights incident that occurred in 1997?
I wasn't, though in my research for the film I discovered it's an incident a lot of people are really passionate about. I grew up in New Zealand, so the story didn't quite reach me there, though it was a huge news story at the time. The 24-hour news cycle kinda picked up and ran with it and it's the sort of story that kept getting play on its anniversary, stuff like that. That was useful in my preparation for the role too, it was so powerful for me to imagine; what if the worst thing that ever happened to you was one of the most famous things that ever happened in your town? Every time it gets brought up those old wounds get opened again. That would be devastating.
Florence Hartigan, 'Phoenix Forgotten' [photo credit: Cinelou Films]
RR: Next comes the big question, and this is the one I am totally asking on a personal level. Do you believe that the Phoenix Lights - the notoriously enigmatic event that inspired Phoenix Forgotten - could have extraterrestrial origins?
Oh sure! I think there's so much we don't know about the universe, so who's to say what's out there? I like the idea that we're not alone in the universe. I think going in to the film I was more inclined to think there was something a little more supernatural about the origins of the lights, but having talked to the people I talked to at this point I feel skeptical. There's still that aspect of the case that feels like a cover-up though and we show some of that actual footage in the film. The Arizona government at the time goes a long way to make the whole thing seem like a joke. The official press conference about the sighting at the time featured a guy in an alien suit. I just think if there's nothing there, why bother?
RR: So how closely does this found footage film follow along with the actual events that occurred?
One of the things I think is a cool point of difference in our film is that it's a blend of fact and fiction. The jumping off point for our story is a real event. The Phoenix Lights were something that actually happened, the largest recorded UFO sighting in history. In terms of accuracy, we actually use real news footage from the time as well as news footage we created to serve our story about the missing kids. So in terms of accuracy I think what's created is a really realistic, 'what if' scenario; what if a kid had been so obsessed with the Phoenix Lights that he went looking for them?I think it blends fact and fiction in a way I haven't seen very often and that's really interesting to me. I also think there are some really great performances from our cast and I think it's a horror movie that has a really engaging, emotional heart to it...The message for me is that you should always look at where you're getting your information from, there's as many sides to a story as there are people to tell you that story. And don't go wandering off into the desert at night!
RR: Phoenix Forgotten is quickly becoming a favorite among found footage connoisseurs. Now that it's making it's way into the homes of horror fans and cinephiles everywhere, where can fans be on the lookout for you next?
My next project is another horror movie, an animated feature called 'Malevolent.' It stars Morena Baccarin from 'Deadpool,' William Shatner and Ray Wise from 'Twin Peaks,' who plays my father. That was a cool experience. I feel like with horror so much is communicated with body language and facial expression so it was such a fun challenge to create a character just with my voice, as well as getting across all the physical gory horror stuff. I had a ball!
Phoenix Forgotten is out now on Blu-ray and DVD. It's also available through major retailers and popular streaming platforms such as Vimeo, iTunes, Amazon and Google Play. For real time updates on Florence's upcoming work be sure to follow her on Twitter and Instagram.
science fiction
About the author
Celebrity interviews, indie film PR, horror hound and drunk-poet extraordinaire. Most easily bribed with screeners, wine and sushi, follow me on Twitter: @RachaelRumancek
www.twitter.com/rachaelrumancek
Reader insights
Be the first to share your insights about this piece.
Add your insights