AI Reimagines Harry Potter Characters Based on Book Descriptions
OpenAI's Dall-E2 reimagines these 5 Harry Potter characters based on book descriptions.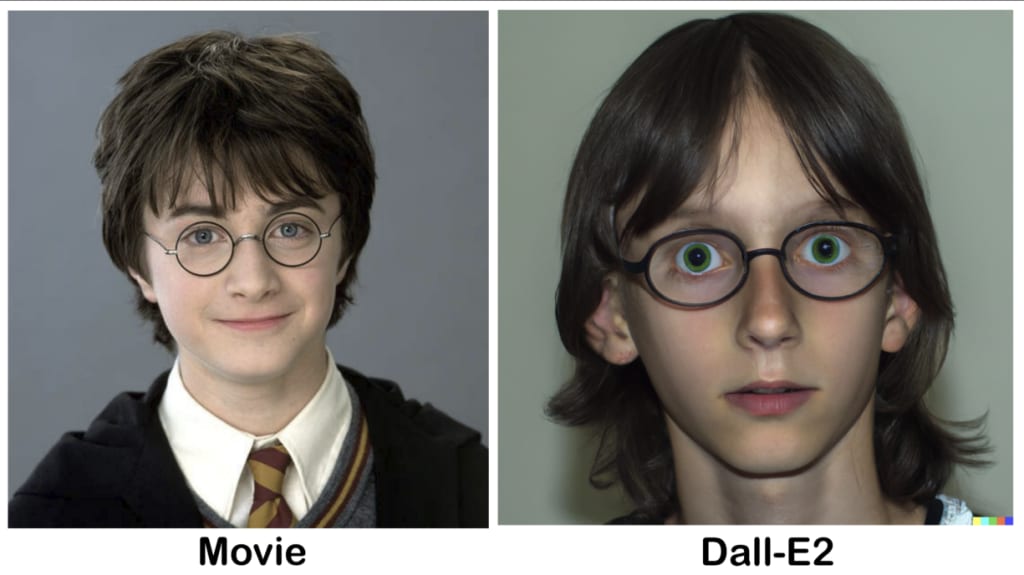 Side-by-side comparison of Harry from the movie and Dall-e2
OpenAI's Dall-E2 took the internet by storm in the last few months.
The AI is packed with powerful capabilities from generating images with textual descriptions, and inpainting, to making variations of an existing image.
Today I want to put its impressive capability of making surreal portrait images from textual descriptions to test.
One of my favorite movie series is Harry Potter, which from what I know has some key differences in the appearance of the actors when compared to the way the characters were described in the books.
So here's what the Harry Potter cast would have looked like if they were reinterpreted by Dall-E2.
Harry Potter
Book description: A boy with thin face, black hair and bright-green eyes. He wore round glasses. very thin scar on forehead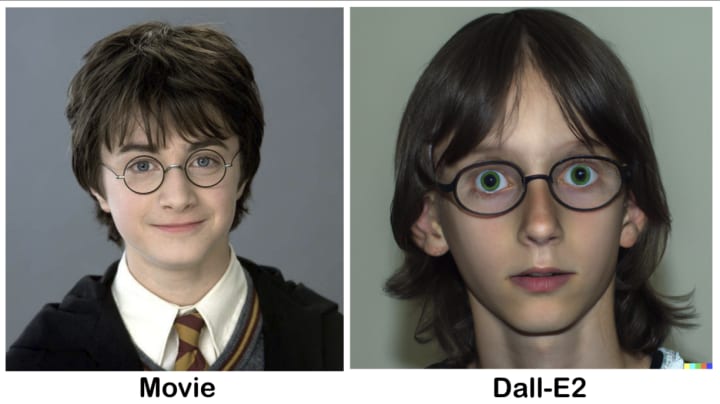 For starters, the Harry Potter from the books is described as having unruly, black hair, while the film version of Harry has much lighter hair. This was likely due to the fact that Daniel Radcliffe, was a natural blonde and they wanted his hair to match the character's description as closely as possible.
Another big difference is that in the books, Harry is said to have green eyes, while in the films his eyes are blue.
Another difference is that in the books, Harry is described as being quite skinny and not very muscular, while in the films he is portrayed as being much more muscular.
Hermione Granger
Book description: A girl with a bossy sort of voice, lots of bushy brown hair and rather large front teeth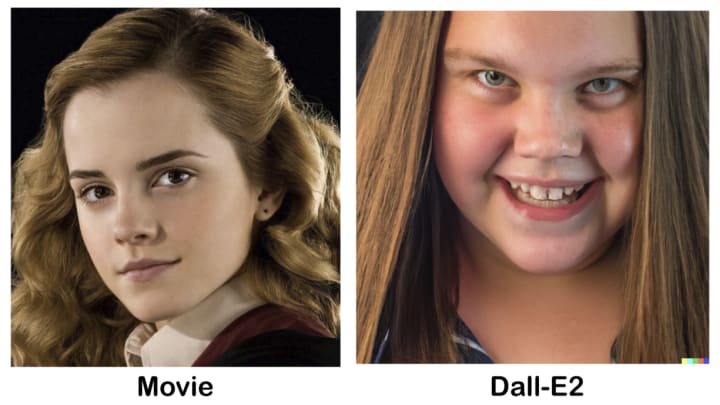 Emma Watson's Hermione for the most part fits the book description. The bushy brown hair, her bossy voice, and her front teeth (which only briefly border on large).
The AI-generated Hermione on the other hand quite gives a scary impression with her grin face. She looks a little more chubby too, which is different from Watson's model-level gorgeous look.
Ron Weasley
Book description: A boy that is Tall, thin, gangling, freckles, big hands and feet, and a long nose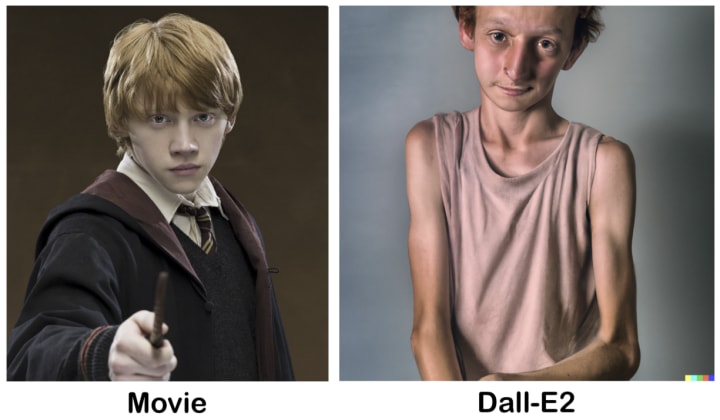 Ron Weasley is one of the most beloved characters in the Harry Potter series, but there are some definite differences between the Ron we see in the books and the one we see in the movies.
For starters, in the books, Ron is described as being tall and lanky, with bright red hair that is always a bit messy. In the movies, however, Ron is played by Rupert Grint, who is shorter and stockier than the book version of the character. Additionally, Ron's hair in the films is more of a strawberry blond color than the bright red described in the books.
Rupert also does not have freckles in the movie.
Professor McGonagall
Book description: A woman professor, Tall, severe-looking, with dark hair tied up in a bun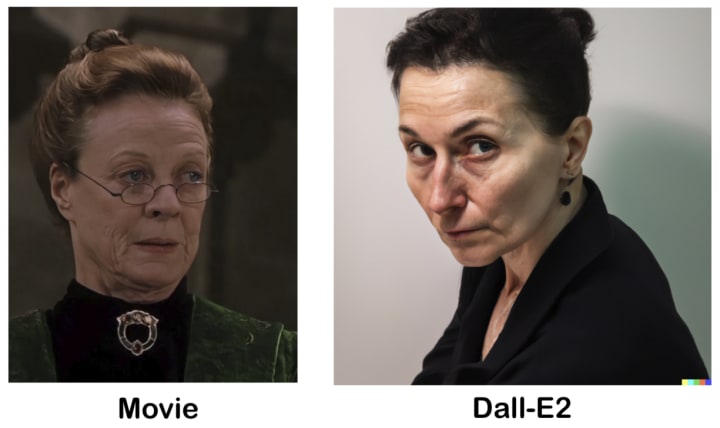 Dame Maggie Smith in my opinion perfectly portrayed Professor McGonagall. Although Smith's character looked a little too old than in the books. She's supposed to be only 56, but in the movie, she looked like 70.
Another difference is that in the books, she is a strict teacher who is always demanding the best from her students. However, in the movie, she is more of a mother figure, always looking out for her students and trying to keep them safe.
Professor Snape
Book description: A thin professor man with sallow skin, a large hooked nose, yellow teeth, greasy black hair down to his shoulders and black eyes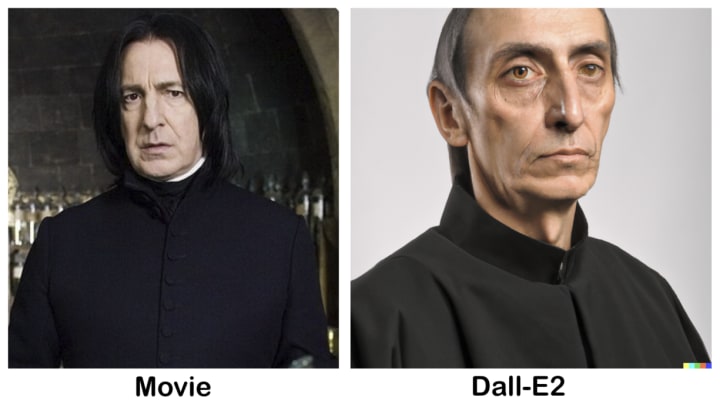 In the books, Snape is described as being gaunt, with a hooked nose and dark, greasy hair.
He's also described as having a "sallow" complexion. In the movies, however, Snape is played by the very handsome Alan Rickman. This Snape is still thin, but he doesn't look nearly as unhealthy as the book Snape.
His hair is also styled in a sleek, stylish way that makes him look a lot more attractive than in the book Snape.
Dall-E2 In Action
If you are interested to try it yourself, go ahead and sign up for OpenAI's Dall-E2 which is only accessible via private invite.
Inside the web tool, you input the text description in the prompt field and hit Generate. It takes around 20 seconds or so to generate six images.
Note that I had to put "Realistic portrait" at the beginning of the text prompt. Not doing so will produce cartoon-like images instead of real ones.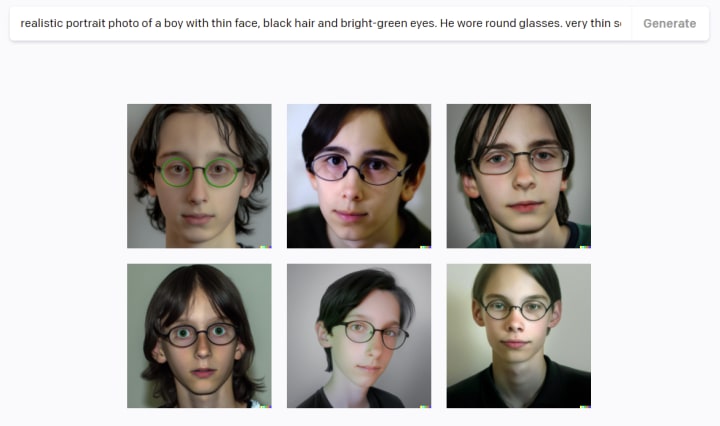 That's it. I had a lot of fun writing this piece and watching Dall-E2 generate realistic portraits.
Did the AI do justice to the HP book characters?
If you liked this story and want to see more HP characters, or maybe another movie, let me know in the comments.
art
About the author
In no particular order, I enjoy: cheesecake; coffee; painting on my iPad; painting asphalt with sweat; thinking on paper; alt rock, pop; palatable alcohol; good books; good talks; and writing pretty words about it all.
Reader insights
Be the first to share your insights about this piece.
Add your insights