AI: Artificial Intelligence, or Apathetic Input?
The joy is in the challenge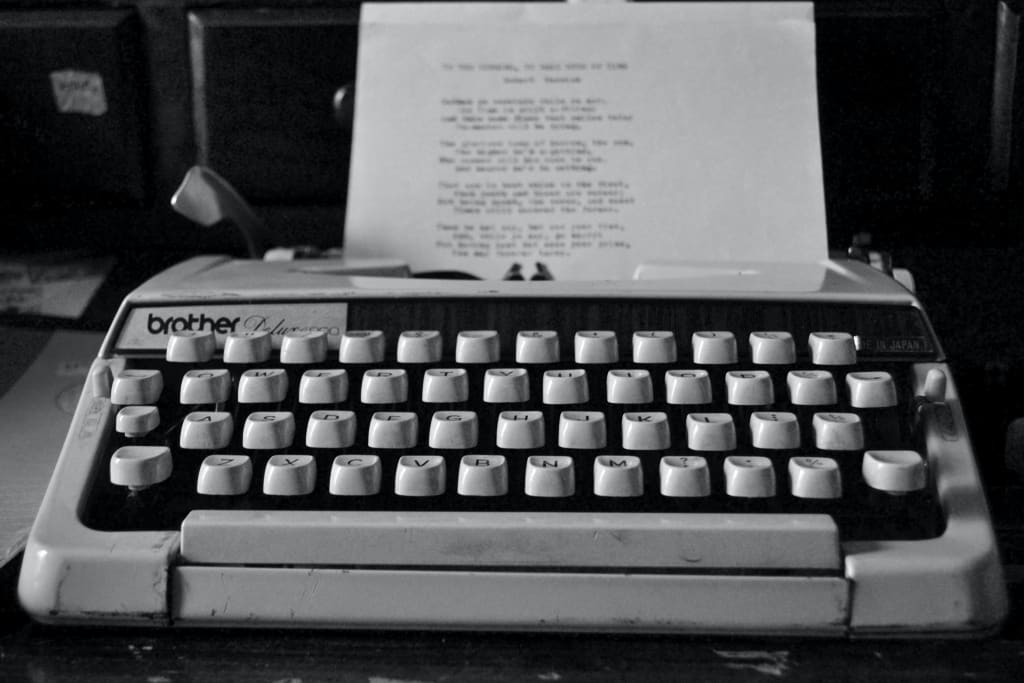 What Paul Sheldon and I used back in the day ( Photo by jules a. on Unsplash)
At the start of the 1990 film Misery, author Paul Sheldon, played by James Caan, types the closing sentences of his latest novel. He marks the occasion of the book's completion with a small ritual: a cigarette and a glass of champagne.
I've never written a novel, and I don't smoke, so I shan't be performing a similar ritual any time soon. But that doesn't mean I don't get great satisfaction from completing a writing project, be it an article for an online platform, a letter to a newspaper, or a short story to submit to a competition. To get from blank page to final full stop can be challenging, frustrating or both, but that is where I'm at home.
The Dirty End of the Field
I thrive on the challenges thrown down by difficult assignments. Scouring the Internet for verification of an obscure fact, or being mired in a thesaurus looking for the exact word, are what makes this writer's heart go all aflutter. To use another movie link, as King Benny (Vittorio Gassman), the ageing gangster said in the 1996 film Sleepers, "We're in the dirty end of the field now. That's where I play, and I play alone." That's me all right.
So when I read posts about and, with increasing regularity, see ads on my feed that sing the praises of AI assisted copywriting, I baulk. Surely, that's not for me, I think. "But," you may say, "why bother with the hassle of writing long articles when you can have it done for you in no time?"
That's like asking why I would go to the trouble of preparing and cooking a meal when I could simply order a takeaway delivery. My reply could stand as an analogy of how I feel about writing.
Because the answer to that is that I love to cook. I find it therapeutic and ever enlightening. It allows me to express my creative side, and the end result, whether delicious or bland, is my own work, and it has a part of my heart in it. I cook for the love of cooking, just as I write for the love of writing.
But, of course, sometimes a takeaway is the convenient option, and the same could be said of AI written content. It could be that one day I find myself with a blank page and a looming deadline; surely AI would make sense then. Of course it would.
Embracing Change
I'm all for embracing change. Heck, I remember typing on a huge mechanical monster that took up most of my desk. The keys sometimes got stuck, and the ribbon was so old the text was barely visible. Then, along came the word processor to do away with all of that. If you think I shunned that development in favour of traditional sentimentalism, you're crazy. I loved Microsoft Word.
So, it may be that I give AI writing a try one day, if only to see how it works. But even if I were to catch the bug, and I dashed off AI written content several times a day, and even if the financial reimbursement was considerable, I would never, ever view it as work to take pride in.
Each finished piece would be a simple mundane task completed, like a librarian date-stamping a book, or a bartender pouring a beer. I wouldn't even consider it to be my own work technically, but, of course, I'd take the cash and the plaudits.
Even at my age, I have a desire to better myself as a writer. I simply don't think that would be possible using a tool which takes away the challenge of producing a piece of work. But, if AI is your bag, then knock yourself out. As for me, I write from the heart, because I know no other way.
(Originally published in Medium)