76-Million-Year-Old Gorgosaurus to Be Auctioned for the First Time
"One of only a few found in the United States"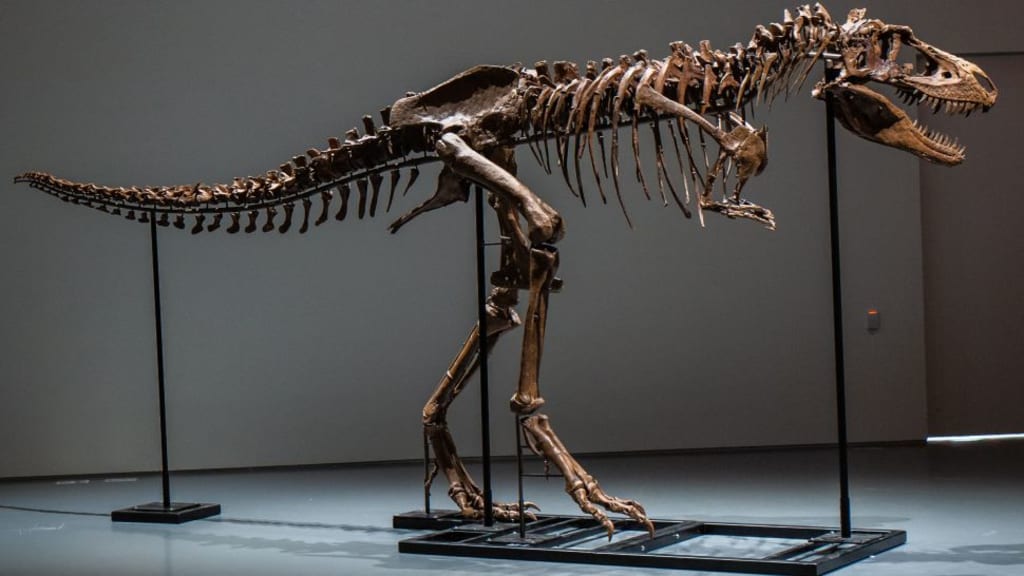 Photo credit: sothebys/ Instagram
A skeleton of the T. rex relative Gorgosaurus will be on sale in a Sotheby's private auction later this month in New York. The specimen is expected to be sold for $5 million to $8 million.
What are the details?
The Gorgosaurus specimen is the first one of its kind that will be available for private ownership. All the other known Gorgosaurus skeletons are located in museums, according to the auction house.
The dinosaur was alive about 73 million to 80 million years ago, in the Late Cretaceous, which places it about 10 million years before the T. rex.
The Gorgosaurus, which stands for 'fierce lizard," had tiny arms and sharp teeth. It weighed almost 2 tons, compared to a T. rex that could weigh up to 8 tons, per the Smithsonian Magazine.
"Translated to 'terrifying' or 'fierce' lizard, the Gorgosaurus was a fearsome apex carnivore that reigned during the Late Cretaceous period," Sotheby's pointed out in a post.
This specimen was uncovered in 2018 close to Havre, Montana, at the Judith River Formation.
"This specimen, which was a large, mature individual, has a well-preserved skull, which includes a left maxilla and cranial bones. The specimen also contains three major bones which create the orbit, the feature which distinguishes the Gorgosaurus from the T. rex," Sotheby's said for USA Today.
The skeleton is almost 10 feet tall and 22 feet long. This Gorgosaurus is unique due to how rare this species was south of the Canadian border, Sotheby's explained in a social media post.
"This discovery was particularly exceptional because of the rarity of Gorgosaurus material anywhere south of the Canadian border; this is one of only a few found in the United States."
The Gorgosaurus sale will be a highlight during the Geek Week auction series and was also on display for the public on July 21 ahead of the sale that will take place on July 28.
"In my career, I've had the privilege of selling and handling many unique and exceptional objects, but few have the capacity to capture imaginations and inspire wonder quite like this unbelievable Gorgosaurus skeleton," Cassandra Hatton, who is Sotheby's global head of science and popular culture, said for AP.
Even though the skeleton can be sold without breaking any rules, many paleontologists are not happy about what's going on.
"Any time a vertebrate fossil is being sold, potentially privately, it's disturbing, and it steals potential for scientific advancement. Then again, in this case, the specimen has been fairly collected, so it's fair game as far as I can tell," Gregory Erickson, who is a paleobiologist at Florida State University in Tallahassee and has no part to play in the auction, said for Live Science.
Kat Schroeder, who is a biologist at the University of New Mexico, also found this private sale "disappointing."
"We will have to hope that if this specimen is as nice as it seems, whoever ends up with it will be willing to donate it to a museum," Schroeder said.
The presale estimate for the fossil runs from $5 million to 48 million, according to AP.
While dinosaur remains did hit the auction block before, this is the very first Gorgosaurus to be on sale. One example of a previous auction is Deinonychus, the raptor behind the Velocitrators in the "Jurassic Park" series. Stan the T. Rex is another specimen sold for 31.8 million during an auction that took place in October 2020.
Currently, there are 12 complete or nearly complete Gorgosaurus skulls and several other partial skeletons known to scientists, which makes every specimen particularly valuable.
© 2022 Amy Christie
Photo credit: sothebys/ Instagram
Originally published on Medium
Reader insights
Good effort
You have potential. Keep practicing and don't give up!
Add your insights