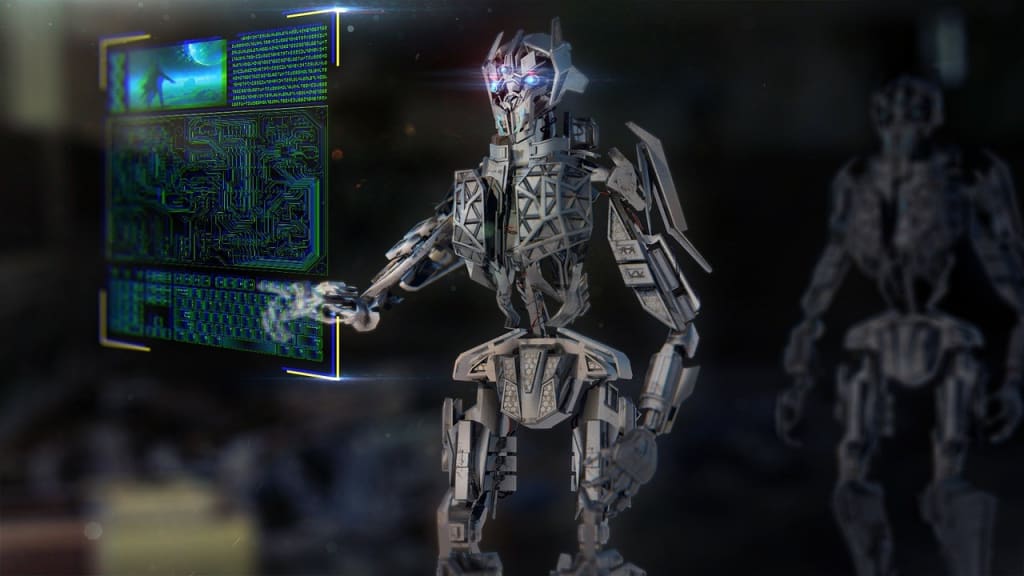 If you're experiencing writer's block or are looking for content that converts, AI content generators can be a great solution. Here are 5 of the best tools available:
The saying "content is king" has never been truer than it is now. Just a few weeks away from 2023, according to Internet Live Stats, more than 950 million blog posts have been written.
When you consider that there are billions of pieces of content out there, including case studies, emails, sales copy, and social media content, it's clear that content is considered a valuable investment by millions of content creators and marketers.
Generating relevant, unique content can be demanding and require a high level of creativity and stamina. If you find yourself struggling to keep up with the constant demand for new content, it may be time to seek some assistance. An AI content generator could be your best bet.
5 AI content generator tools for every kind of content
1. Simplified

Simplified is a popular AI writing software with over 50+ tools for content writing and copywriting. It has over 1 million users.
This software also has several templates for a variety of content types, including blog posts, social media content, emails, website copy, case studies, videos, general business content, and even templates for fun. Having all of these options available can help product managers save time when they need to create new content.
Simplified can generate high-quality, original content rapidly with only a few user inputs. For instance, the First Draft Wizard template requires only a blog title, keywords, the goal of the blog post, and a tone of voice selection. With this information, simplified can create a well-crafted blog post that conforms to best practices in writing and AI marketing.
The AI creates an outline for the blog post, generates talking points for each heading, and writes content on each of those points.
Simplified helps you get your content right by providing a long-form editor and 25+ languages to choose from. You can also keep related projects together with its unlimited project feature.
Pricing:
Simplified offers a free plan for those who want to try the tool out before committing to a paid subscription. Paid plans start at $21 per month.
2. Jasper
Jasper is an AI content generator that can help you write effective, converting content quickly and easily. With more than 52 short and long-form writing templates, Jasper has the perfect solution for any type of content you need to write, from personal bios to Amazon product descriptions.
The Jasper blog post generator is a great way to get started with writing content for your website. Simply tell Jasper what your article is about and you'll get a launchpad that will help you dive right in. With the Boss Mode plan, you can provide even more detailed instructions to Jasper, making it easier than ever to get the perfect article for your website.
Jasper knows that working with a new AI teammate can be a bit of a learning curve. So, the software comes with an impressive selection of in-depth training resources and help documents that walk you through how Jasper thinks and how to get the best out of the software.
Pricing:
Starts at $29/month. New users get 10K credits when they sign up.
3. Copysmith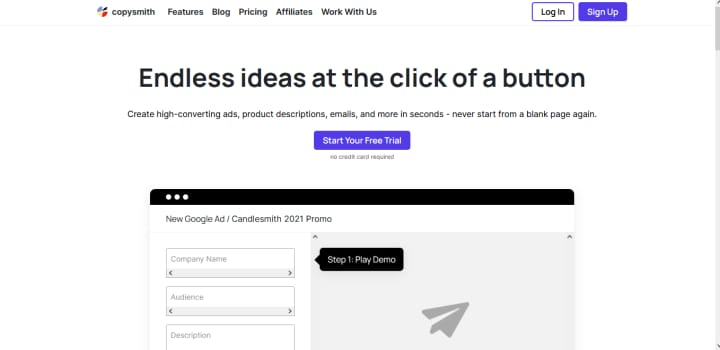 Copysmith is a tool that can help brands and businesses create content that meets their goals.
This AI writer comes with over 30+ templates for creating compelling Facebook ads, pitching yourself and your services, spreading the word about your event, and rewriting content for extra shine. With these templates, you can easily create high-quality ads, pitch yourself to potential clients, get more people to attend your event, and improve your existing content.
Copysmith's organizational features allow you to store your content in folders by client, so you can easily find and use it again later. You can also test out the software risk-free with a 3-day free trial, which gives you access to all features of the software.
The Copysmith Chrome browser extension can benefit users by helping with content generation. It's also rolling out collaborative features to their highest membership tier, which will allow you connect you're your teams and start generating content together.
Pricing:
Starts at $19, with credit limits. New users can get a 3-day free trial.
4. Writesonic
Writesonic is an AI copywriting tool that creates compelling, engaging copy that drives sales and traffic for your business.
Blog writers can use the content generator to create website copy, landing pages, sales emails and product descriptions. They can also check for readability and correct grammar.
The other set of templates is better suited for writing long-form articles, drafting blog posts, summarizing content, and rewriting as necessary.
Writesonic offers a free trial to help you decide if our services are the right fit for you. We also have a Pay-As-You-Go credit system for users who want more flexibility.
Pricing:
Starts at $15/month. Free trial available for new users.
5. Rytr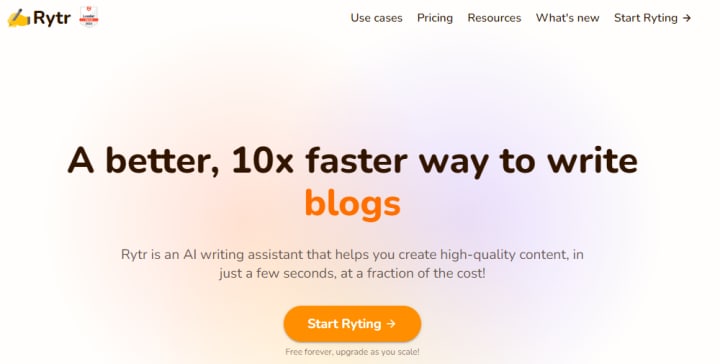 Rytr is an assistant and content generator with over 30+ templates and use cases designed to help copywriters and content marketers generate copy for ads, landing pages, product descriptions, and more.
Rytr's vast array of available writing tones helps you sound just right for any situation.
Rytr is a tool that helps you expand your writing audience by allowing input in 25+ languages. While writing content, you can ask tool to increase, shorten, or rephrase sentences. This tool can be helpful if you want to communicate with people who speak different languages or if you want to simplify your writing.
If you want to take your content directly from Rytr to your CMS of choice, you can use the ample formatting options to make your text more readable. This will save you time and ensure that your content is formatted correctly.
To ensure that your content is original, use Rytr's plagiarism checker.
Pricing:
Free plan available. Premium costs $29/month and $290/year.
Should you even use a content generator?
A lot of people still have reservations about using AI-generated content. The big question is: is it acceptable to use AI content?
But the fact is this: Your writing can still be 100% original, human-sounding, and enjoyable to read if you get help from an AI blog writer.
When you use an AI content generator, you'll be able to create high-converting content more quickly and easily. This will save you time and help you scale your content production. Essentially, it's a win-win situation. However, to really see the benefits of using an AI content generator, it's important to understand how they work.
A few final thoughts
While it is true that not all content can be published immediately or even fully written in such a short amount of time, product managers can still help by providing context and an understanding of what the end goal is. By doing so, they can give other people a better chance to create something that is publish-ready or at least get closer to that point.
Always fact-check content that has been created with AI assistance, and be prepared to edit or add to the outputs. However, using an AI writing assistant can give you a significant advantage when it comes to content creation.
Just remember that AI writers can help you be more efficient and productive. They can help you find and use information you might not have otherwise had access to. And they can help you generate new ideas and perspectives.
We have shown you top five ai content generators. If you ask us, we would strongly recommend Simplified, a versatile, robust content generator that can handle everything from short captions to long-form and video scripts.
About the Creator
Hi, guys. I'm just starting out on vocal.media, I write about artificial intelligence and new technology. Hop on the boat! https://linktr.ee/imhimanshuk
Reader insights
Be the first to share your insights about this piece.
Add your insights