3 Cool Car Accessories
Enhancing Your Driving Experience with Innovative Car Accessories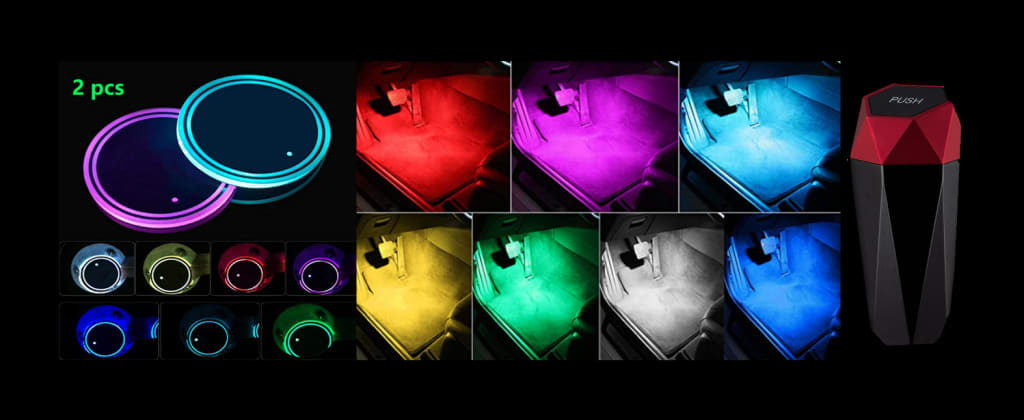 Car accessories have come a long way from being mere functional additions to becoming a means of personalisation and enhancement of the driving experience. These days, car owners are increasingly seeking cool and innovative accessories that not only add convenience and comfort but also make their vehicles stand out on the road. In this article, we will explore three such cool car accessories that are gaining popularity among car enthusiasts: LED Cup Holder Lights, 4Pcs Wireless LED Lights for Car Interior, and the JUSTTOP Car Trash Can with Lid. These accessories not only add flair and style to your car's interior but also offer practical solutions for a cleaner and more organized driving environment. Let's dive in and discover the unique features and benefits of each of these accessories, and how they can transform your driving experience.
LED Cup Holder Lights
Led Cup Holder Lights are a popular and stylish car accessory that adds flair and vibrancy to your vehicle's interior. Made of top-quality acrylic, these coasters are not only dust-proof but also feature a waterproof surface, ensuring the safety of your cup while providing easy maintenance with their smooth surface.
One of the standout features of LED Cup Holder Lights is their vibration-sensing capability. When the coasters sense vibration, such as when a cup is placed on them, they automatically turn on in the dark, illuminating your cup holder area. After 15 seconds of no vibration, the lights will turn off, making them smart and convenient.
The package includes two LED car coasters and a USB cable for easy connectivity to your car's USB interface. With a full charge, these cup holder lights can last for approximately 8 hours, ensuring long-lasting performance.
What sets LED Cup Holder Lights apart is their ability to add a cool color aesthetic to your car. They offer three lighting modes: Colorful, Breath, and Gradient, along with seven vibrant colors, including White, Red, Blue, Green, Yellow, Purple, and Ice Blue. This versatility allows you to freely change the colors according to your mood, providing a unique and enjoyable driving experience.
Using LED Cup Holder Lights is simple and convenient. The back of the USB charging cup mat features a button that allows you to control the light mode and change colors effortlessly. With their attractive design and functionality, these cup holder lights also make for an adorable gift option for family, friends, colleagues, and any car owner.
With their durable construction, vibrant lighting options, and user-friendly features, LED Cup Holder Lights are a must-have car accessory for those looking to personalize and enhance their driving experience.
CLICK HERE TO GET YOUR LED CUP HOLDER LIGHTS
4 PCS Wireless LED Lights for Car Interior
The 4Pcs Wireless LED Lights for Car Interior is an innovative car accessory designed to enhance the ambiance and aesthetics of your car's interior. With built-in 6 RGB LED lamp beads, these lights offer 7 different vibrant colors, including white, red, green, blue, yellow, pink purple, and ice blue. The colors are bright and vivid, creating an immersive lighting experience without being dazzling.
One of the key features of these LED lights is their portability and USB rechargeability. With a simple removal of the headlights, they can be conveniently charged using the included USB data cable. A full charge typically takes only 30-40 minutes, ensuring quick and hassle-free charging.
The installation of the 4Pcs Wireless LED Lights is incredibly easy. The magnetic unit included in the package can be securely fixed using the provided double-sided tape. Once the magnetic unit is in place, the lights can be easily attached and fixed onto it. To operate the lights, a single tap allows you to change the color, while a long press for 3 seconds turns off the lights.
These LED lights are wireless and utilize touch control. There is no need for complicated installations or disassembling, making them user-friendly. The touch control feature allows you to change between the 7 available colors. These lights serve as a perfect addition to your car's interior, creating an atmospheric ambiance. They can also be used as auxiliary lighting or atmosphere lighting, further enhancing the overall visual appeal.
The versatility of the 4Pcs Wireless LED Lights extends beyond the car interior. They can be installed in various dark places, such as storage boxes, armrest boxes, and seat corners. Additionally, they can be used as bedside lights, wardrobe lights, reading lights, or even backpack lights. These lights provide illumination in any dark area, allowing you to personalize and brighten up your surroundings.
With their wireless and USB rechargeable design, a wide range of color options, and easy installation process, the 4Pcs Wireless LED Lights for Car Interior offer a convenient and stylish solution to elevate your car's interior aesthetics and add a touch of vibrancy to any space.
CLICK HERE TO GET YOUR 4 PCS WIRELESS LED LIGHTS FOR CAR INTERIOR
JUSTTOP Car Trash Can with Lid
The JUSTTOP Car Trash Can with Lid is a practical and stylish car accessory designed to keep your vehicle clean and organized. With its cool diamond cut surface design, this trash can not only serves its functional purpose but also adds a touch of elegance and fashion to your car interior.
One of the standout features of this trash can is its easy-to-use bouncecover design. The "PUSH" cover can be effortlessly opened with a simple push and automatically closes, making it convenient to dispose of trash without any hassle.
Made of environmentally friendly plastic, the JUSTTOP Car Trash Can is not only durable but also waterproof, ensuring that it can handle various types of garbage. The lid can be easily opened for cleaning purposes, allowing for quick and convenient maintenance.
This versatile accessory offers multiple functions. It can be placed in the cup holder or car door, acting as a dedicated trash can for your vehicle. Additionally, it can be used as a desktop trash can or even as an ashtray. This wide range of applications makes it suitable for cars, homes, offices, and more.
The JUSTTOP Car Trash Can is designed to be compact and small, making it suitable for all types of vehicles with central control cup holders. Whether you have a car, truck, camper, or any other vehicle with a cup holder, this trash can will fit seamlessly into your interior.
With its combination of practicality, durability, and a cool appearance, the JUSTTOP Car Trash Can with Lid is the perfect accessory to maintain cleanliness and organization in your vehicle. It not only serves its purpose effectively but also adds a decorative touch to your car interior.
Reader insights
Be the first to share your insights about this piece.
Add your insights