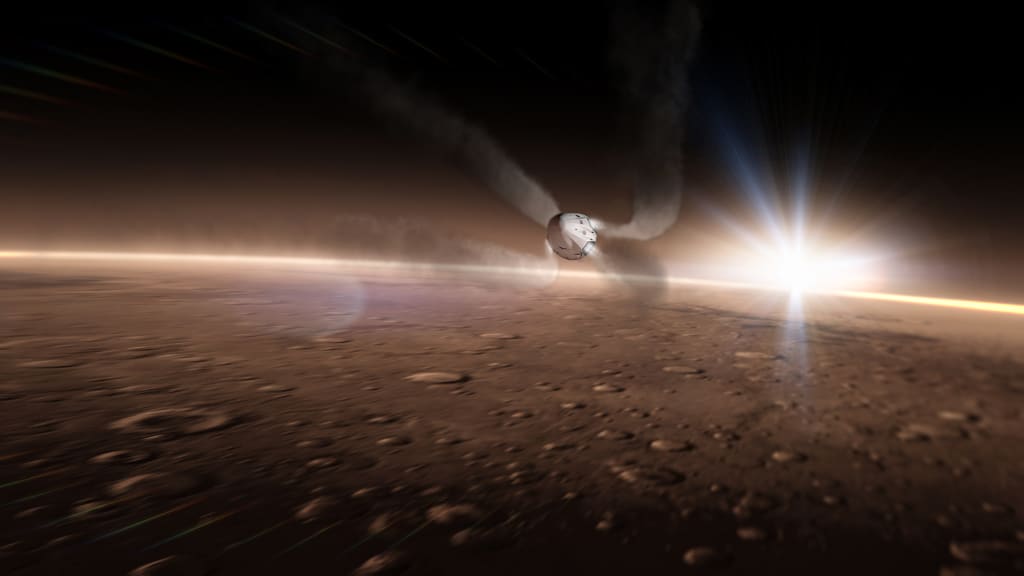 Dragon To Mars from flickr.com/photos/spacex
My own concept of ambient music has always been a broad one. It touches nearly every genre, yet makes its home in none of them. It revels in ideas and mystery. It's often been the product of cutting-edge technology, yet many of its best moments are deeply human ones. The parallels with science fiction are not hard to find.
From gentle classical minimalism and dreamy post-rock to ghostly drones and abstract electronica, the other-worldly marriage of ambient and sci-fi has produced some of the genre's most powerful onscreen moments, as well as some fine soundtrack albums in their own right.
Get comfy and take a trip with these ten original sci-fi film scores.
Solaris (2002) - original score by Cliff Martinez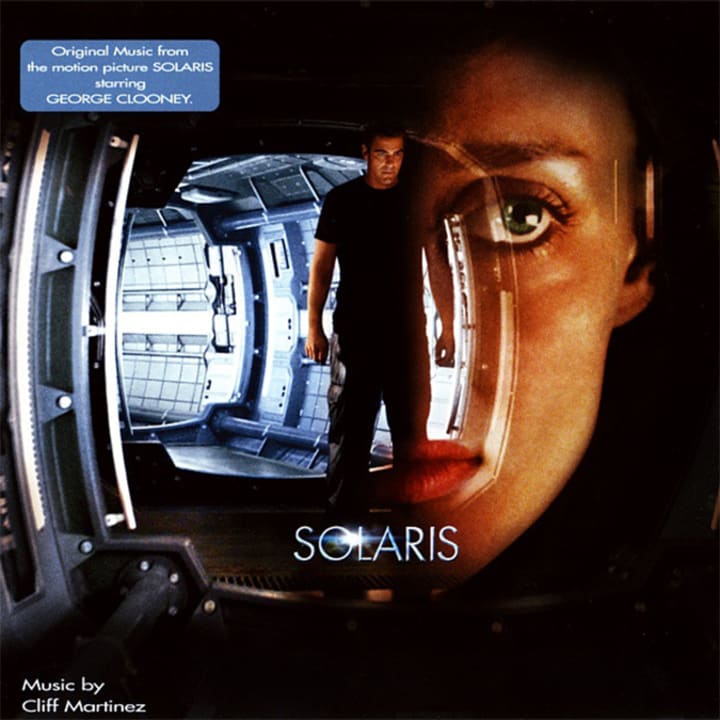 The music for director Steven Soderbergh's surreal, meditative love story Solaris - based on Stanisław Lem's 1961 novel - is arguably the greatest sci-fi film soundtrack since Vangelis' Blade Runner. Cliff Martinez's bubbling, chiming, luminous score also holds up very well as a standalone album. It's beautiful but coy, occupying the same ambivalent emotional space as the film itself. While it sounds electronic, the roll call of instruments reveals most of the sounds are orchestral in origin, making it a pretty extraordinary production piece. Also worth hearing are Eduard Artemyev's original pieces composed for the very different Russian film of the same novel, made in 1972.
THX 1138 (1971) - original score by Lalo Schifrin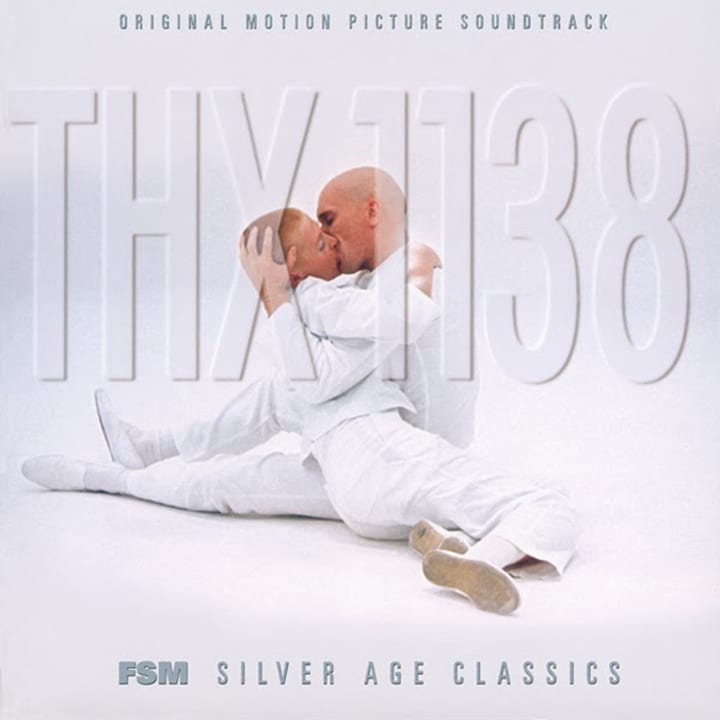 The super versatile Lalo Schifrin is best known for his jazzy 60's movie and TV themes like Mission Impossible. But he also did a good deal of atmospheric and avant-garde scores over his long career including George Lucas' bleak sci-fi arthouse film THX 1138. While the official soundtrack album has some of his expected jazzy lounge, it's the more ambient pieces that really capture the film's dystopian narrative. Highlights include liturgical-like chants against backdrops of suspended strings, some exotic percussion pieces, and a deeply haunting love theme for flute and harp. THX 1138 is a composer's dream insomuch that it has minimal dialogue, allowing Schifrin's score to really shine.
Forbidden Planet (1956) - original score by Louis and Bebe Barron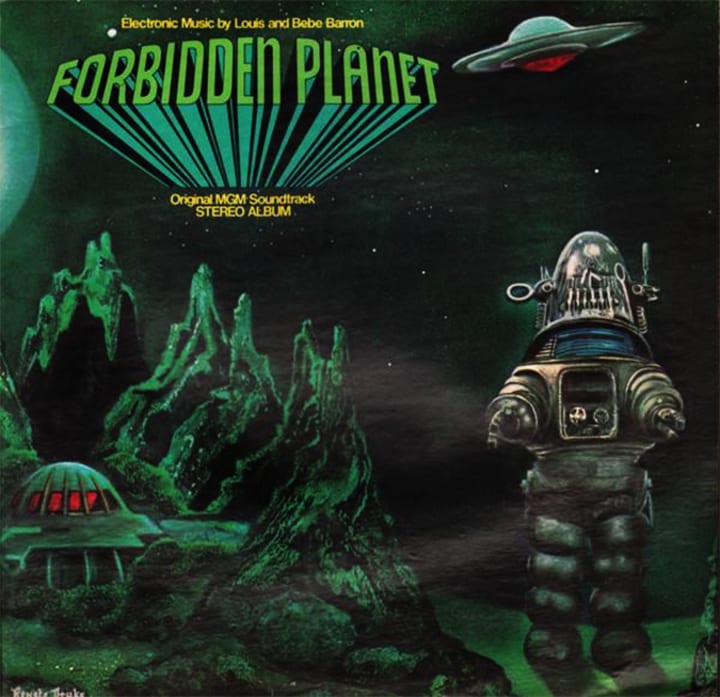 In 1956 electronic music was virtually unknown to the mainstream, yet it provided the entire score for the hit sci-fi film Forbidden Planet. Composers Louis and Bebe Barron's soundtrack was the first all-electronic movie score and one that predated actual synthesisers by many years. Louis Barron built an array of tone generators, modulators and other gadgets to produce the film's otherworldly sound poems. This is ambient music from a time well before ambient was even a thing and, while it's often dissonant or atonal, its overall restraint makes for a fantastically atmospheric listen.
Dune (1984) - orignal score by Toto and Brian Eno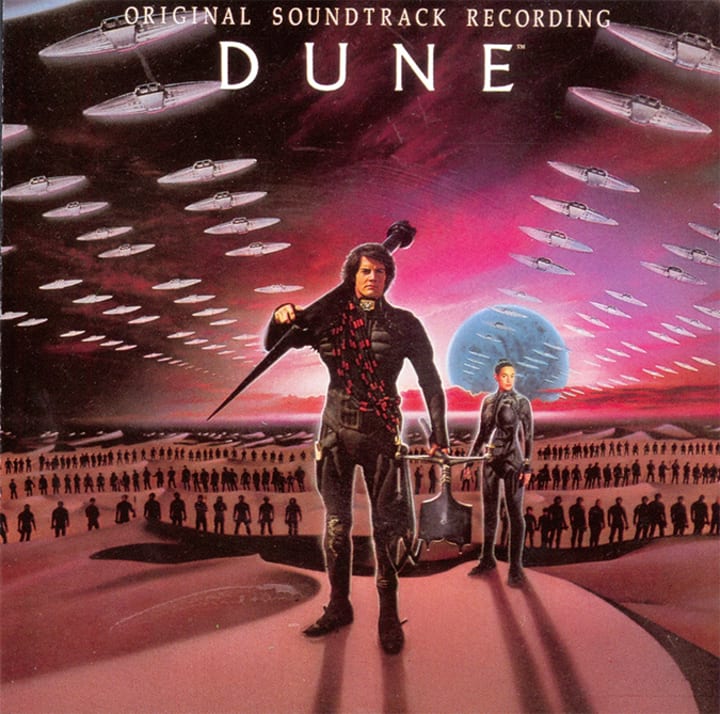 Sci-fi movie music by...Toto? Well yes, except that the creation of the score for David Lynch's epic Dune was guided by veteran orchestrator and musician Marty Paich, father of Toto founder David Paich. Together they worked well beyond the confines of Toto's slick adult rock template, creating an orchestral-rock-ambient hybrid that succeeded beyond anyone's expectations in capturing the mystical spirit of the story. Dramatic rock and orchestral passages contrast perfectly with surreal atmospheric and ambient sections, the lush wordless choral mtextures of "Trip To Arrakis" and "Paul Meets Chani" being especially ravishing. Even better is Brian Eno's single contribution, the sand-blasted and intensely beautiful "Prophecy Theme," one of his greatest ambient pieces.
Moon (2009) - original score by Clint Mansell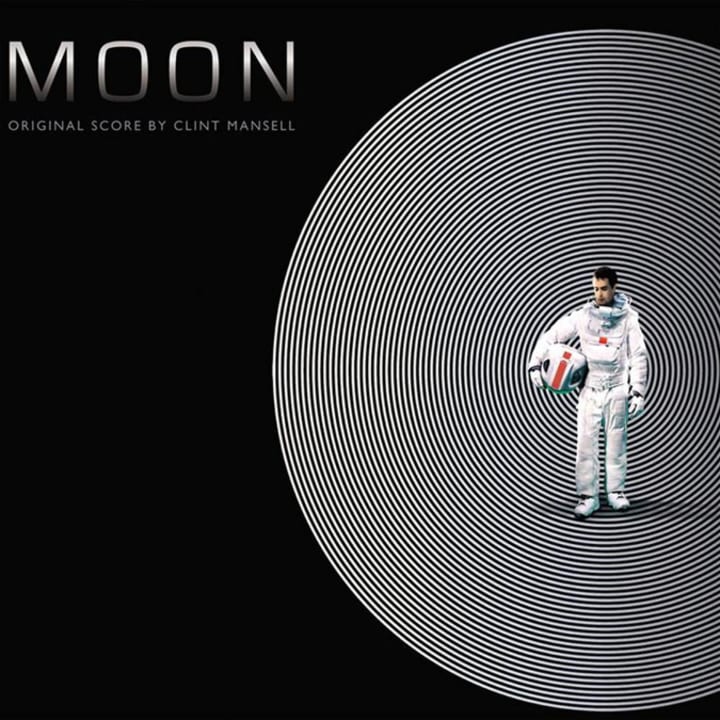 UK composer Clint Mansell's score for the meditative two-man drama Moon quite brilliantly meshes elements of classical chamber music, post-rock, droning electronics and avant-garde noise. The main theme "Welcome To Luna Industries" combines all four of these elements and its melody becomes the score's recurring motif. The simple piano figures have a seductive Michael Nyman-Max Richter kind of quality, a specific style of modern classical that's rarely heard in sci-fi soundtracks and refreshingly different here.
Cosmopolis (2012) - original score by Howard Shore and Metric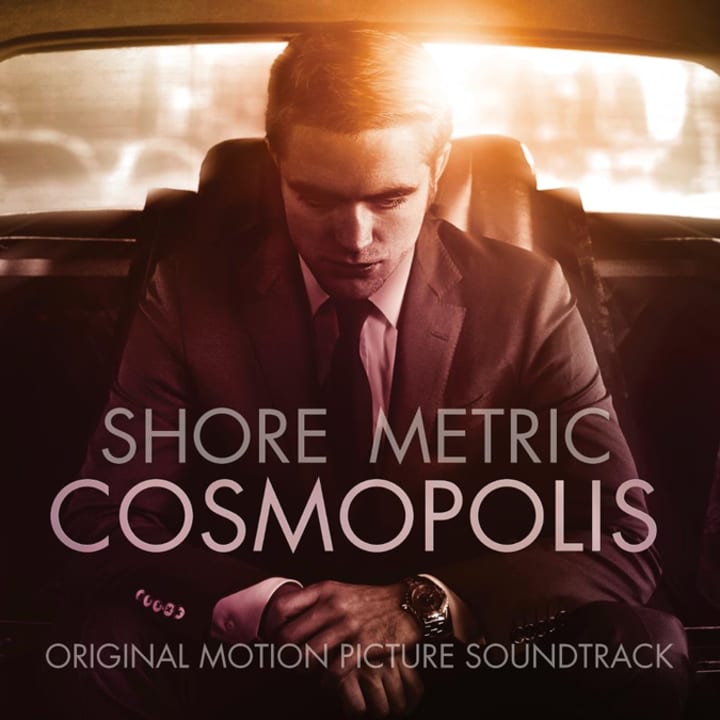 It's arguable whether David Cronenberg's hyper-intellectual Cosmopolis is actually a science fiction film, but it seems to suggest a kind of dystopian near-future despite the lack of futuristic tropes. Besides, it has a glittering, brooding, fantastically dreamy score by film veteran Howard Shore and Canadian indie rock band Metric. The songs are rather ordinary and few in number; the instrumentals are what make this a great soundtrack. The pieces are built with layers of spacey ambient, distorted and jangling guitars, and a variety of wandering grooves. Although who did what on this collaboration is not entirely clear, Cosmopolis boasts Shore's best contemporary music scoring since Cronenberg's Videodrome (1982).
Blade Runner (1982) - original score by Vangelis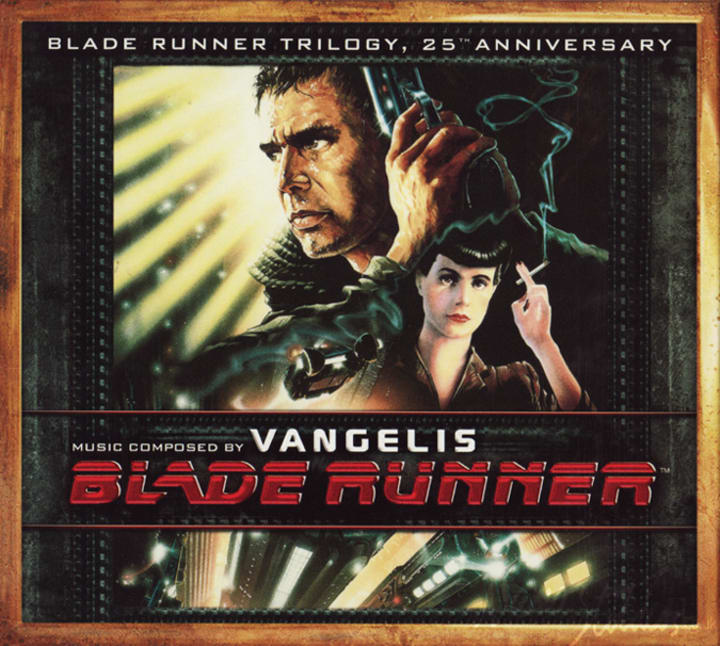 Many of Vangelis' greatest albums are his film soundtracks, notably Antarctica, L'Apocalypse Des Animaux and Opera Sauvage. Ironically the greatest of them all didn't even get a heavily abridged album release until 12 years after the film came out, and we had to wait until 2007 for an official full release. But whether you hear the score with the film or on its own, Ridley Scott's future noir classic features some of Vangelis' most panoramic, awe-inspiring and emotional electronica. From deliciously dark proto-techno (End Titles) to weepingly sad laments (Rachel's Song), Blade Runner is a trip, drenched in ambient beauty, bleakness and melancholy.
Ghost In The Shell (1995) - original score by Kenji Kawai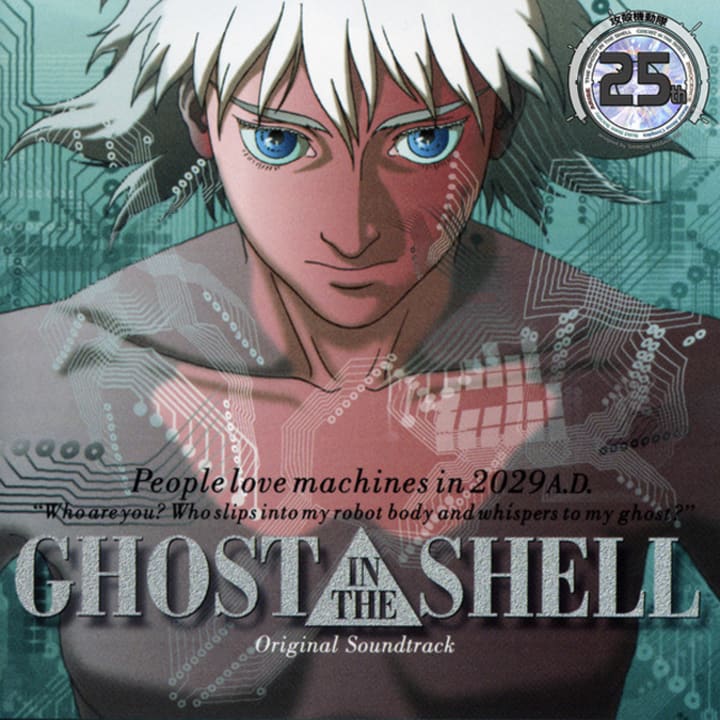 Director Mamoru Oshii's cyberpunk masterpiece about consciousness, cyber-terrorism and philosophical cyborgs is the kind of subject matter that's typically underscored with 100% electronic music. Yet the gifted composer Kenji Kawai came up with something rather different for Ghost In The Shell, and it's deeply rewarding. You'll hear piercing choral chants, sustained bell-like tones, brooding tribal drums and Japanese instruments like the koto. There is also a couple of lush electronic rhapsodies "Nightstalker" and "Floating Museum" that ache with a deep, urban melancholy. Kawai's music for Oshii's sequel Innocence (2004) is also outstanding.
The Thing (1982) - original score by Ennio Morricone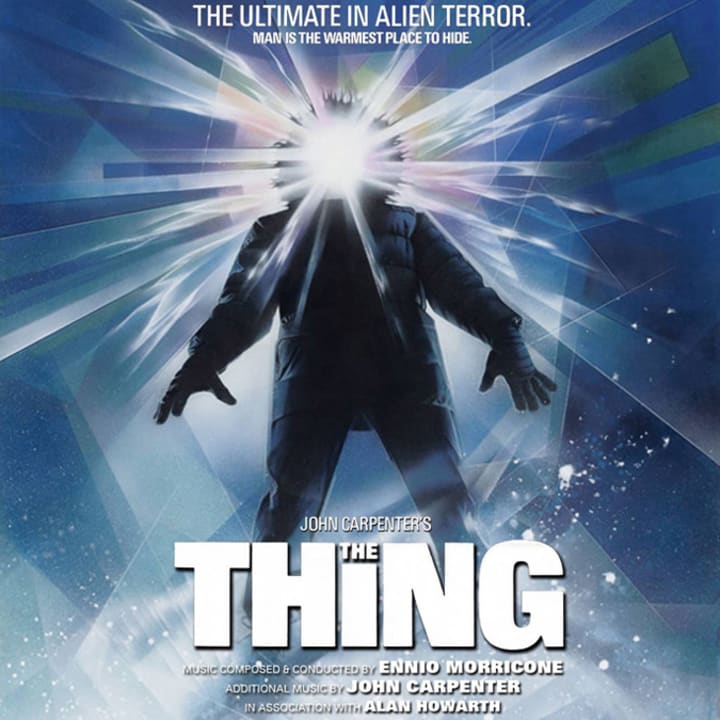 Movie music veteran Ennio Morricone's credit as the sole composer of the score for this sci-fi horror classic is a little misleading. Director John Carpenter had already composed stark and highly evocative electro-acoustic scores for his own movies - Halloween, The Fog, Escape From New York - and at one point during production he played some of it to Morricone as a guide. That's why the subtly menacing soundtrack for The Thing sometimes finds Morricone's lush orchestral and organ sounds meshed with the minimalist repetition of classic Carpenter. The main theme "Humanity" is a stunning example with its plodding, simple bass guitar stabs looped beneath doomy orchestral and organ colours. It's a dark and unsettling score, best experienced well after the sun goes down. Note: extended versions of the soundtrack album include some additional bridging music from the film composed by Carpenter.
Interstellar (2014) - original score by Hans Zimmer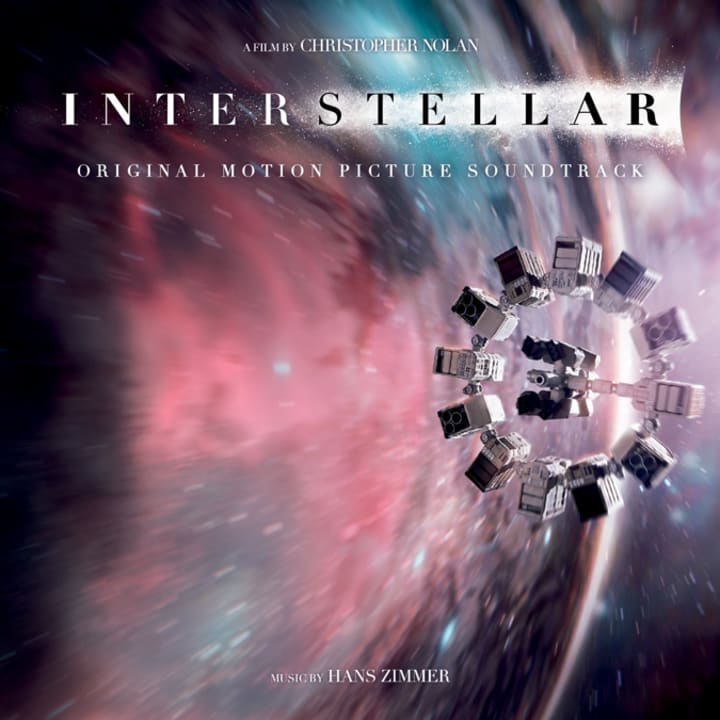 Many of Hans Zimmer's film scores are pleasantly functional orchestral movie music, but Interstellar is a magnificent exception. The film's key recurring melody is a stunner, one on the most profound cosmic themes I've heard anywhere, on or off the screen. It's basically an ascending chord sequence that repeats with increasing intensity à la Philip Glass, variously played on organ, piano, strings and sundry other instruments. If Zimmer has never heard the panoramic spacemusic of West Coast ambient master Michael Stearns, then surely they have both drawn from the same deep well.
About the Creator
An advocate for extraordinary music and movies and art and stuff. Founder of Ambient Music Guide. Known for having an opinion or two.
Reader insights
Be the first to share your insights about this piece.
Add your insights