Zyneaus Wrath
Greed Destroys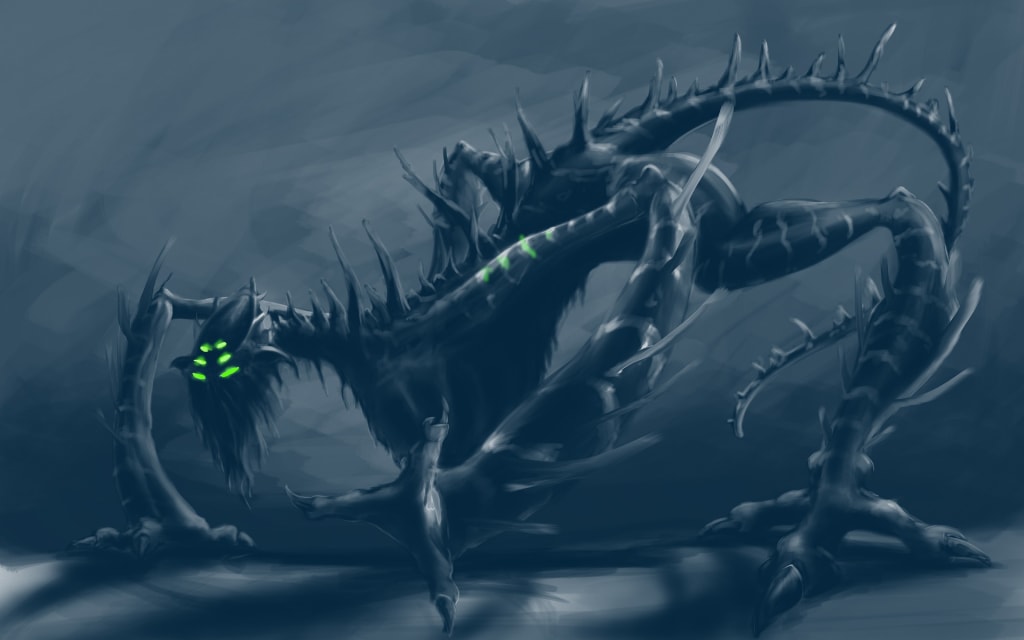 Image by Vlad Min from Pixabay (no restrictions)
There weren't always dragons in the Valley. Reniker changed that. Greed changed that.
Valah froze as the vision came to her. A deafening roar echoed through Mount Taluia. The Dragon Queen, crying. The King, enraged. Kaporiya. Her village. Charred remains. Buildings destroyed. Villagers terrified. Fire raging.
What brought this on? Could she stop this? Would the Dragon King listen? Valah ran to the gazing font. All magic had a price. She pulled out her dagger, made a small cut in her finger, and swirled it in the font as she gazed and asked her question.
Smoke rose in whisps and an image formed. Valah sucked in a breath. Reniker violated King Zynaeus and Queen Nykora's lair, stole their egg, their gold, and the precious gem of Taluia. Evil magic cursed the valley and brought the wrath of the Dragon King. The vision faded, but she knew there was more.
Valah grasped the sides of the font to hold herself up. The visions drained her more than she anticipated. Seconds passed before she regained enough strength to leave. Valah paid homage to Aneus and made her way out. She had to get to Reniker before he doomed Kaporiya. Winding her way carefully through the caverns, leaning on the walls for support, pausing to regain her strength, she made it to the servant's quarters.
Dear Aneus, please don't let me be too late. Valah pushed open the door and stared down the dark hallway. Why weren't the torches lit? Valah grabbed an extinguished torch and lit it. Which room belonged to Reniker.
Valah closed her eyes, pulled out her dagger and made the cut. This time deeper. She lifted her hands as her blood dripped onto the ground—Aneus, help me. Show me. The vision came to her. Last door on the left. Valah slumped to the floor. Get up. She crawled to the wall and pulled herself up. It took every ounce of her remaining strength to stand. But she must go on.
Leaning on the walls to keep from falling, she made her way to Reniker's room and knocked on the door. No answer. Aneus, please. Too late. She arrived too late. Extending her hand, Valah hesitated before opening the door. Acolytes were not permitted in apprentices' rooms. Surely this would be an exception.
Valah exhaled a breath she did not realize she had been holding. Her hand trembled as she reached out and turned the knob. The hinges groaned in protest but gave way as she pushed. Valah entered Reniker's chambers. Aneus, help us.
She stood in the entrance and stared. Broken items, paper, and books littered the floor. Drawers open and furniture smashed. Apprentice robe and clothing strewn about. Most importantly, his staff and wand were gone.
Why? What in Aneus's name could have provoked this. She looked around for anything that could be an answer. What she found made her stomach churn.
Several scraps of paper littered his desk. But the crumpled one gave her pause. Valah hesitated before she opened it, afraid of what she might find. Reniker had turned to dark magic. Pages of evil spells from Orwyn, the banned wizard. Valah grasped his desk so tightly, her knuckles turned white. Her stomach clenched, bile rose in her throat. Tears rolled down her cheeks. Her friend, now her enemy. Kaporiya heeded her help.
~~~
Valah begged Druanae to let her help. To go to the dragons. Druanae shook his head.
"Child, there is nothing you can do or say to King Zynaeus and Queen Nykora. Their minds are set."
"Please. We cannot let them kill innocents."
"We are not responsible for the acts of one."
"The acts of one greedy, evil, banished apprentice who cares only for himself? We cannot let him destroy Kaporiya. There must be something we can do—I can do. Please." Valah begged.
"It may cost you your life. Are you willing to die for them?"
"One life to save the lives of many. I am willing"
"So be it. Come back on the morrow, I shall assist you."
Valah dropped to her knees. "Thank you, Druanae."
~~~
It had been aeons since Valah set foot in Kaporiya. She had given her life to serve Aneus and she received many gifts. Although not a wizard, Taluia had given Valah the gift of magic and visions. But it came a price. Simple magic required little, but the more complex, the more it demanded of her.
Druanae's words echoed in her mind. Know this. In Kaporiya you will be human. Your magic will be limited and the price you pay will be great. No life should be forfeit for the greed of another. Valah made her choice.
Banishment from Taluia, sent one back to Kaporiya, where they were born, before they chose to serve Aneus. Reniker was no different. Except his banishment brought the wrath of the dragon king, Zynaeus. Reniker doomed his village. Did he even care? Valah ran through the streets of Kaporiya toward Reniker's old home. Her visions told her she would find him there.
No one suspected what was about to happen as Kaporiya prepared to celebrate the Festival of Aneus. The square was filled with vendors selling their wares. Tournaments were set. Food tents on every corner, villagers out to celebrate.
Valah shook uncontrollably. A vision flashed before her, and she looked up. King Zynaeus flew through the skies his body ablaze. Flames shot from his mouth and nostrils lighting Kaporiya on fire. Behind Zynaeus, several other dragons followed. Buildings burnt, people fled, crops were destroyed. Kaporiya gone.
Valah burst through the door and ran down into the storage room. Reniker turned to face her.
"How could you?"
"You know nothing. They stole my life. Now, I took what mattered to them most."
"Fool. You have doomed Kaporiya. The dragons are coming and they plan to destroy everything. Including you. In the name of Aneus, please return what you took."
"Never."
He slammed his staff on the floor and Valah flew across the room. Her magic could not compete with his. Would a binding spell be enough to slow Reniker and return the Queen's egg? Would King Zynaeus spare Kaporiya? She had to try.
Valah crossed the room and stood before him, placing her hand on his heart. "Think about what you have done. There is still time."
"Leave. Now." He stepped back, raised his staff, twirled it above his head, and pointed it at her. "I do not want to hurt you."
"Please think about what I have said. I beg you."
"LEAVE."
His voice thundered and shook the house. Valah turned and started up the stairs. A quick glance over her shoulder showed her Reniker would not change. Hopefully she had enough magic to make her plan work, and the King would spare Kaporiya.
Tears streamed down Valah's cheeks as she took what she needed for the binding spell. Time was her enemy. The visions cost her dearly. She was spent and needed some time before she could try.
Valah pulled her dagger and made the cut. It needed to be deeper than before, but she had no choice if she wanted the binding to work. She lifted her hands and prayed to Aneus then cast the spell as her blood flowed to the ground. The skies opened and lightning struck the small house. Valah used what was left of her magic to get the egg. The gold and gem of Taluia would need to wait.
"Aaaaaaaaaaaarrrrrrrrrrgh!"
Reniker's scream pierced through her. Valah knew her time was limited. She must get to King Zynaeus and convince him not to destroy Kaporiya. Druanae had been right. Being mortal limited her in ways she had not planned. Magic use drained her more and recovery took much longer.
It took everything she had to get to the village. That is where the King planned his first strike.
Too late. She arrived too late, and her magic could not change anything. Death surrounded her. Tears streamed down Valah's cheeks and she fell to her knees, pounding on the ground. Greed cause this.
King Zynaeus circled the skies above her.
"Return my Queen's egg, our gold, and the Gem of Taluia or prepare to die."
One last chance. Valah stood and cut herself longer and deeper than ever before to work what little magic she could muster. Blood poured from the cut allowing Valah to bring forth Queen Nykora's egg.
The streets of Kaporiya spun before Valah's eyes and she fell to the ground. She tried but could not speak, her blood pooling beside her. Thoughts of the Dragon Kings's revenge terrified her. Spare them.
She remembered what she had said to Druanae, One life to save the lives of many. I am willing.
About the Creator
Michele Jones is an author whose work explores the darker side of a character's psyche.
When she isn't working, she enjoys spending time with her family, cooking, and doing charity work.
Reader insights
Outstanding
Excellent work. Looking forward to reading more!
Top insights
Compelling and original writing

Creative use of language & vocab

Easy to read and follow

Well-structured & engaging content

Excellent storytelling

Original narrative & well developed characters
On-point and relevant

Writing reflected the title & theme
Add your insights