Wise Words from Indecent Men
Act I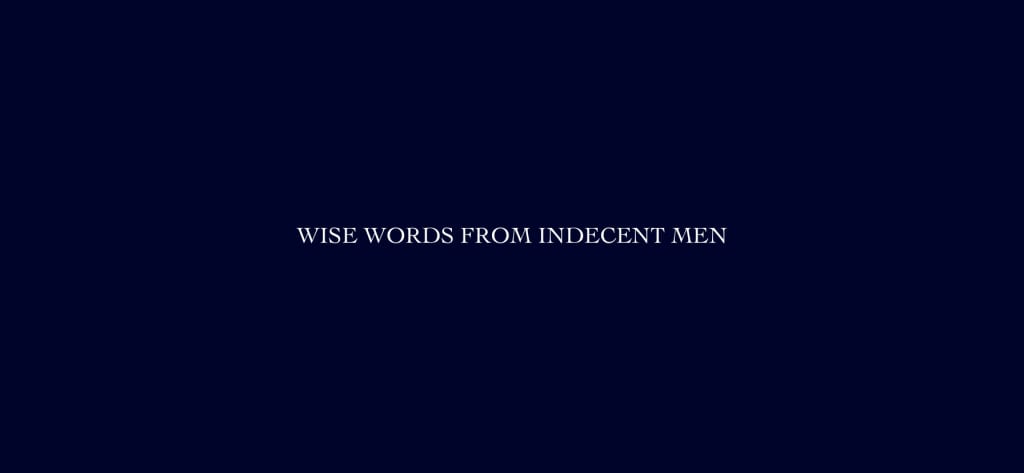 I, Myself
Mr Rage (OG RAKIM HUSSEIN EL HAKIM)
Mr Spirit (DR. ROBERT MARBURY)
Mr Body (RAPPER BEST FRIEND)
Mr Peace (FATHER DEAREST)
Mr Mind (GOD)
Mr RAGE vs MYSELF
EXT. GREENWICH VILLAGE AREA , NY
V.O
I, MYSELF, is walking in the neighborhood with Mr. Rage, a black man, older gentleman with a tall dark brown suit is holding a cup of coffee wearing a white netted kufi.
I, MYSELF, left a tie at home. Blazer, black on black. I kept it causal for the sake of conversation.
MR. RAGE
What's the problem with America… You aren't given the right of privilege for the country you worked for.
I, MYSELF
Yes indeed.
MR RAGE
It's during these times specifically that you choose to come see me.
I, MYSELF
I, myself I am still trying to hold on to the past which is my problem.
MR RAGE
You already know that's the problem with us right. Notice how brown liquor and stories really gives us generations of a standard of black living and dying.
I, MYSELF
It's like that saying "we can never leave home"
MR RAGE
We are never left alone. So then what are you to do my brother.
I, MYSELF
But see I, Myself I never understood why, the more I tried to fathom life, my freedom, the more I grew tired? It will twist you so bad, this world when you're alone standing for what is right.
MR RAGE:
I just wish you could argue when spoken to and not feel like a threat or an enemy, like to walk into a bank and get the same opportunity as a robber with a different colored gun.
I, MYSELF
There's no more corners, no more black, no more establishment. What do we have left besides the image they designed for us. That's what we live off of, those crumbs.
It's sick, you know, they give me the tools for retribution. It's like my fear is two fold, only fear at this point is death or jail.
Mr. RAGE
And guaranteed there's a judge that is waiting to give you 15 to life. But you don't want to hurt anybody, that's your problem. Too focused on everyone else's opinion my brother. Let's turn this way.
V.O
I, Myself and Mr. Rage turn the corner. As his coffee turns cold, he tosses it.
EXT. WEST SIDE RIVERFRONT - CONTINUOUS, ESTABLISHING
V.O
I, Myself and Mr. Rage pass through incoming joggers, bikers, etc.
I find a bench and grab my seat. Mr. Rage takes a seat beside.
MR. RAGE
All those times, awkward conversations with yourself, the times you worry that your wife is having an affair with someone you know…
INSERT— Graphic sexual take between I, Myself's wife and a stranger.
MR. RAGE
… But to another man's life.
I, MYSELF
It's one of those things you just have to do.
Mr. Rage
Don't sit here and pretend to act you're still some boy. Do you consider yourself a man or a gangster.
I, MYSELF
I guess I'm both.
Mr. RAGE
So listen to me. There are plenty of men who decided between the world, themselves and their family. A Gangster only cares for himself to protect his family. A man protects his family because he cares for others.
I, MYSELF
You act like I can get up and just leave everything I built. They're watching me. Everyday.
I, MYSELF I begin to rage, more of in a sense of guilt and hatred for my position in life. The sense of feeling that I was given the tools to make these choices.
I, MYSELF
OFF-SCRIPT
MR. RAGE
I'm asking you to chose one.
I, MYSELF
Choose What?
MR. RAGE
Death or Jail… which one?
I Myself, I take out a cigarette before I decide on such a brash decision.
End of Scene.
Reader insights
Be the first to share your insights about this piece.
Add your insights