When we were Kids
Excerpt from Bucolica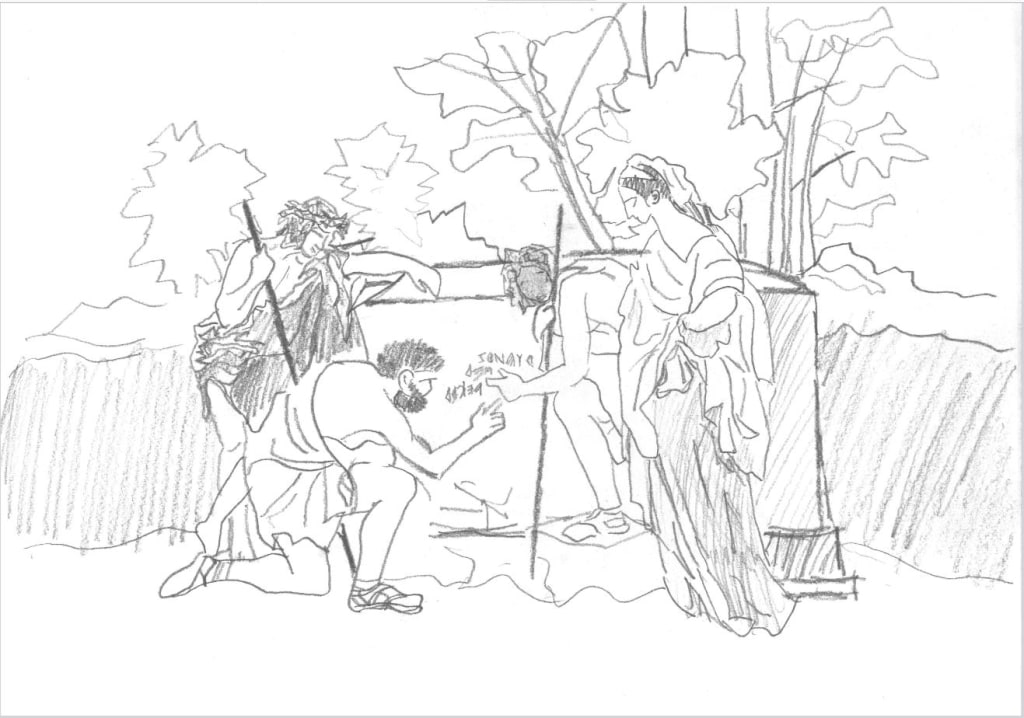 Sketch by the author after Poussin's Et in Arcadia Ego
WHEN WE WERE KIDS (corresponds to the Names)
the Nymphs gather round to hear the little girl cry out the tears of things in the
pain of loss not of love but of tokens/
little tiny toy tokens/
The Childhood Loves of Giton and Pannychis/
for us Dryads mourning
les monuments de notre enfance /
tokens of the tomb:
a scarab beetle
a grasshopper
a cricket
/Little Giton wooed his cousin Pannychis,
/show'd off his strength, gave her presents
Little Pannychis in a little thicket where osier formed a bower/
like a living basket world/
she composed in playtime her tiny love-shrine/
but oh the memory of rainbow conks for rosemary or thyme planters, the nutshells nourishing violets, made even the most seasoned nympho look back with lonely longing on the monuments of her infant loves
a singsong for cousin Pannychis/
the little rascal swanked and swaggered showing his mini muscles
He gave her such cool bug-pets
and nuts with berries. BUT
3 times it happened, the play-pet died,
first the cricket,
then the others each in a row...
PANNYCHIS When we were Children
Les Monuments de Notr'Enfance
Where pretty little Pannychis had
composed in playtime her tiny love-shrine
she couches the lil statuette of Venus on a bed of soft leaves
or lays it in a cradle of pomegranate rinds,
calls it her daughter and her babydoll.
/death of the love-token
poor poor cricket
streamscreams childsobs/
Chlorys-la-Belle would pass by,
green remedy as cure to lachrymosals.
From her rustic belt hangs a formless lyre,
and the sound of her voice moves
the air and the ripple and the heavens and the woods—
lyre now in hand, ready to hand,
she asks the storming child
what the matter is.
My cricket and my grasshopper are dead my scarab beetle O nightingale of grasses! junkdrawer of lovetokens! Seashells nutshells and dead bugs l8tr loveletters in crowds of half-felt adolescence ecstasies crepitant jumble
et bacchus hymen ces dieux toujours adolescents
but back then like we were way way small i mean we'd've got lost in a forest of Thyme short-fronded by the herbish smell and the tangle toot toddling thru and rosemary woods so savory to the tot-stature, proud to be a head higher than the goose,
and to sing more like a swan than a goose, to her
my bergerette kissy cousin sweetie,
check out my muscles, look how high I grow,
when that one white goose attacked you,
which wasn't mon oie I said cuz
(mommy says im handsum with my curly broccoli head,
right outta the cabbage patch)
I squeezed its neck dead that tried to get
Cousin Pannychis
and the nymphs laugh, a giggle really, charmed,
looking forward even, though hoping it will last
« Leurs mains vont caressant sur sa joue enfantine
De la jeunesse en fleur la première étamine »,
and we saw them experience their rosemary groves and whole thickets of thyme with a short eternity ahead and all mystery heads barely above the thyme-flowers that's what we thought in familiarity like the drift of wild mint seeding in clouds of fresh smell on the wind attracting insects (we seasoned nymphs giggled on the surface, but inside we were weeping) y cuando yo era chiquita...
[monuments of our childhood]
all the herbals in flower and other fruit blasts bringing not only the honeybees but hornets and other waspish forms drawn by dew and the aftertaste of sweetness
Form of the Flower/
whirlybirds on the wing/
on his childish cheek their hands go on caressing
the first bud of his youth all in blooming
getting older now
growing up
...cuando yo era chiquito te...
I saw you (I was your guide,
follow me),
a little girl and I just a boy in our orchards,
picking dewy apples one morning,
when I was less than a year more than eleven
and growth spurted I could already pull down
the lower branches all the way to the ground
I'd grown already so tall already;
I saw you, and I died when I saw you,
I fell for you then and would never see
anything else but you.
My Bucolica is a modern reboot of the "eclogue" form originating in Classical Greece and Rome and much rehashed throughout all European literature. It usually comes in the form of a collection of shepherd's songs, dialogues, and stories featuring themes of love/desire, nature/the seasons, death/mortality, and the passing of time. It is often a playground to poeticize the animal world and humankind's relation to it, as well as particulars of the seemingly idyllic life led by simple shepherds and farmers in Arcadia. It is also referred to as bucolic literature. I wrote my Bucolica 2017-2018 in a mix of poetry and prose.
About the Creator
Experimental poetry and prose; fixed-form free-fall, endeavor to produce a multi-sourced and multiform jubilee of various objects and emotional stances. And free for all, so step right up.
Reader insights
Be the first to share your insights about this piece.
Add your insights