Wedding Flowers
Dust in the wind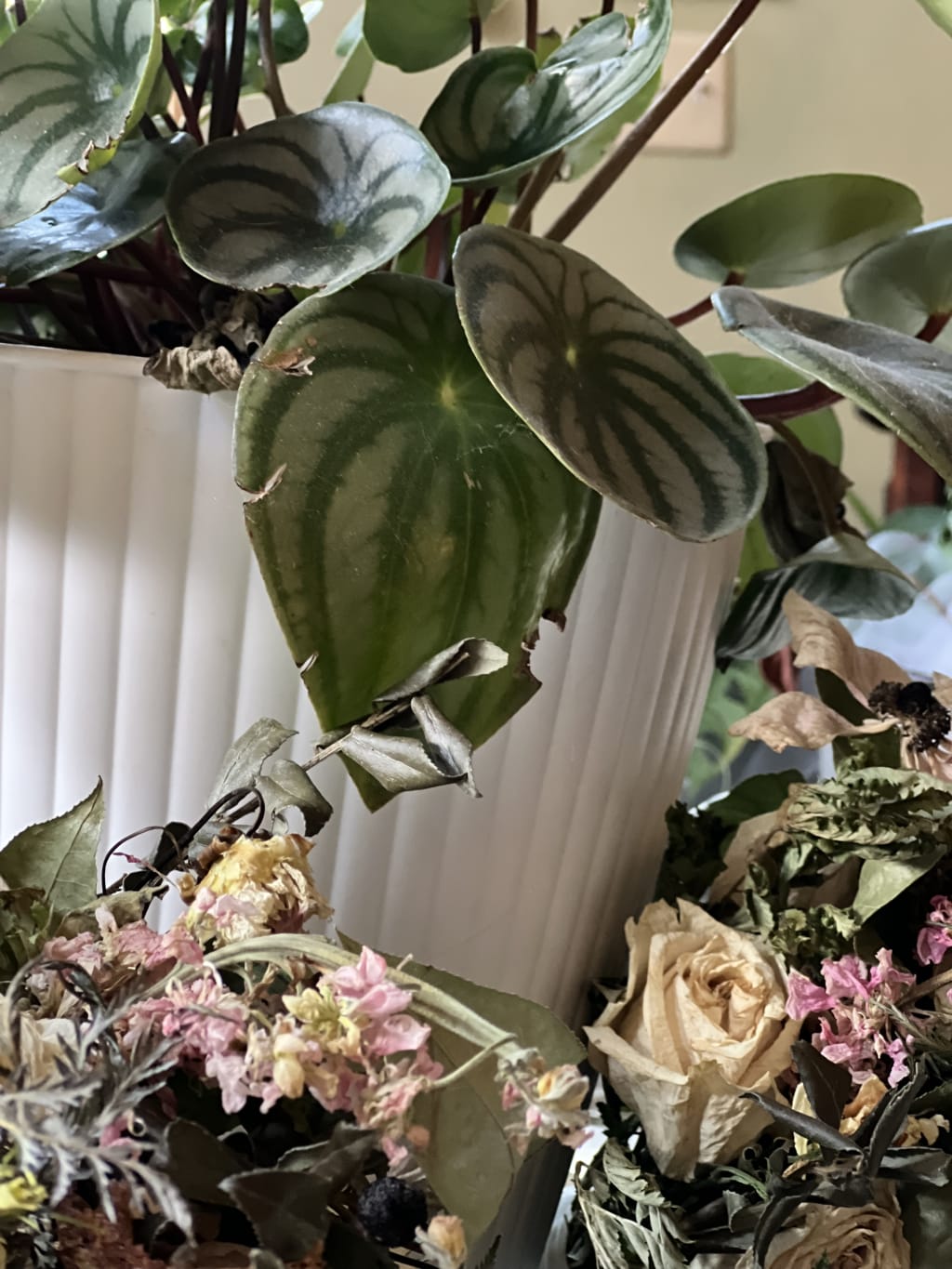 The Living and the Dead
Two bouquets of dried flowers lay where they'd been tossed upon the coffee table, beside a pot of living plants. Begonias actually, stretched on skinny stems toward the southern window, where a cloudless Colorado blue sky promised glaring sunlight later in the day.
How do you feel, hemmed between dead roses, white as a bride's dress, I asked a begonia petal, cracked around its edge.
Hush, pleaded dead pink peonies and purple delphinium. Open that novel called "Too Loud a Solitude" by Bohumil Hrabal.
Why, I asked. Silence. I opened to page 23, a trick my writing teacher had suggested last week. And there it was: Hrabal paraphrasing Hegel. De-petrify your thinking, suggested the begonia leaf.
I read, "The only thing on earth worthy of fear is a situation that is petrified, congealed, or dying…" Life moved little within these verbs. Hope had few feathers.
"…and the only thing worthy of joy is a situation where not only the individual but also society as a whole wages a constant battle for self-justification."
Individuals and all of society rationalizing on a bed of happily ever after? Good luck with that. Most brides believe a wedding justifies cutting roses, peonies, and delphinium to create a stunning bouquet, an ode to beauty, I said.
I had bought into this tradition decades ago, when I married. I cared about three details and only three details: I wanted to wear my mother's post World War 2 French satin dress; I wanted Norwegian Kransekaka almond cookie cake as dessert; and I wanted the best of my college choir friends to sing eclectic choral pieces. The rest I'd left to Mom.
My daughter was planning every detail of her wedding. With NO flowers. She had spelled this out in red ink. I took this to mean, DO NOT disobey my command. It's my wedding.
I considered the sage green tablecloths where her Dad and I would host gluten-free, vegan and carnivorous guests. I visualized the mountain valley venue, where moose were known to wander the brook and halved tree trunks provided seating. Flowers carried a softening, scented grace into such settings. Why cut them out?
She'd complained of the cost. But she wasn't paying the bills. Was it something else? Millennials had their own agendas.
I had thought I would be savvy, as my children became adults. Wasn't I an enlightened Baby Boomer? What problems would arise to baffle me, as my parents had been baffled?
"If I hear the word relationship one more time, I am going to…" Dad had said that, but how had he ended the threat? He had walked me down the aisle despite my failings.
Dad longed to understand me. I longed to understand my twenty-something. Had she a greater justification?
The world had expanded with the Internet. I loved holding a library within my palm. I googled, "environmental cost of cut flowers."
Word pictures attacked my fusiform gyrus with almost visual violence. On Valentine's Day, 2018, flowers flown from Colombia to US cities produced 360,000 metric tons of CO2. Many shipments were then transported around the country thousands of miles, on gas-guzzling trucks.
Holy Moly! I read on. Floriculture workers are exposed to toxins in fertilizers, insecticides, preservatives…
Children living near floriculture greenhouses in Ecuador have altered short term brain activity….
Pesticides contaminate water downstream…
I stared at the dried bouquets, carried so successfully in her cousin's wedding: colorful, aromatic, cheerful. Soon, they would be tossed into a landfill, bleached white beneath the mile high sun, scattered across desert basins, desert canyons and desert plateaus like afterfeathers.
And what about me, mother of an up and coming bride?
Engulfed in the desert's parched silence, I was nothing but another grain of sand in the wind.
Reader insights
Be the first to share your insights about this piece.
Add your insights