Waiting to go to School
Responsibilities of a big sister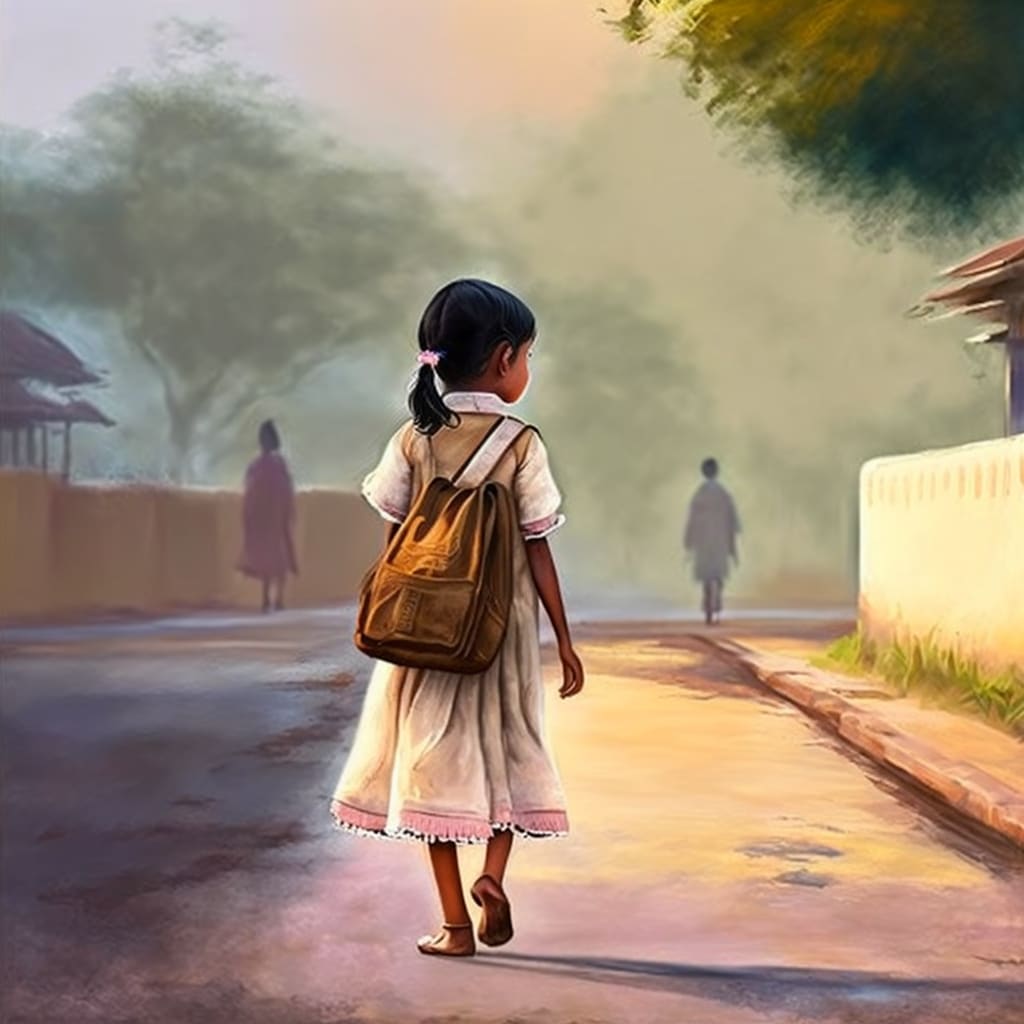 Midjourney Bot + J Scott Tanner
Malika wrapped her small fingers around the stainless steel tumbler for warmth as she stepped into the crisp, foggy mountain dawn. Her bare feet gently thudded on the ground as she moved to sit on the stair that surrounded the one-room mud hut she called home.
The faded navy blue woolen skirt that bunched around her feet must have been the hand-me-down bottom half of some girl's school uniform. Her white shirt desperately needed bleach, and the dull red sweater was too big for her slender frame. A colorful scarf wrapped around her head, completing her attire and keeping the morning chill at bay.
She blew on the steaming drink in her hand and took a sip. It flowed through her, warming her right down to her toes. Mmmmm. It smelled of warm cinnamon and green cardamon and tasted like sweet milk. This is real coffee, she thought, remembering the dark, pungent powder that a lady from the outside lands had told her was coffee.
It was 4:30 am, the golden time of the morning, according to her mother, and perfect for doing homework. Malika took another sip of her coffee, then placed it by her feet on the ground. Breathing in and closing her eyes, she quietly recited the Tamil vowels to herself: "A, AA. E, EE…" She had been to school for a few weeks now, and today the teacher was going to give them a dictation.
A frown wrinkled her smooth brow as she paused. What came after "EE?" With all the energy only a nine-year-old could muster, she tiptoed back into the little room where her six younger brothers and sisters lay sprawled on the mat, sleeping soundly. Her mother, swollen with another child, sat on a low stool, close to the packed mud stove, feeding dry sticks into the brisk, popping fire.
"Amma, can I take the lamp?" Malika asked as she grabbed her precious pieces of practice chalk, the blackboard, and the alphabet book.
"You don't need that right now," her mother replied, hardly looking up from expertly placing a slightly larger log into the fire with metal tongs. Her voice was strained."Go get Govi." she continued, "the children are going to wake up soon, and we need milk."
"But, Amma…" Malika began, only to stop short as her mother looked up at her, eyes flashing with authority.
With an almost inaudible sigh, Malika tiptoed out of the house and set off downhill. The air was damp and cool against her cheeks as she bounced and leaped like a goat among the many rocks and stones lining the winding path to a pasture just over a kilometer and a half away.
To her left, the valley stretched deep green, steep, and wide. Fog still lay heavy over the landscape, like a cloud of wispy white cotton candy.
Malika had walked the path so many times, she knew it by heart. On her way, she passed sheer rock crowned with tall lush eucalyptus trees and moss. A family of chattering monkeys scolded her for interrupting their early morning grooming session.
At one point, she passed a waterfall as it noisily cascaded down the rocky surface. And far below, if she had looked, she would have seen the river as it snaked down like a silver thread to the spool of a lake.
Malika's eyes, however, were not on the scenery. As she hopped along, she puzzled through the alphabet and made it all the way to the letter "AI." There were only a few more vowels left, but how did they go?
In her preoccupation, she almost stepped smack into a still-steaming pile of cow dung. Flailing her hands, she managed to avoid it, but the damage had been done. She was off balance.
"Aiiiiyyoooo" she called out as she stumbled forward, rounding the bend, trying to regain her footing. A loud moo greeted her as she hurled straight into Govi, her family's cow.
"Sorry girl," Malika said, balancing herself against the cow. Govi flicked her ears, as though she'd heard the buzz of a fly, then went back to lazily chewing cud. Malika walked around the cow, patting her heavy rump, and checking for injuries. All looked well. So, with deft fingers, Malika undid and collected the long rope that had kept Govi in the pasture all night, and began the long journey home.
"Want to hear what I learned so far?" she asked as she stepped into the road. The cow simply swished the tip of her tail and continued masticating.
"Ok, so the first letter is A, like Amma. The second letter is AA, like…" She stopped and turned so suddenly that Govi swayed and stepped back, "...like AA! That's another word for 'cow.' You're an AA!" Turning back to face home, Malika tugged on the cow's lead. "Come on! I want to tell teacher. Let's go!" Govi twitched an eyelid and swallowed.
The effort of the uphill walk kept Malika warm in the cool air, but it didn't keep her from chattering on about what else they might learn in school that day.
"I already know ick," she said. "And after ick comes ing… and then…" Govi listened to the girl all the way back home, placing one hoof in front of the other, careful not to step on the absent-minded girl's bare feet.
Malika saw the commotion near her house before she was close enough to hear it. The sun's rays were just peeking over the tops of the mountains. Perhaps it was time for school, and she was running late.
She raced the remaining way up the path and found the neighborhood boys crowded around her front door. Some were craning their necks to peek in, while others sat on the stair, looking as though they'd rather be anywhere else. When they saw her approaching, the oldest and tallest perked up.
"Go get your bag, already!" he called, "we've been waiting and waiting..."
"I'll get it, just a moment!" Malika called back as she led Govi in through the back gate. Then, her feet pitter-pattering against the cool earth, she ran around to the front and burst into the room. The scene that lay before her shocked her to a stop.
Her brothers and sisters were huddled together in a corner, most of them were sniffling, tears and snot sliding down their messy, still sleepy faces. Two of the smaller ones waddled over to wrap their tiny arms around Malika's legs. The youngest baby lay wailing in the lap of the second oldest. All were staring wide-eyed at what was going on at the other end of the room.
There her grandmother, aunt, and a midwife were bent over her mother, who sat sweating furiously even though the cool of the morning hadn't dissipated. The fire was no more than burning embers under a giant pot of water.
Malika's aunt looked up sharply to find her standing there. "Good, you're home. Quick, hurry. Milk the cow and feed the children. Go on!"
"But… I need to go to school… I have a dictat-"
Her aunt whirled on her just as mother grimaced. "Look at the children crying there. Are you looking?" She pointed at them, as though that explained everything. "Get the milk, feed them, and if there's time after that, you can go to your school."
Malika hefted the baby up into her arms, tucked her against her chest and bony shoulder, and bounced her gently to stop her cries. She dragged herself out of the room, one step in front of the other. Her brothers and sisters corralled around her, hiccuping from their recent torrent of tears.
The boys, who had been waiting impatiently, saw her walking up without a bag, without her books, without her carefully cleaned blackboard, and with a whole lot of still-dirty kids. She stood in front of them, looking down to avoid their judging eyes, and began to draw dusty lines in the ground with her big toe.
"Well?" the big boy said, "Coming?"
"I don't think I can today." She whispered, still looking down to hide the tear that had welled up unbidden.
The boys muttered and pulled disgusted faces at her as they turned to leave. She watched them go, then, their heads bobbing up and down as they skipped and hopped their way down the path until they disappeared into the rising sun.
The sun rose on a quiet Malika as she milked the cow, her head pressed against the ever-listening, ever-patient Govi's flank.
-
Author's note: This short story is loosely based on the life of my amazing grandmother, who was the eldest of 11 and didn't have a chance to learn her alphabet until her own children went to school. I hope you enjoy it. Please do let me know in the comments if you've heard or experienced similar things as Malika in this story.
Reader insights
Outstanding
Excellent work. Looking forward to reading more!
Top insights
Excellent storytelling

Original narrative & well developed characters

Heartfelt and relatable

The story invoked strong personal emotions

Easy to read and follow

Well-structured & engaging content
Compelling and original writing

Creative use of language & vocab

On-point and relevant

Writing reflected the title & theme

Eye opening

Niche topic & fresh perspectives

Masterful proofreading

Zero grammar & spelling mistakes

Expert insights and opinions

Arguments were carefully researched and presented
Add your insights