Top 10 Most Dangerous Waterslides
"Experience Heart-Pounding Drops, Lightning-Speed Plunges, and Adrenaline-Inducing Twists on these Extreme Aquatic Attractions"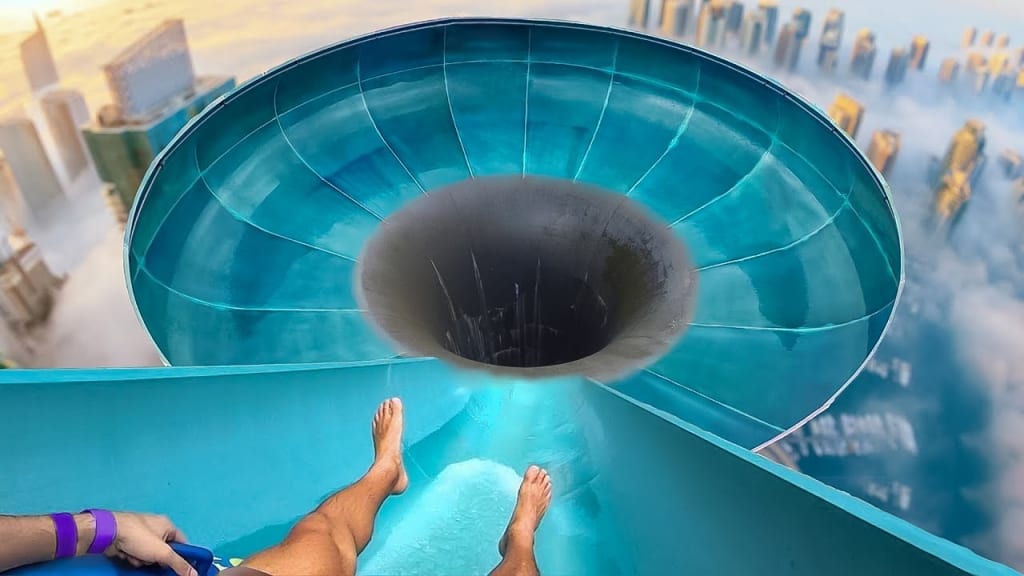 Top 10 Most Dangerous Waterslides
Introduction:
Water parks have always been synonymous with excitement and adventure, offering a thrilling escape from the summer heat. Among the various attractions, waterslides hold a special place in the hearts of adrenaline junkies. While many slides provide safe and enjoyable experiences, some take the concept of danger to a whole new level. In this article, we delve into the world of extreme waterslides and present the top 10 most dangerous waterslides that will leave you both exhilarated and on the edge of your seat!
1. Insano - Beach Park, Brazil:
Towering over 40 meters in height, Insano holds the Guinness World Record as the tallest waterslide. With a near-vertical drop, riders reach speeds of up to 65 miles per hour. This breathtaking descent is not for the faint of heart!
2. Verrückt - Schlitterbahn, Kansas City, USA:
Verrückt, meaning "crazy" in German, lives up to its name. This slide stands as the tallest and fastest waterslide in history, measuring over 50 meters in height. Riders plummet at a staggering speed, experiencing a few seconds of weightlessness before reaching the splash pool.
3. Kilimanjaro - Aldeia das Águas Park Resort, Brazil:
Kilimanjaro is a monstrous slide that tests your courage and stamina. With steep drops and tight turns, riders accelerate through a labyrinth of twists and turns. Hold on tight as you navigate this treacherous path!
4. Summit Plummet - Disney's Blizzard Beach, Florida, USA:
Located within a Disney water park, Summit Plummet is not your typical family-friendly slide. Descending from a height of 36 meters, this freefall waterslide offers an adrenaline rush like no other. Brace yourself for an intense and unforgettable plunge!
5. Scorpion's Tail - Noah's Ark Waterpark, Wisconsin Dells, USA:
If you're up for a challenge, the Scorpion's Tail is your ultimate test of bravery. This looping slide starts with a trapdoor floor that suddenly drops beneath your feet, sending you hurtling down a near-vertical loop at incredible speeds. Prepare for a mind-bending experience!
6. Jumeirah Sceirah - Wild Wadi Waterpark, Dubai, UAE:
In the heart of Dubai, you'll find Jumeirah Sceirah, an adrenaline-inducing slide that propels riders at speeds of around 50 miles per hour. As you step into the capsule, anticipation builds before the floor disappears, plunging you into a freefall down the slide's steep drop.
7. Leap of Faith - Atlantis Paradise Island, Bahamas:
Leap of Faith offers a unique and thrilling experience in the Bahamas. Riders slide down a near-vertical drop, only to find themselves racing through a transparent tunnel submerged in a shark-filled lagoon. Brace yourself for an encounter with marine life!
8. Brain Wash - Wet'n'Wild Water World, Australia:
Brain Wash promises a wild and unpredictable adventure. Riders embark on a high-speed journey through a series of unexpected twists, turns, and vortexes. Be prepared for disorienting sensory experiences that will leave you breathless!
9. Mammoth - Holiday World & Splashin' Safari, Indiana, USA:
Mammoth takes the concept of waterslides to new heights. This massive water coaster sends riders through a series of thrilling drops, tunnels, and uphill climbs. Brace yourself for a relentless rush of excitement as you conquer this behemoth of a slide!
10. Toboloko - Aqualandia, Spain:
Toboloko concludes our list with its unique combination of speed, height, and twists. This high-speed slide features a series of steep drops and tight turns, offering an exhilarating experience for thrill-seekers. The rapid descent will leave your heart pounding and your adrenaline soaring.
Conclusion:
For those seeking an adrenaline rush like no other, these top 10 most dangerous waterslides offer an extraordinary experience. From towering heights and lightning-fast speeds to mind-bending loops and unexpected encounters, these slides push the boundaries of excitement and thrill. However, it's important to remember that safety should always be a top priority. Before embarking on any waterslide adventure, make sure to follow all safety guidelines, listen to the instructions of park staff, and assess your own physical capabilities.
So, if you're an adrenaline junkie looking for the ultimate water park adventure, these dangerous waterslides are sure to satisfy your craving for excitement. Strap in, hold on tight, and get ready to experience the thrill of a lifetime as you conquer these daring aquatic attractions. But remember, as with any extreme activity, always proceed with caution and enjoy the ride responsibly!
About the Creator
I am an accomplished writer known for their ability to captivate readers with their imaginative storytelling and evocative prose. With a passion for literature and a knack for weaving words into compelling narratives.
Reader insights
Be the first to share your insights about this piece.
Add your insights