The Unknown encounters
By Brandsandu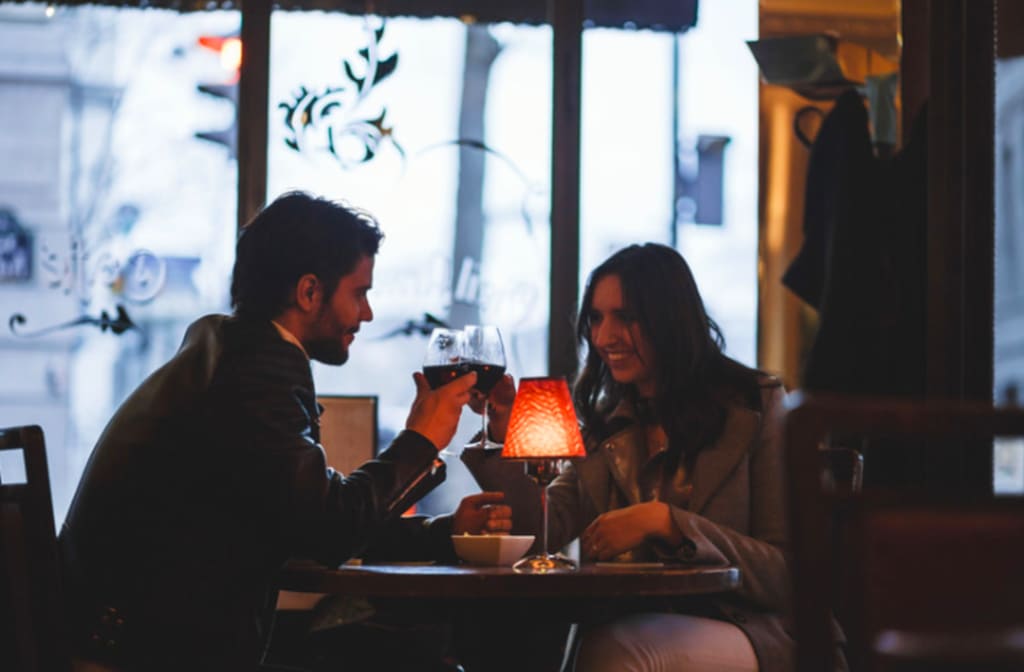 The Unknown encounters
Nearly every day, I observe an elderly gentleman sitting on the bench next to the red phone box. I observe him waiting till nightfall, then getting up and going to the phone box, where he wanders out after a few minutes, and I witness him move away.
I've never seen him converse with anybody. I only see him staring at something. My bookstore is direct across the street. I never found myself wanting to question him. It's very common for elderly individuals to be alone.
I'd observed him come by and simply sit there for maybe a couple of months. He was the last person I saw two days ago. We had a book launch, so I arrived early to set up my store.
My attention wasn't entirely focused on the launch programme. Today, something didn't feel quite right. I strolled outside to see if the elderly man had shown up, but he was nowhere to be found. Bizarre! He didn't miss a single day of his life. I couldn't stop thinking what the heck had happened.
I said to myself, "See, he's aged, therefore he must've gotten sick. Correct?" I ignored the issue and went about my work. I'm pretty sure I'm overthinking this.
I haven't seen this elderly gentleman in two weeks. I was concerned, which I find strange and scary since I don't know this individual and even Though I am concerned for his well-being. This may appear frightening, but I have seen him in my nightmares. While standing directly out in the front of my store, he grinned at me. When I recall the dream, it causes me shivers.
And here I was, completely absorbed in the ideas of a stranger. With each day, I was becoming more and more worried. Something had to be done. I began asking throughout the neighbourhood and adjacent regions about this gentleman. None of them, however, were aware of the situation.
I was just about to surrender since I didn't know anything about this gentleman and didn't even have an image of him. "How else am I attempting to figure out something about him?"
When I returned to my store, I noticed a strange-looking guy standing outside outfitted for winters in the middle of July. "Have been waiting for you," he remarked as he gestured at me.
I was on the verge of jumping. "Why the heck is this guy so eager to see me? "I don't even know who he is." My palms were sweating. This guy in front of me was wearing everything he could find made of wool.
He took a step closer to me and spoke in hushed tones. "The elderly gentleman is at ease. You are welcome to visit him."
Okay! Whoa! What? Is it possible that I just overheard him speaking about the older gentleman? How did he figure it out?
"Is he no longer alive?" I questioned.
"My brother, you have a lovely heart. You can visit the elderly guy's wife Linda at a four-block distant old age home.", he says.
My jaws were partly open, and I was aware of it. I knew I was losing my mind. I tried concentrating with my eyes shut. When I opened my eyes, there was no sign of this guy. I'm curious as to where he went. Rest was something I desperately needed.
I strolled four blocks the next morning to discover the old age home. I stumbled upon a run-down structure that appeared to have been constructed more than a decade earlier. It seemed like something out of a horror film setup.
When I went indoors, I noticed a woman. I questioned as to whether she recognized anyone called Linda. She responded by pointing to the right-hand door. I was going to thank her when I noticed a nurse escorting an elderly woman in a wheelchair.
She came straight at me and then came to a halt. With a slight smile on her face, the woman in the wheelchair said, "Don't wait for him. He is in excellent health." Before returning her to her room, the nurse said, "He's happy now."
My jaw was completely open and my eyeballs were about to pop out as I stared there like a fool. "Are these folks psychics? Why does it seem like everybody I encounter today knows what I'm planning to ask them?"
When I returned to the lobby area, it was deserted. It was as if no one was there. I couldn't stand it any longer; I had no idea what was going on and all I wanted to do was get the fuck out.
I hurried to my store, only to see the same woolen man I had seen previously standing just in front of it. "Is it possible for my day to get any freakier?", I wonder.
He came to a halt in front of me and grabbed my hand, leading me to the bench where the elderly gentleman often used rest. I seated there silently for a while when something unexpected took place. I noticed the elderly gentleman sitting next to me and he grinned at me, he looked younger, it appeared like it was morning and now it seemed as if the day was going to set, so the older gentleman stood up and walked to the phone box to call somebody, he walked out a few minutes later and was smashed by a speeding vehicle.
I recall sprinting over to him to see if he was okay, but no one was there. I was dripping wet. I was having a nightmare.
What has just occurred to me? Somebody held my arm and yanked me backwards. It was the man in woolen clothes. "Dude, are you all right? What went wrong? "What were you thinking when you jumped in front of the vehicle?"
"What car are you talking about?", I became enraged and yelled at him. When I regained consciousness, I realized I had leapt from the bench and fell directly in front of the automobile.
I was completely perplexed. I told him everything, and he smiled and added, "20 years ago, there was this guy who was longing for his spouse. When she didn't show up, he went to telephone her, only to learn that she had been in an accident. He hurried out, and it was precisely outside this phone box that he collided with a vehicle. Since that day, he's been roaming and waiting for his wife."
Whoa, I was in desperate need of some fresh air. I couldn't decide what to trust. The woolen man was nowhere to be seen when I glanced up. A knot formed in my stomach. This was too much for me. I couldn't take a breath.
I've never believed in spirits before, but now I'm not sure what else to believe in. The bench and the red phone box send shivers up my spine. Even folks dressed in woolen clothing.
Horror
About the author
Brandsandu Is A Complete 360 ° Branding & Digital Marketing Company In Delhi & Ncr Providing A Complete Solution From Branding To Social Media, From Public Relations To Media Buying To Interactive Solutions.
Reader insights
Be the first to share your insights about this piece.
Add your insights