I was born in Thuringen Germany in the early part of the 1900's. My mother was beautiful, typically blond haired and blue eyed, everyone commented on her beauty, this was quite tiresome, they never spoke to me, so enraptured were they with her. During my younger years I experienced extensive travel, notably when I was relocated to Quebec from Germany to be reunited with my Mother, Loraine. Shortly after we travelled to England together.
Shocking as this may seem to the wider population of the time, my mother raised me alone. I am unsure where my father was or indeed if I had one, having never summoned the courage to speak of him or to speak at all. Such a nervous little thing I was. I often wondered at the time if I resembled him more than my mother and this is why strangers, family and friends alike all had little time for me.
My mother took me everywhere with her and I adored her unconditionally, as she did me. At night she would sit talking to me as she brushed and brushed my hair with her own hairbrush until my hair shone, but not like the golden sunshine of her hair. 
Mine was the colour of deep, dark rich chocolate, a tiny square of which you would let melt on your tongue as your mouth waters savouring the bitter sweet creaminess. She would tie a blue satin ribbon in my hair before wrapping my covers around me so very tight to keep me safe through the night. Before kissing me on the forehead and telling me, "Goodnight Philomena, I love you."
In April of 1912 we experienced much in the way of commotion all about the household, with trunks being filled with possessions and lists of things being drawn up. I did not know what to think was happening so I would observe my mother and try to help wherever possible by cuddling her as and when required. In those days I was at her complete beck and call. Every night she maintained our ritual though and I savoured our special time together away from the hustle and bustle of the house.
The day arrived and we were bundled aboard the most enormous boat you have every seen. We changed our plans at the last minute to travel with friends of my mothers parents. They called the ship the Titanic and everything they said was true, I had never seen anything more beautiful than the rooms and cabins of this magnificent vessel. We were very fortunate to be travelling first class as I catch others whispering of the abysmal conditions of the third class passengers, I didn't understand what this meant.
For the first four days of our voyage mother received all the usual compliments from all her new friends and again everyone ignored me. I fortified myself against this, safe in the knowledge that every evening would be just the two of us, as always. Mother fed me morsels of some of the fine food, but she was a little cross with me when I refused to open my mouth for the lobster, and the food landed on my beautiful white dress. With great fortune, a maid managed to remove the stain and mother forgave my bad manners.
A banging on the door in the middle of the night, and we woke with a start. Mothers' travelling companions explained to her we needed to leave the cabin as the Titanic, the ship we are travelling on, the unsinkable beast had in fact struck an iceberg. A certain arrogance was present amongst the passengers, somehow some of our party had gone missing. A maid and my mother's brother Trevor. Mother and I set out looking for Trevor and the maid with the help of my grandparents.
We searched everywhere but we did not find them. Mother, grandmother and I became separated from grandfather. One of the officers of the boat tried to strong-arm us into a lifeboat, but grandmother was a portly lady and she took charge. Dragging us out and refusing to leave without her son. We raced to the other side of the boat with word this is where grandfather was... he wasn't.
Our lifeboat had been lowered away by now and we were forced towards an overcrowded, Englehardt collapsible lifeboat. With horror mother and grandmother lost their balance toppling over the side, I let out a silent scream as I hit the ice-cold water still clutching her, in honesty she had her hand gripped tight around my body. Holding me close, so close to her.
Blackness begins to surround us, I cannot see anything not even my mother's beautiful face. We are doomed, not a soul will be able to save us. I wish to lay my eyes on her beauty one last time. Yet, I have to suffice with her holding me. 
Gripping me tight as the icy water takes away her last breath, I'm scared, so very scared. I want to cry out mama. The water is taking her from me, her grip begins to loosen, every second I pray for a miracle for someone to reach into the depths and to save this most beloved mother of mine.
Suddenly as her grip relaxes and she lets go of me completely I understand the truth... She is gone, and my heart freezes to match the temperature of the sea I am in. I begin to float towards the surface my eyes ripped away by the pressure, I am blinded by the harshness of the water. I bobbed along, sightless and loveless without her. Who will brush my hair, who will tell me they love me?
Days later I was spotted and someone scooped me out of the ocean. They called me names speaking of me as ugly, creepy and they tossed me aside. No one cares about what I have lost and who will look after me. I can no longer see, mother would have been my eyes but these strangers care nothing for me. The family who look after me shove me away out of sight and out of mind, this is fine by me, they allow me to mourn.
A few years later, they are unable to pull me from my melancholy and donate me to a church ballot. I end my days in a glass case, inside a Belfast bar where people stare and take pictures of me. A card next to me states 'Philomena, the Titanic doll, reputed to be found floating among the wreckage.' My hair is matted, my eyes missing and my dress is no longer the pristine white lace my dress once was.
I am happy to be mocked and stared at for not being a pretty doll with gleaming hair and a blue satin ribbon. I died alongside my beloved 2 year old mother the only first or second class passenger child to die that fateful night. I died when Miss Helen Loraine Allison, on the 15th April 1912 brushed my hair for the last time, kissed me on the forehead and said, "I love you Philomena."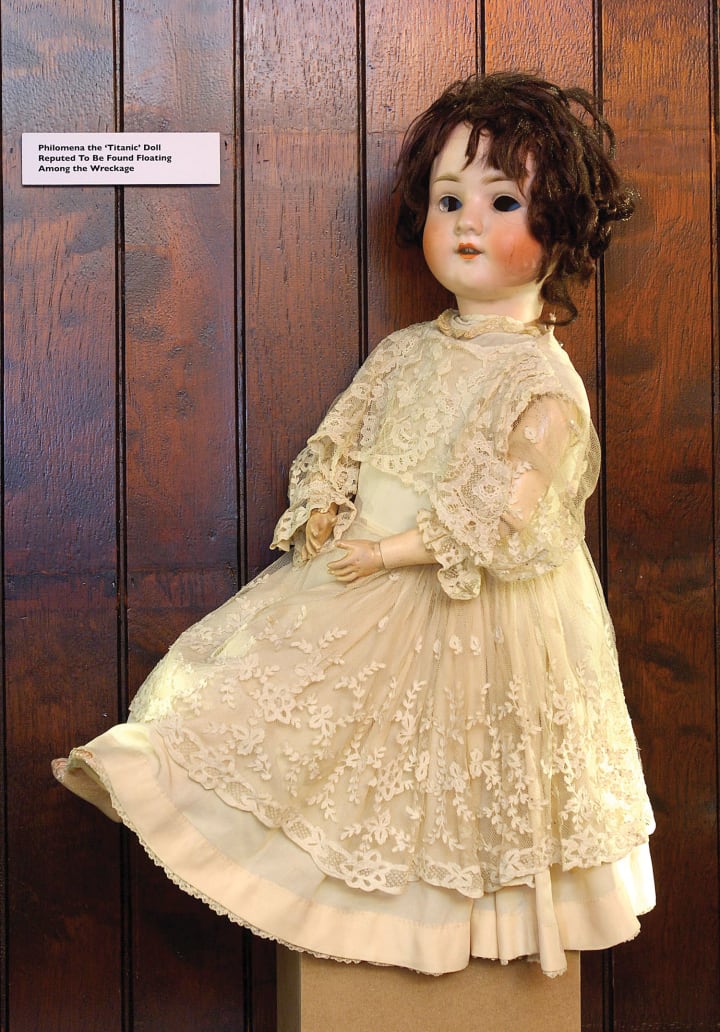 About the Creator
FamiLIES, SJ's debut NA book is out 20th Sept 2023.
If u like what u have read please subscribe & leave a heart.
You can follow SJ on
Twitter
https://twitter.com/SJ_Covey
Facebook https://www.facebook.com/SJCoveyAuthor
sjcovey.com
Reader insights
Outstanding
Excellent work. Looking forward to reading more!
Top insights
Excellent storytelling

Original narrative & well developed characters

On-point and relevant

Writing reflected the title & theme

Easy to read and follow

Well-structured & engaging content
Heartfelt and relatable

The story invoked strong personal emotions

Masterful proofreading

Zero grammar & spelling mistakes

Eye opening

Niche topic & fresh perspectives

Expert insights and opinions

Arguments were carefully researched and presented

Compelling and original writing

Creative use of language & vocab
Add your insights