The Titanic Adventure
A Trip of Transformation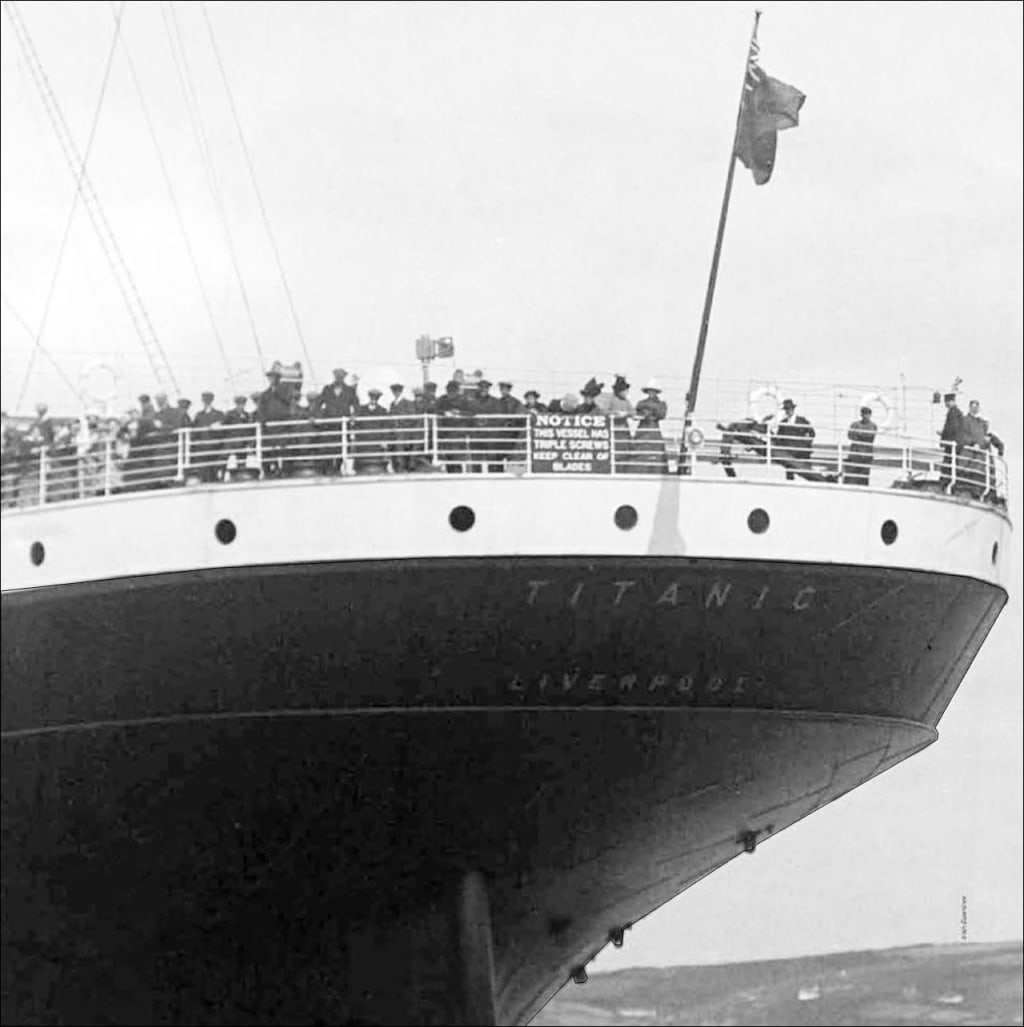 I'll be going to school in America. Mommy says they have better education there but I think it's mostly because Daddy wants a new job. I have loved Ireland my entire life, for all of my six years, every bit of it. The gentle rolling hills are a soft blanket of deep green, solid and dependable, and my teachers and friends are such treasures. We said our goodbyes and tried to hold in the crying.
Today my parents are filled with great excitement, so I must appear to be filled with same. I notice there are a lot of waves involved with this trip. The farewell waving of arms and hands when leaving the dock and now the waves beneath the ship as she pushes forward into the ocean of mystery.
It's a good thing I like to eat because that's all we seem to do. We've barely digested lunch when you can hear the sound of chimes for dinner and the clinking of plates on tablecloths again.
Unfortunately, I must wear a dress for the evening feast. I don't mind really, it's just that my shoes feel too tight and awkward. It's difficult to walk on smooth polished wood and I can't even slide around properly. Father wears his Sunday best and is beaming with Irish pride. Mother is flowing in a bright red gown, a color she uses to cheer herself up.
"The minute we arrive in New York, I'm heading downtown," says Father, gulping his wine and munching his mutton. "I know I can get a job at any one of those restaurants."
"What about us?" asks Mom.
"I'll put you in a carriage and you can find a place. I heard the Jane Hotel is nice."
"How do you know her?"
"No! It's not a her, it's a street! It's located on Jane Street. Geez."
As long as I can stay with mother, I know I'll be safe. She asks good questions and will locate the best place to stay while Dad looks for employment. Last night she told me that restaurants are where the alcohol is, so he will surely thrive in such an environment.
Dinner is long and loud but worth enduring for the final tray of grand desserts. I choose chocolate eclairs and my favorite, vanilla ice cream. Way too full to play with toys afterwards, it seems better to hug my teddy bear under the cozy covers and to close my eyes for sleep. I wonder if my new teachers will like me. What exactly is it that I'll be learning?
"Get up, get dressed, we gotta get out of here," yells my father. "Right now, hurry up, let's go!"
Half asleep I sit up in bed and can see my mother in the dark.
"Don't worry dear," she says in her soothing way. "They just want to place us in a smaller boat. It will make it easier to arrive in America. It's better this way."
"In the middle of night?" I mumble. It makes no sense.
"Hurry up!" my father yells again. "Get up, get dressed. Now!"
Mom helps me put on my fancy dress and party shoes in hurry. I suppose it's important to look presentable for the big arrival, but it's obvious that something is very wrong. Not only will I be wearing the same outfit twice, but it's clear there is fear is everywhere. Why can't grownups just tell the truth?
I am lifted up in the arms of my father, and he carries me on his hip like you would with a football when running downfield. I open my mouth to cry but nothing comes out. He plunks me down hard on the deck.
"See that lifeboat? You're going in there. Mommy will join you."
The boat is crammed with people and some are sobbing. No way I'm going in. I break free of my father's tight clutches to escape from the slippery edge. My party shoes fail me, and right down I go, head first off the side of the ship. The screaming all around is muffled when my ears hit the water. Sinking down deeply, too shocked to move a muscle, I realize I know just one thing – this is the way I will die.
I am fully immersed in music that is not from the violinists on deck. The sound is one beautiful note played continuously on an instrument I've never heard. And yet it is sweetly familiar. In the distance the sun is getting closer and bigger, as I breathe in a sigh of relief.
"Too soon to come home, dear," says the voice from inside the big light. "You still need to complete your mission and explore new levels of understanding."
"Could you be more specific?" I ask politely.
The glowing ball of light grows stronger.
"Every soul on this ship has a purpose to fill. Each one will experience a profound transformation uniquely their own."
"So what's mine?"
"Not everything can be revealed all at once. Just know that your mother is safe and always near, and your father needs a lot of help. Remember that even if sad or scared, you will grow in ways that will astound you."
"That's fascinating, it really is, but I think I'd like to stay here with yooooo…whoa-ohhh…wait…"
Wham.
The sting of cold air slaps me back into body. I'm on that lifeboat I was trying to avoid, coughing up water, yuck. I look up at the face of my father and see the night stars all around him.
"Don't worry, everything will be okay," he says, voice trembling, holding me in his arms with warm blankets. His eyes are filled with tears.
"Where's Mommy?" I ask with a splutter.
"She dove into the water to save you."
Adventure
About the author
Reporter, author, essayist. Likes writing about children, dogs, love, and everything in life.
Reader insights
Nice work
Very well written. Keep up the good work!
Top insights
Excellent storytelling

Original narrative & well developed characters

Heartfelt and relatable

The story invoked strong personal emotions
Add your insights