The Reunion
Once more with feeling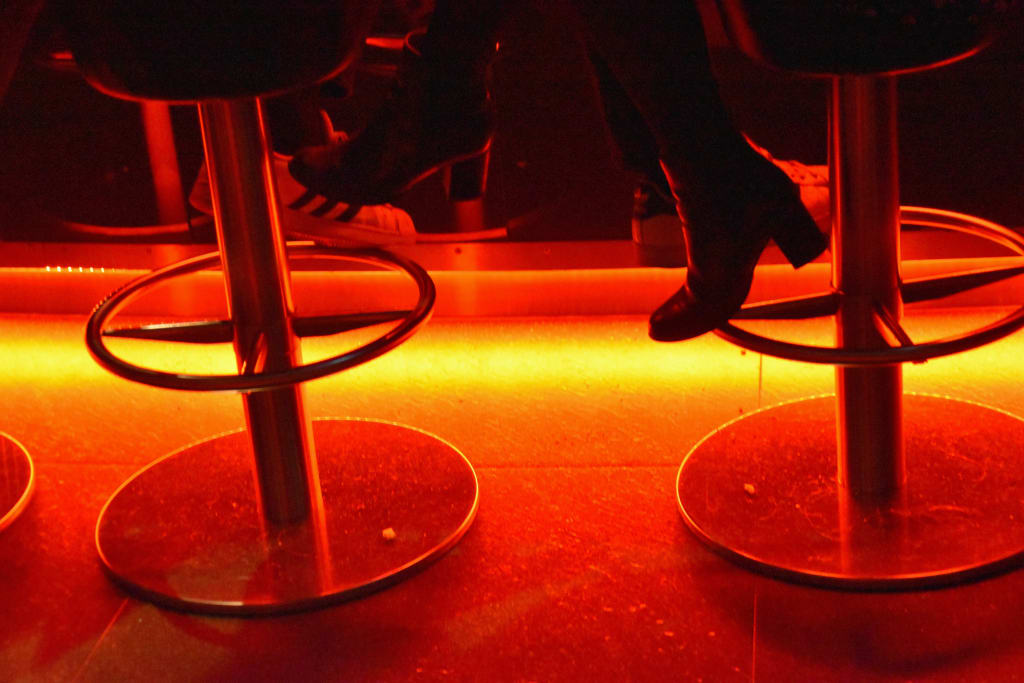 It was boorish. Lewd, even. Oakley bristled as she watched him fondle the cheese knife, then lick it clean. This was a galvanising moment, like she needed one. She was taking him down. She felt good about it.
She'd last seen Alec 18 years ago. He was all artless swagger back then: lean muscles, unruly black curls, gappy grin. He'd blown in as a footloose 22 year-old to pick avocados on her family farm, and his rippling virility – that reckless tuck of his Hard Yakka work shirts into low slung jeans – had made Oakley giddy all summer long. Alec knew it. His rakish, offhand flirting soon led to the gifting of treats, which led to furtive moments running his hands through her platinum curls, then time alone with her behind the packing shed. Nobody else needed to know. It was fast, fumbling, damp, dirty, pantless, mirthless, bewildering. Oakley was seven years old.
Alec was 40 now, greying curls receding at the temples, lifestyle paunch testing the buttons on his shirt, still using his cutlery wrong. Seeing him scarf mashed potato off a serving spoon in the farm kitchen had been thrilling to Oakley as a child. She'd thought him raffish; a luminous rule-breaker. In the mood light of a fancy wine bar, the sight of brie-smeared stainless steel on his outstretched tongue made her teeth itch. His Tinder profile had done that, too. His search parameters trawled for women 15 years his junior; no surprises there. He'd used the phrase 'seeking a real connection' without irony, professed a love of sunsets, and butchered all his apostrophes without exception. His profile picture saw him bare chested in reflective sunglasses on a flashy boat, arm slung around a cropped-out former squeeze.
Any of that would, ordinarily, invite a resolved Swipe No from Oakley, but when the proposed match popped up on her account, something about it gave her pause. His name, mainly. The dolt had used his real one (she'd gone with Annie), and some ancient muscle memory made her flinch. A closer look at the profile pic revealed him: that gap between his front teeth, the cocky thrust of his chest. She felt a sting of shock, then hot mortification, then an old, bone-chilling shame. Then rage came in and sat right down, crackling like fire. Do it, said rage. Swipe Yes.
*
Oakley chose the wine bar, and the perch – a high round table with stools, tucked out of the way in dim light. She'd picked the wine for its complexity, the cheese platter for its insouciance. She didn't plan to be here long.
'So, Annie,' said Alec, trailing his forefinger around the base of his glass. Oakley sensed a gear shift. The bottle of red was almost gone. They'd covered the key plot points of their lives, recounted the screwups that led them each to this city, this bar. She'd fabricated and deflected; he'd downloaded. She knew by now that the simple act of listening made you irresistible to the self-absorbed.
'Tell me this,' his tongue skimmed his front teeth. 'How is it possible that a gorgeous, intelligent woman like you is still single?'
Insult disguised as flattery; Oakley stifled a groan. 'Being in jail will do it,' she said, indulging him with a smile. 'No conjugal visits. It's hard to get a lover to stick around.'
Alec sat back to get the full measure of her. 'Beautiful and funny,' he said, then leaned in, conspiratorial. 'What were you in for?'
'Assault,' Oakley deadpanned. 'Grievous Bodily Harm. I garrotted a woman with fishing line. Left a welt on her neck like a ringbarked tree.'
Alec raised his eyebrows.
'Just a little something for her to remember me by.'
'Christ, remind me never to do whatever she did,' he said, grinning. He liked this part; the starchiness gone, the pleasantries dealt with, both parties relaxed and candid. Dating could be a chore until the booze kicked in.
'She stole my woman,' said Oakley. Her delivery was somewhere between cool and ironic. The burnished ends of her chestnut pixie cut caught the light. Her gold hoop earrings glinted as she cocked her head. 'I don't handle betrayal well.'
Alec got comfortable on his stool. Glee played on his lips. Funny. Dangerous. Might be open to some girl-on-girl, maybe a bit of three-way action.
'Well,' he said, swirling his glass. 'You're a surprise package, Annie of Ardross.'
'You're talking about my wine choice, aren't you?' said Oakley. Her eyes were starting to glaze, but her delivery was sharp. 'I read a lot of Wine Spectator in jail. I've been itching to get out, just so I can sample some of these zeitgeisty field blends.'
'Nothing decent on the prison wine list, then?' he asked, eyes gleaming.
'Just the cheap shit,' she said. 'And don't even get me started on the stemware in there – criminal.'
Alec's face creased in delight. This is where she wanted him: amused, hooked, infatuated.
She pressed her fingers against a tiny plastic sachet in her pocket, feeling its residual, powdery grit. She patted it once, then brought both hands to her glass and wrapped them suggestively around its stem.
'Well, Alec of Inglewood,' she said. 'I make it your buy.'
He swayed to his feet. 'Same again?'
She nodded, then shrugged. It hardly mattered. She'd upended the sachet into the very first glass. Alec's nervous bladder had sent him to the Gents soon after his arrival, so it had been leisurely; no real sleight of hand required. It was only a matter of time, now.
*
Oakley hadn't really learned about wine in jail. She'd learned about it from the sommelier at the overpriced restaurant she'd waitressed at after high school. But she had learned about Rohypnol – flavourless, colourless, easy to disguise – at Bandyup Women's Prison. And where to get it, of course. In two years inside, she'd made plenty of friends in low places. There was no shortage of intel when it came to acquiring slow release tranquilisers and other nefarious modes of ill intent. Everyone had a mate with a mate.
Truth be told, she'd quite enjoyed jail. She liked being in the company of other women who'd messed up. The unhinged, darkly comic conversation comforted her. She revelled in the whip smart lip, the simmering wrath, the complete dearth of pretence. None of them was evil. They were just women who'd been pushed and failed to bend. Like her.
In Anger Management sessions with the prison's art therapist, Oakley had once been asked to draw her state of mind. From the tub of coloured pencils she'd extracted red, orange and purple, and scribbled until she'd filled a page with ragged scrawl.
'What is it?' asked the therapist, patchouli wafting from her tiered floral dress.
'That's a shitshow,' said Oakley.
'What's it about?' she pressed.
'The past.'
'Tell me about it,' coaxed the patchouli, but by now Oakley was all talked out. She'd done the endless loops in her own head, rerun the scenes behind the packing shed over and over, felt the throb of shame each time. It had been her fault – she'd sought his attention, after all – and she'd learned to think of herself as blemished and untamable and wrong; a pariah until the end of time.
All her adult relationships with men had upheld this world view. Unable to slough away the scab of the past, she'd never stuck out a romance for longer than a few months. A trail of destruction, her family joked. Self-sabotage validated her: nothing worked. If it worked, it wouldn't last.
That was the prevailing self-talk even as she found something good with Leela, an open-faced yogi who would surely soon realise that Oakley was damaged goods, unworthy of her easy love. Leela weathered this caustic self-loathing with grace, for a while, but when she found herself swept away by the uncomplicated attention of her Yin instructor, Oakley snapped, vindicated. She was destined to be discarded. What incentive was there not to wrap a length of monofilament around the neck of a nemesis? Why not self-destruct?
'It's bleak,' was all she gave the therapist.
Only after she left jail, bunked in with her sister and started hauling weights up and down the merciless steps at the local park did Oakley start to reframe her reality. She got strong. She cut her hair. Encouraged by a new therapist, she learned to meditate and practised smiling at strangers. Often they smiled back; maybe she wasn't destined to be a dumpster fire. She started dating again, an exercise in reimagining her trail of destruction into something more empowering. She did it to recalibrate, as much as anything, and maybe to forget. Then he showed up.
*
Ordering another bottle at the bar, Alec gazed over at Oakley like she was a prize he couldn't believe he'd won: younger than his ex-wife by a decade, and properly sassy. He dared to hope he might take her home tonight. He'd packed away his kids' junk on the off chance, and deodorized the bathroom. Her texts had lassoed him. Women could be so needy, but she had a detached cool that excited him. Stock broker, she'd teased. Do they do real connections? Now that they'd met, he was pretty sure that yeah, they do.
Oakley sucked parmesan toast crumbs from between her teeth and toyed with the sachet in her pocket. The nod she gave to the table on her left was barely perceptible. They were ready. It had been a masterclass in persuasive argument getting a couple of former jailbirds to come to this chic establishment, but they'd shown up for her like the fiercely loyal women she knew them to be. In about five minutes, she'd be out of there. It would be up to others to put the pieces together, see the thing through.
Alec returned to the table with a self-satisfied swagger that took her back 18 years. Oakley listed slightly on her stool. Arriving beside her, he brandished the bottle with a flourish. 'Would madam care to taste?' he said, pouring them each a glass. He went to sit, but she tugged playfully at his jeans, pulled him towards her, buried her fingers in his front pocket.
'Thanks,' she breathed in his ear. He smelled of Lynx and tannin. She trailed her fingers away, sat back, picked up her glass. Her face was benign.
'Let's have a toast,' he said, enthused. 'The future?'
'The past,' she countered, and tapped her glass against his.
'Okay,' he said, curious. 'What about the past, exactly?'
'The crappy bit,' she said, slurring. 'The tipping point.' They both drank.
'Want to talk about it?'
Oakley put her glass down and rested her hands on her knees. She tilted forward. He leaned in to hear her, but she didn't say anything. Couldn't. Her face was numb now, her eyes glassy. The feeling in her legs was going. She tried moving her hands to grab the edge of her stool, but they wouldn't budge. Alec's lascivious grin evaporated as she slumped forward onto the table. When he shook her gently, she slid off her stool into a motionless pile on the floor.
Oakley's mind swam up through the dim light, the static crackle of white noise. Her skin was clammy. She was vaguely aware of a commotion around her: a gathering crowd, the jailbirds at her side, a phone call, a stern accusation, frisking, his jeans pocket, those gappy teeth frozen in a baffled grimace. She saw his eyes, telegraphing fear and dread.
Then everything went perfectly, sweetly dark.
She wouldn't remember this. But he would.
Reader insights
Nice work
Very well written. Keep up the good work!
Top insight
On-point and relevant

Writing reflected the title & theme
Add your insights