The naughty grandma
fiction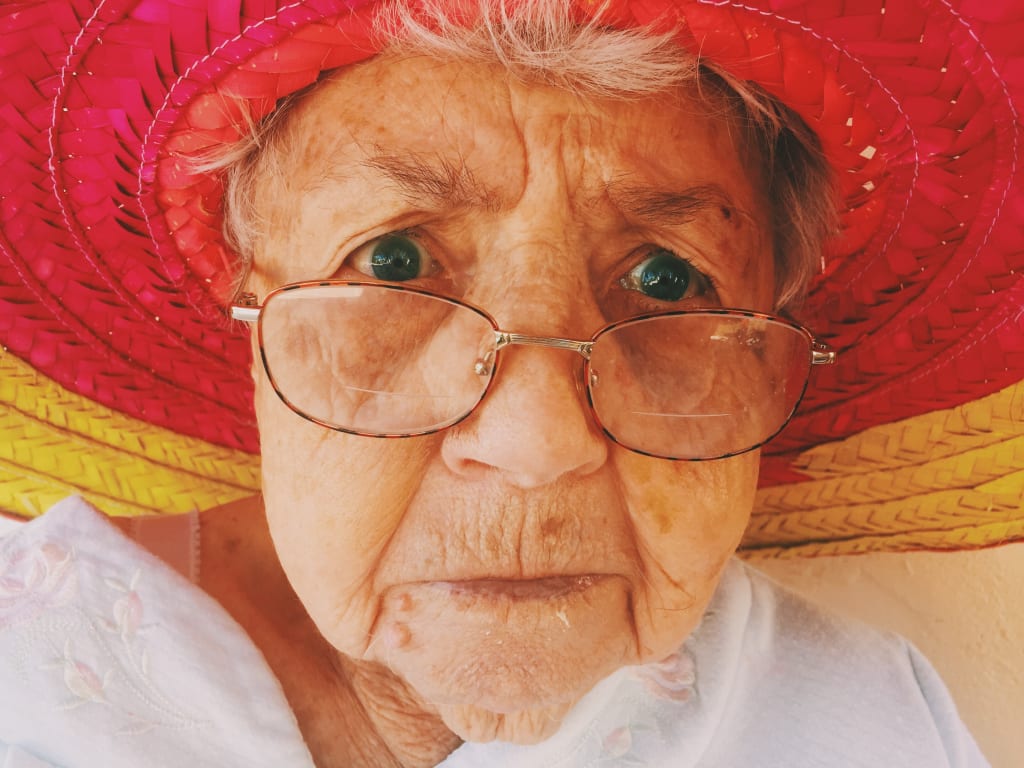 Grandma has a little habitual action of sticking her tongue out. Usually this action will appear after doing something wrong. When she does something wrong, she usually hides it, such as breaking a jar of sugar, she quietly sweeps up the pieces, handfuls of leftover sugar, and replaces it with an identical jar and leaves it as it is. Until you ask her: why is the sugar suddenly missing half a jar? She will spit out her tongue, smiling and confess.
After the death of the goldfish at home, the fish tank has been empty there, empty for a long time. One day I found something wrong with the fish tank, it seemed to have shrunk a lot, end up looking left and right, yes, it was two or three inches thinner. I caught my grandmother and asked her about it, and sure enough, she broke it and quietly went to the market to buy one back. About the original size of some expensive, they bought a small one, but also thought they were unaware of it.
Of course, after being uncovered, only a little tongue was spat out.
The grandmother who spit out her tongue, quickly spit out her tongue, "I'm sorry" and "I'm mad at you" two kinds of meaning mingled. And so quickly, and in the blink of an eye, she looks the same, what to do to go, do not want her to do the wrong thing to make her feel guilty a little bit more.
And then I thought of my grandmother's bamboo forest.
The old home is not my old home, I have not lived there, but the thought of grandmother is there in an old tiled house lived for nearly half a century, it is really a place of great tenderness. As soon as I came down the slope and walked into the bamboo forest, I heard my grandmother laughing with a group of country women at the door of the old house, which was half collapsed. She was standing there with a long bamboo pole (which she later used to poke many brightly colored oranges from the orange tree for me), loudly teasing one of her female neighbors, as if she was imitating something between her husband and wife, and all of them were laughing, and the woman was so angry and furious that she swung a huge bamboo broom and swatted Grandma's ass. I stood in the bamboo forest halfway up the slope and watched for a while. When Grandma lived with us, did we ever give her such joy? She was in her eighties that year and had been away from us for two years, returning to her old home in the countryside alone, living in the only half of the old house left.
I shouted for Grandma as I came down the slope, and everyone looked back in the direction I had come from. Grandmother agreed and continued to count the woman, laughing, while greeting me. I could see the green stone steps in the patio of the old house from above, and I saw a bamboo pipe reaching from the back of the hill to the stone trough under the eaves, which was filled with a thin clear spring. The world seemed so old at the beginning.
It never occurred to me that leaving a familiar place could be such a terrible thing! Grandma didn't grow old in the old family cemetery hill after all. She was buried alone, miles away in the Gobi desert, as if her lonely, determined life had never ended, as if she had to start a long process of adapting to a new life all over again after her death.
Two days before my grandmother's death, I rushed, but I was still late. I was only ten hours behind. After receiving the sad news, I still sat on the night bus and continued to rush home to my dead grandmother. I knew she was still waiting for me. I could not see through life and death, but I could gradually understand that death is not terrible. Death is not a categorical suspension, but a test for another journey, right? Grandma had so many strong wishes before she died, she struggled to live, not wanting to give up anything, thinking about this and that. However, once she died, her face was so peaceful and relaxed. Like she had just finished spitting out her tongue, just admitted a mistake with carelessness.
The vast, empty feeling of silence after death was the last thing my grandmother did for me. When I was in elementary school, many mornings I would get up and see that it was red pota rice and sauerkraut again, so I would gamble not to eat and go to school hungry. Because I know, not long, grandmother will certainly chase to school to bring me a hot brown sugar-filled helmet ...... then I am on the sixth grade, the sixth grade class is located on the sixth floor. The eighty-year-old grandmother, with the hot helmet in her arms, slowly climbed the stairs from the first floor, one step up after another amidst the sound of books in the morning study, climbing and climbing and finally appearing in front of my classroom on the sixth floor ...... That was the first, wide sense of silence I could experience... ...In the midst of one quiet after another brought to me by my grandmother, the malice in my life dissipated a little, and gradually began to clarify and understand. Today, I seem to have reached a state of bravery that I have never seen in my life before, and I seem to be braver still.
That time I carried a rooster to the countryside to see my grandmother, walking through the long and lonely mountain road, and finally found the old house. Grandma greeted me and said, "I miss you so much, I think about you every day."
Grandma you should stop thinking about me, forget about me! Forget everything that has happened in this life, forget the bamboo forest, forget the sixth floor of the small school. Spit out your tongue and continue your indefinite destiny. Grandma, "pain" is something that should be used to hide in the bottom of your heart, sadness is born to be tempered by efforts, hurt and deception always have to be forgiven. The people who do not care are not heartless ...... you often say to me, Juan ah, in fact, you do not marry is okay, do not have children is also okay. You do not want to suffer all that. Your mother does not know this, I know ...... grandmother, now I gradually some understanding of what you mean, although I am still a chaos, no words, no relief. But I can imagine that if I can live to the age of ninety-eight, still quiet and unattached, in fact, is also a serious responsibility for life. The quietest and loneliest growth is also the one that can make people practical, confident, strong and kind. The big deal, just spit out your tongue ......
Reader insights
Be the first to share your insights about this piece.
Add your insights