The Mystery Box Foundation
The 27 Club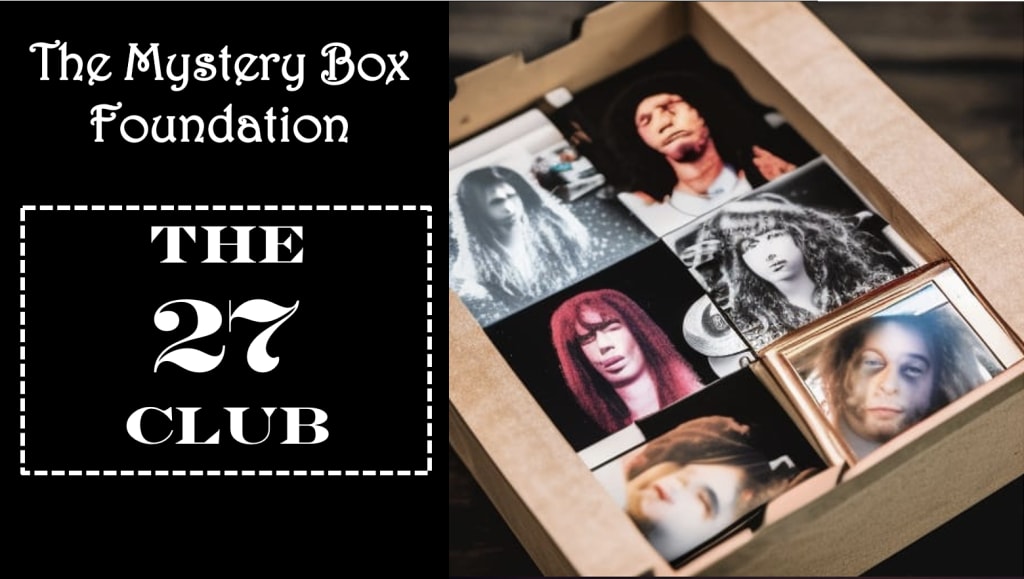 It is 3:33 p.m. and 33 seconds and like clockwork Ryde's mail has been received. As Ryde scans his mind, he sees the usual white lights flashing which indicates all junk mail. Ryde deletes the flashing white lights and is left with two yellow lights and an interesting purple light. The purple light catches Ryde's attention as he has never received a purple light before. The two yellow lights indicate bills, so he files those into the bill folder. Each bill will pop up 10 minutes before they are due and will automatically be paid.
Ryde sat there for a moment scanning his entire temporal lobe to see if there was any other mail available before coming back to the purple light. Sometimes mail gets misplaced transferring from the occipital lobes to the temporal lobe where it can be viewed.
After the 20 second scan is complete Ryde discovered that there was no other mail. So he focused back on the mysterious purple light.
The purple light becomes front and center on Ryde's mind screen. Ryde's vocalizer says that it is from a company named The Mystery Box Foundation. Ryde has his vocalizer set to mimic his voice. Then a cheerful high-pitched female vocalizer says, "You are the winner of a free mystery box," a musical ringtone sounds after the announcement. This has Ryde intrigued as this is the first time, he's heard of The Mystery Box Foundation and even better the first time he's ever won anything.
Ryde visually commanded the purple light to expand and reveal its details. The first pop-up image was a bright yellow coupon with sparkling edges. The text on the coupon reads, "You have won a complimentary mystery box. CHOOSE one of five BOXES. The coupon fades away and a gray box of text appears: "Choose from the following Mystery Boxes: Oldies Music of the 2080s, HKP Favorites, Fashion Tips Weekly (Androgynous Edition), Modern Culinary Experiences, or The Mystery Wheel Mystery Box. * The Mystery Wheel Mystery Box offers a free spin of the Mystery Wheel which has more than 33,000 Mystery Boxes on it. Your random Mystery Wheel selection will remain a mystery until you receive your mystery box. This offer will expire in 15 minutes"
Right at that moment an internal time clock was set for 15 minutes.
→ As a side note to those reading this story: HKP = Heliokinesis Port which is the mind computer's equivalent of television.
Ryde was interested in the HKP Favorites and Modern Culinary Experiences. He gave this some thought weighing the pros and cons of each. Then a bell chimed, and the female vocalizer said, "Warning you have only 15 seconds left to choose your Mystery Box."
Quickly Ryde focused in on HKP Favorites but before locking in he scanned over to Culinary Experiences. Somehow in the process of moving his focus in the very last millisecond he ended up locking into the Mystery Wheel.
Instantly the Mystery Wheel popped up with sounds of fireworks and annoyingly happy circus music. The bright yellow words 'SPIN ME' came bouncing up and down in front of the Mystery Wheel with a flashing red button.
Ryde was disappointed but knew it was his fault, so he focused on the flashing red button and locked into it. The wheel began to spin very fast and spun away into the background almost invisible and it came back and stopped on a green panel. Bells and sirens sounded off and the words, "CONGRATULATIONS! Your Mystery Box has been chosen," flashed across Ryde's mindviewer.
Within three seconds Ryde received a vocalizer message from The Mystery Box Foundation. The message explained that his mystery box was a physical prize and that it would be delivered via drone within the next 27 minutes. They apologized for the extended length of time it would take for him to receive his prize.
As he waited for his prize Ryde decided to have a snack. He had some leftover lasagna in the pantry. In the year 2124 refrigerators were now long a thing of the past. Items that needed cool, cold, or freezing storage went into a designated section of the pantry in which the atmosphere is modulated by gas controls to emulate cold or freezing temperatures to preserve fresh food and beverages. Kitchens are now very small and leave no room for human beings. The modern kitchen is completely mechanized, and all tasks are completed by automation. All tasks are initiated by the mind computations of the person or people registered to use the appliances and other automated items in the kitchen. Even making a home cooked meal is completed through a computed formulation and is carried out by programmed drones and robots. The most used appliance in the kitchen is the solarwave oven. Ryde had his nicely warmed lasagna in front of him within three minutes.
27 minutes came to pass, and Ryde's mystery box had still not arrived. It was now 27 minutes and 15 seconds and still nothing. He was beginning to wonder if the box was going to arrive. Finally, at 27 minutes and 28.3048 seconds he heard the faint whirring of the drone. As the drone entered his property it showed up on his mentalview system. As it was dropped off the drone activated the alert system at the entry door signaling that someone or something was present. The alert system scanned the situation and sent an image of the small 4" x 4" x 4" box to Ryde's ocular port. Ryde approved the drone to bring in the mystery box.
During this time The Mystery Box Foundation (MBF) contacted Ryde to apologize for the late arrival. The box was tracked at an arrival time of 27 minutes and 33.000337 seconds. MBF offered Ryde a free month of HKP services.
Sitting in his solar room Ryde held the box in his hands thinking, "This is a much smaller box than what I expected."
Once he had the box opened, he found four test tubes with different colored liquids in them. One was green, one blue, one yellow, and one red. Beneath the test tubes was a small eight-page instruction booklet entitled "The 27 Club."
Ryde opened the booklet and began reading, "Courtesy of The Mystery Box Foundation you are one of the first people in the world that gets to try The 27 Club game. The 27 Club game gives you the opportunity to experience the inner feelings of a member of The 27 Club. For this abbreviated version you can choose from one of the 12 names listed: Robert Johnson 1911 to 1938, Jimi Hendrix 1942 to 1970, Janis Joplin 1943 to 1970, Jim Morrison 1943 to 1971, Roger Lee Durham 1946 to 1973, Jean Michel-Basqiat 1960 to 1988, Kurt Cobain 1967 to 1994, Amy Winehouse 1983 to 2011, Benjamin Keough 1992 to 2020, Cinthia Register 2017 to 2045, Janteel Simpson 2038 to 2065, or Mikel 2088 to 2116.
Ryde, who happens to be 27 years old almost chose Mikel as he's a big fan of his music. But instead went with Benjamin Keough as Ryde has long had a fascination with Elvis Presley and thought maybe getting into the brain of his grandson would be interesting.
The next page explained how to mix the tubes in order to access Benjamin Keough's thoughts and emotions.
1. Pour half of the blue tube into a bowl (There is a line in the tube which indicates the halfway mark).
2. Pour the entire green tube in and mix the contents in the bowl.
3. In a second bowl pour in the second half of the blue tube.
4. Pour the entire contents of the yellow tube into bowl two and mix.
5. Combine bowl one with bowl two and mix thoroughly.
6. Pour the entire contents of the red tube into the combined bowl and pour into a shaker cup with lid and shake for two minutes.
Before the last step the manual offered a warning stating that once the mixed liquid is consumed the effects will happen immediately and will last for 27 minutes.
7. Drink the entire contents in the shaker cup and enjoy the ride.
Before starting this process Ryde contemplated whether he would want to participate in this game.
Ultimately Ryde decided the risk would be worth the adventure and he began the mixing procedure as described in the booklet. Then he drank the finished blend.
Within seconds Ryde began to feel a sense of extreme excitement. He was on top of the world. He felt like he was untouchable, invincible. He was 11 years old and was in front of a full-length mirror wearing a Harley Davidson cap his grandfather used to wear. Then he tried swiveling his hips just like grandad Elvis did some 45 years earlier. Ryde or Benjamin wore his pride on his chest. He was Elvis Presley's grandson. Nobody could ever take that away from him.
As each minute ticked on Ryde's identity began to diminish until he became completely engulfed in the identity of Benjamin Keough.
The enthusiasm and intoxicating joyfulness continued to grow. The 16-year-old Keough secured a five-album record deal with Universal Music Group. His adrenaline was pumping. Ryde could feel his heart rate increasing with all the excitement. He was going to be a worldwide superstar just like good old grandaddy.
But two years went by, and three years went by and there was no album released. But still everywhere he went people told the 20-year-old Benjamin just how much he was the spitting image of his grandfather Elvis Presley.
The expectations of Benjamin Keough following in his grandfather's footsteps continued to grow and grow. But the reality was that it was not happening. Maybe Benjamin was not good enough. Maybe he did not have the singing voice to make it happen.
The 21-year-old Benjamin sunk into liquor and drug use to drown his sorrows. Depression hit hard.
By the time he was 24 years old a dark cloud hung over him everywhere he went. He came to resent being Elvis Presley's only grandson. He no longer wanted that identity. He grew ashamed. He was not able to live up to the name of Elvis Presley.
By the time he turned 27 the depression had laid in so deep. There was no escape from the delusion he felt that he was not good enough. The feeling overtook every single aspect of his life. It was a dark and dreadful feeling. Ryde began feeling this depression so deep as if it was his own depression. Trapped in this illusion of Benjamin Keough's life, Ryde was not able to separate himself from this very deep pain. Ryde began to cry incessantly. He felt knots in his stomach and his hands began to shake. But as the minutes wore on and it came close to the 27 minute time limit, Ryde began seeing Benjamin Keough as a separate person. No longer did he completely identify as Keough.
Then a warning entered Ryde's mind receptor and a vocalizer chimed in stating, "Only one minute left." Ryde knew his experience with The 27 Club was coming to an end.
Though Ryde no longer identified as Benjamin Keough he simply could not shake the dreadful dark feeling of hopelessness. Ryde felt like he was at death's door. Suddenly a loud chiming sound entered Ryde's mind and the words, "Your adventure is complete. We hope you enjoyed the trip."
Ryde was back sitting in his subsistence range comfortable and depression free. He felt good again, but the memory of Benjamin Keough would forever stay with him.
Short Story
Sci Fi
Mystery
Adventure
About the author
Writing is a distraction for me. It takes me to places unknown that fulfill my need for intellectual stimulus, emotional release, and a soothing of the breaks and bruises of the day.
https://www.facebook.com/groups/vocalplusassist
Reader insights
Outstanding
Excellent work. Looking forward to reading more!
Top insights
Compelling and original writing

Creative use of language & vocab

Excellent storytelling

Original narrative & well developed characters

Expert insights and opinions

Arguments were carefully researched and presented
Eye opening

Niche topic & fresh perspectives

Heartfelt and relatable

The story invoked strong personal emotions

Masterful proofreading

Zero grammar & spelling mistakes

On-point and relevant

Writing reflected the title & theme

Easy to read and follow

Well-structured & engaging content
Add your insights