The Legend of the Scorpion King
...in other words...a made up story featuring Toe Joe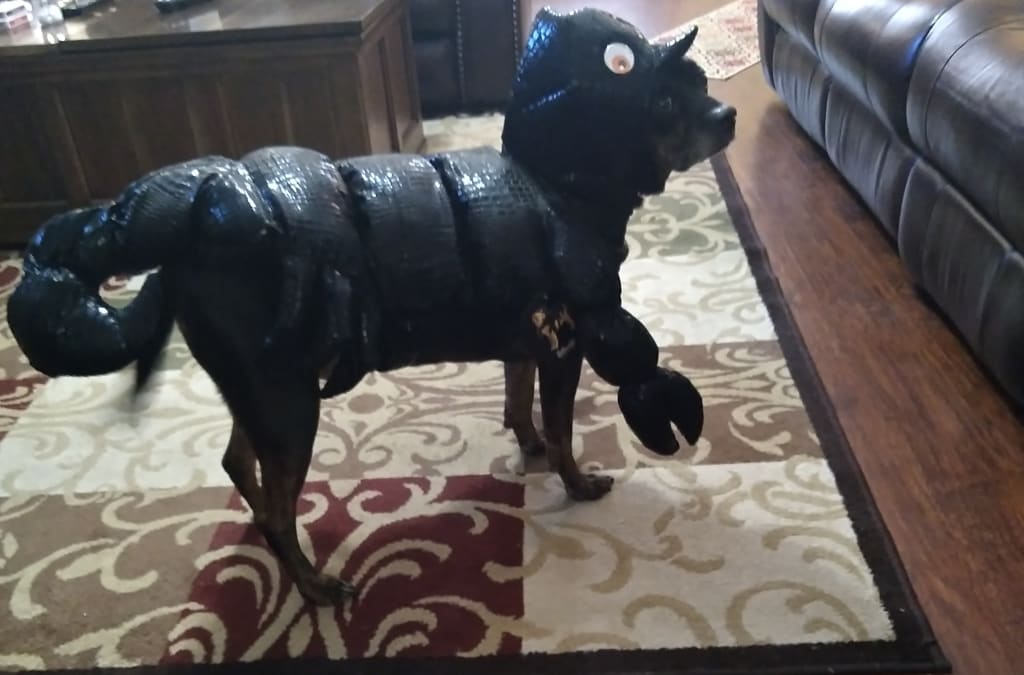 Toe Joe as a fierce scorpion!
It is a legend that is known. On Halloween night if you stare too long at the ground then a savage and vicious scorpion will be found. Your bones will tremble with fear because he will appear. No where to turn and wait for your fate. Don't run to a psychic because she won't know the date? You can't run or hide. So many begged for mercy and cried. He hide in the shadows anticipating a victim for his sting. By the way, he is a dapper scorpion who is known to dress in the finer things. Where he came from, I don't know? He search for his prey on nightly strolls! He wasn't always this mean. One fateful night, he was stung by a scorpion himself and started to lean. I thought I was a dog but now I am a hybrid breed. That was his inner thought. His new found strength can't be bought! Just one look and your blood will run cold. Dare to take a peek, oh you are so bold!
Vicious, savage, and all sorts of nasty things was said of him. Mostly from his survived victims. The truth, he wore a mask. People was very unkind to him but atlas. He found his true power was in love. Something he was destined to find from up above. To show the world, one day at a time. To love each other despite differences and know he is innocent of any crime. Look at me and see what I see! It is true I was stung by a scorpion and not a bee! Don't focus on my legend but meditate on my intentions! My look cause others to tremble with fear! All I want is to hug you my dear! Woe to my haters that slander my name. My destiny is to be great and that is better than fame. A legacy fit for a king. Epic mic drop has a ring. Words from my heart. Can I have your permission to have a better start?
Long live the scorpion king! Cheers all around but beware if he come to your town! That is what others should say! Whatever I do, just know I came to slay! My talents abound! I'm not your average hound. Let me use my new found power to teach how to love the world for more than an hour! I have traveled the world and hid in places old and new! Done great things and want to show you, you and you! The Legend of the SCORPION KING is so true! I am totally great but for all the right reasons. Can you relate?
I am always so kind! Once I walked an old woman across the street. She moved across the street so slow because she had a big behind. Another time I saved a man's life! I scared a bad guy who had a knife! Oh yes, my legend rang true. The thing that makes me sad and blue. That thing is being misunderstood. No matter the fancy event or chilling in the hood? People think I am no good! I go to the barrios and they say "No Bueno"! I need to switch up the tempo. Let me be even nicer so others will see. I'm just plain 'ol me!
So as the Scorpion King roamed the land. He promise to show others love whenever he can? He will search for ways high and low. Moving to help fast or slow! He now has realized his purpose! To be on earth, to lead by example with extreme focus. His goal no matter the season. Is to help and love others, no excuses, no matter the reason!
Toe Joe; "Can you please tip Mama so The Scorpion King can receive toys and treats"?