The Journey
A parcel is in the post, where is it going, what does it contain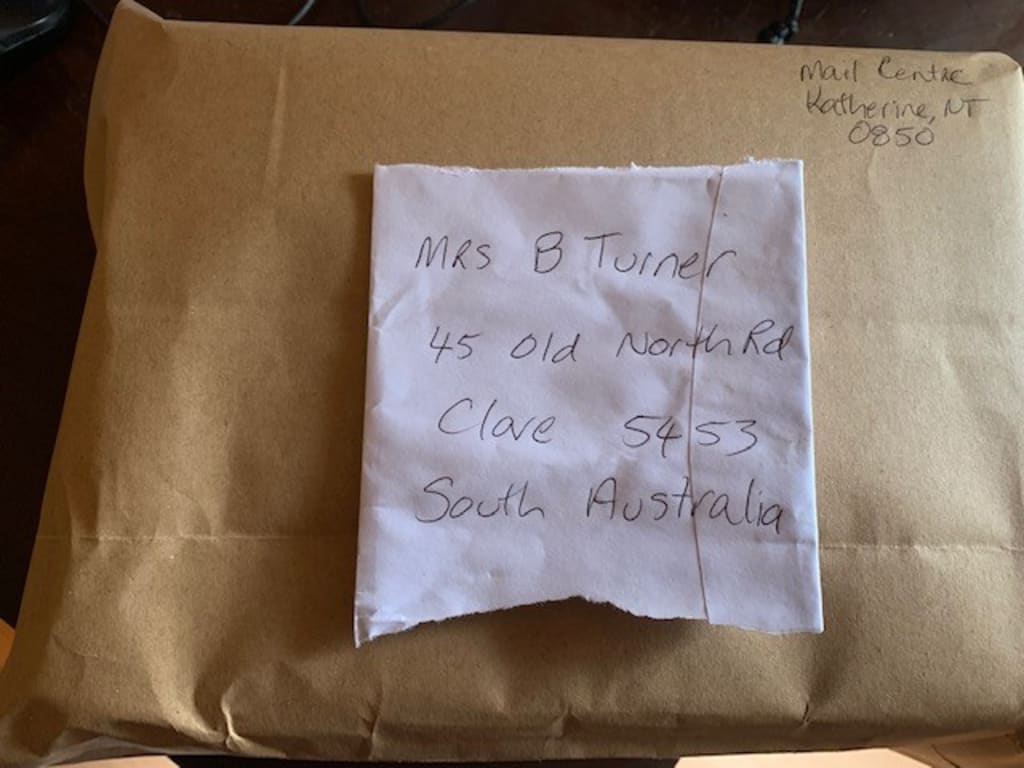 A box wrapped in brown paper, a homemade address label attached
The Journey
I started this journey at the Katherine Post Office in the heart of the Top End of outback Australia. A rather burly, weathered looking fella, who in complete contrast to his appearance, placed me gently, almost lovingly onto the counter. A nondescript box shaped parcel, covered in brown paper, the address label homemade and stuck to me with glue. The security information was completed with an indecipherable signature, the appropriate number of stamps affixed. With a last touch, I was handed to the post office clerk who tossed me into the large mail bag just in time to be bundle up; wheeled on the trolley around to the back of the Shell service station and loaded onto the Greyhound bus headed for Darwin.
My box with all its mail companions sat quietly surrounded by various pieces of luggage and deliveries. The mumbling of the passengers occasionally drifting down into the space. I caught a little bit of Language, Warlpiri; I believe, and definitely some Kriol, I smiled to myself. I would miss hearing these Languages spoken. I nestled into the shredded paper bed inside my box, this was going to be a very long, long journey. Four and a half hours to Darwin with stops at Pine Creek and Adelaide River, followed by a five-hour flight to Melbourne mail exchange. I remember Grace always muttering about why on earth every piece of mail had to now go to Melbourne, sometimes to only to be returned to the NT or other Top End destinations. Efficiency, Wally would say. Stupidity Grace would retort.
I was not going to ever be coming back to the Top End though.
Too nervous to contemplate the reception I may receive at the end of my travels, I drifted with my thoughts and memories. Nearly 50 years I had lived in this hot sun drenched part of the country, seen people like the tropical wet seasons come and go. I wasn't exactly looking like I had in my youth, although, not to sound vain, but I did have some work done recently. You know, just to tidy up a bit.
Rough hands grabbed me and tossed me down a conveyor belt, "Hey" I wanted to shout, indignity rising, sure, I may not be what I once was, but I don't need to be handled roughly! What if I was breakable? Which of course, I guess I'm actually not, but they could have damaged my box! And then what sort of parcel would I look like arriving at my destination.
Good grief, what is this noisy place? I tried to decipher some of the clatter, rolling conveyor belts, trolleys being noisily wheeled over concrete, truck engines humming and people chattering in what sounded like a thousand languages mostly foreign to me. I briefly considered, I may have been accidentally sent to another country, but that would surely have taken much longer.
Bang! Jolt; my anxious thoughts interrupted as I shifted in my box, slamming against the side, then falling back against my shredded paper bed. My box was squashed on one side, oh dear, was it the side with the address on it? Was it still there? Dead letter office here I come. I might just add here; I have always had a tendency to catastrophe things. My friends back at the Sundown Station were always telling me to "calm the shop down" and generally they were right. But, here I am alone in my box and I'm not afraid to say, I am frightened. Calm down; now, speak softly to myself, it will be okay, it will be okay.
A voice breaks into my musing, "Hey Joe this one got caught on the junction, it's for the South Australia truck, mate" A reply came back "Thanks mate, just toss her here, I've got that trolley"
Deep breath, my label must be intact and I was heading in the right direction, I could feel my frazzled nerves settling. Next leg; truck to South Australia. I couldn't help but remember that song Katie had learnt for the school open day 'Heave away, haul away, we're bound for South Australia'. So long ago now, so long ago.
I was there when Katie was born, named Katherine after the town of her birth, always just Katie though, my Katie. I was there for all her big moments, when she learned to ride a horse and a bike; starting school. It was hard when she went to boarding school, but she always came back home; always.
She told me all her secrets and special hopes. When she met Rob, she even asked me if I thought he was 'the one'. Of course he was. My whole body filled with joy to see them get married in the house garden. Grace spent hours getting it 'just so' to look perfect for the special day.
I was there when Katie became a Mum herself. I was there when she left this earth all too soon. Sundown and the home were never quite the same again.
Rob moved away to be nearer his family and took little Belinda with him. Belinda, so much like her Mother, the one bright light still at Sundown. I wonder what she's like now?
Good Grief, this driver not only thinks he's in a race car but he seems to have been able to find every bump and pothole possible. How am I to enjoy my reminiscence with all this bumping about? We appear to have stopped, but I am clueless as to where. Somewhere in between Melbourne and Adelaide is as close a guess as I can make. How far is it from Melbourne to Adelaide anyway? George would have known for sure, George knew everything. And if he didn't, then he made it up and sounded like he did. I missed George. I missed Grace. I missed Wally. I missed Sundown Station.
What if I'm not wanted when I get there? What if she doesn't even know who I am anymore? What if she's forgotten all about me? What if she doesn't want me at all?
The truck started up and we started moving again, closer and closer to my destination.
Wally had put a letter and a photograph into my box, but I didn't wish to be rude and try to read it, after all it wasn't for me. But boy, did I wish I could just get a peak, especially as we get closer and closer.
Well, it appears I have made it to Adelaide, by my calculations it was about 8 or 9 hours in the bumpy truck. My anxious feelings were increasing, somewhere in Adelaide was my destination. For now, though, I was in another mail sorting centre, not as loud or I suspect as big as the last one.
Time to gather my nerves and prepare myself for tomorrow. I had actually been quite beautiful once, but now I was worn down. Bits unfortunately missing and others replaced. Grace had been helping me recapture some of my past looks before she left. She went to hospital, this time though, she didn't come home. Wally seemed to have aged so much since that moment, like someone had knocked all the air out of him. He held me and cried. I couldn't make him feel better though.
Then he packed me up into the box with the shredded paper, the letter and the photo; wrapped us in brown paper, then took us into town.
What, what is happening? I took a brief snooze, I swear it was just a forty winks and now I seem to be in a van of some description.
We're stopping. Where are we? A man picks me up, not roughly, nicely and walks up to a house with me and knocks on the door.
A female voice answers the door and on inspecting my parcel declares "oh, it's from my Grandad in the NT!"
Grandad? Is this, could this be … Belinda? Quick, open the box, I want to see you. Oh, maybe don't. What if she doesn't know me? What if she doesn't want me?
I hear the brown paper being torn, the box lid being opened. A soft hand reaches into the box and picks up the letter with the photo and then shifts the shredded paper to show me sitting there.
"Oh, I remember you!" she almost whispers. I get my first glimpse of her and for a moment catch my breath. She looks so much like Katie; I would have known her anywhere.
Belinda sits down, with me on her lap and opens the letter. She looks at the photo and smiles, tears coming to her eyes. She puts the photo down with me; it is one of all of us from long ago. Grace, Katie, Belinda and me. I smile at it and wish I too could cry.
'Dearest Belle,
Your Nanna was so very happy when she heard your news. It put such a smile on her face and she set about fixing this little chap up, just in case you may have liked to have him. He was your Mum's and she loved that little chap with all her heart and never outgrew him.
You played with him for a while when you lived here at Sundown, I hope you maybe remember him.
Nanna used some of the fabric from her old apron for his paws, the one you used to love to wear when you helped her in the kitchen. His fur has been replaced with patches cut from your Mum's chenille bed cover and his eyes are buttons from your baby jacket Nan had knitted. She put the little heart shaped patch on his chest because she said, just like the Velveteen Rabbit he had been loved so much he had become real.
She was fussing and telling me I needed to let you know all about him those last few days in the hospital. Sweet Belle, you were never far from her heart or her thoughts, right to the last.
I hope the little guy will help you feel all the love from your Nanna and Mum around you as you start your own little family.
I miss her so much, Belle.
Love Grandad'
Belle picked me up and looked me over. She was so gentle. I hope I didn't look too old and tatty.
Then she held me tight and whispered 'Ted-ted'. Belle knew who I was! She did remember me; I was so very happy.
Belle told me she had someone special for me to meet as she carried me into another room. Ted-ted meet Katherine Grace, she gently placed me down next to the sleeping baby.
I knew my journey had ended. I knew I was home.
Reader insights
Be the first to share your insights about this piece.
Add your insights