The Faces of a Dark Pond
While Searching for Brightness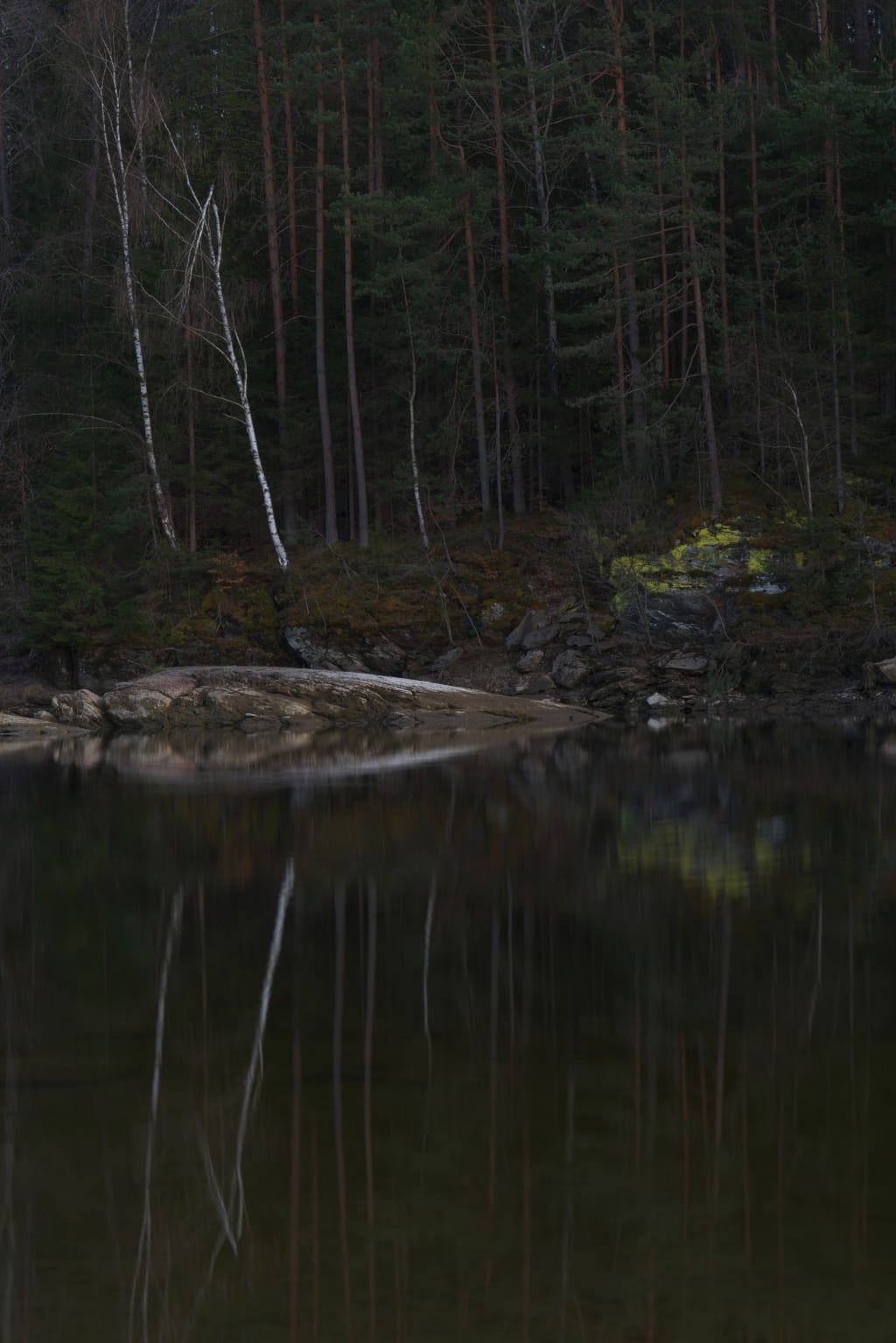 Photo by Harald Pliessnig on Unsplash.com
After relocating to a suburban area in the Midwest to begin a new career, my main goal was to ensure that my 9-year-old daughter Patty adjusted to the new environment.
The good news is that she quickly made friends with kids in the neighborhood and at school. I was amazed when she told me that the children centered their lives around an abandoned pond surrounded by trees. Whenever dark clouds appeared, many would say that the creatures living in the pond were not happy. In contrast, when rays of sunshine ruled the day, many would say they were joyful.
I thought that was silly because the pond remained vacant over the past two decades! Neighbors informed me that a couple once lived nearby with two children until they went swimming with their children in the pond and the children drowned. While trying to save the children, the parents also mysteriously drowned. It was a tragic story with a sad ending.
Relatives of the couple (who owned the property) cordoned off the land around the pond and forbade anyone from getting close to the pond.
Nonetheless, they always decorated the surrounding trees with lots of scary ornaments during Halloween because it was the children's favorite holiday when they were alive.
They treated the pond as a sacred shrine because the children spent a lot of time fishing there. Many in the neighborhood often said they often saw strange creatures popping out of the pond late at night. Of course, I remained cynical. Still, out of respect or fear, most maintained a safe distance from the pond whenever they walked past it.
After living in the neighborhood for over two years and walking past the pond during the day and sometimes late at night, I never observed anything abnormal.
The level of respect was so strong that one morning as I walked our dog, Oscar, before going to work, the dog yanked his collar off and started running around the neighborhood. Immediately, Stanley (my next-door neighbor) said, "I sure hope Oscar does not go to the pond because it will be a challenge getting him back because that body of water has mystical powers." Not good, I thought, since that I had only a limited amount of time to get myself ready for work. I needed to get to work on time and leave early to get ready to celebrate Halloween.
Unfortunately, I looked for Oscar for another 45 minutes before giving up and going to work. I figured he would either come back on his own as he had done in the past or else, I would look for him after I distributed all my Halloween candy. All the neighbors knew him and would often call me when they spotted him.
Although the evening was dark and windy, I loved giving away candy to the children dressed as little ghosts and goblins. After the festivities ended, I knew it was time to search for Oscar after one of my neighbors told me that my dog spent most of the day walking around the pond.
As I arrived, I found Oscar running and barking around the pond. Sadly, Patty refused to come due to her fears. Thankfully, when I called Oscar, he ran back and nervously stood still and allowed me to put his collar back on. Oscar was trembling and seemed very happy to be close to me.
Although I viewed all the scary stories with a dose of skepticism, Oscar's strange behavior seemed rather strange. As I got closer to the pond, I witnessed a disturbance in the water. That was a bit odd since I didn't think anyone ever went swimming in that water.
As I walked closer to the pond, I felt my heart pounding. Then suddenly, I observed a distraught woman suddenly pop out from beneath the water comforting her two children. The mystical part of this sighting is that the mother and children were perfectly dressed in picnic attire and didn't appear wet from the water.
As she spotted my appearance, her face flashed extreme anger while the children expressed genuine fear and used hand gestures to let me know that I should walk away.
But I couldn't walk away since I knew those children needed to know they were special. But as I tried to communicate with the children, the mother became even angrier.
At that moment, I reacted to her hostility with love by throwing kisses at the children and the mother. Initially, it made the children more scared as they watched their mother's anger escalate even further.
However, after several minutes my persistence paid off. The children's faces lit up with effervescent smiles, and the mother slowly let down her guard. I even noticed that her frown transformed into a weak smile. That only encouraged me to emit more of my positive emotions until the mother began to embrace her children and lip-sync the words, "Thank you!"
It was quite a Halloween Day for me that began in a state of confusion as I lost Oscar and now ended with a pond full of love. That day, I learned an important lesson, namely, that love will always conquer anger and sadness.
It is something we should all remember during all the other months of the year!
Short Story
Chan Economics LLC, Public Speaker
Chief Global Economist & Public Speaker JPM Chase ('94-'19).
Senior Economist Barclays ('91-'94)
Economist, NY Federal Reserve ('89-'91)
Econ. Prof. (Univ. of Dayton, '86-'89)
Ph.D. Economics