The Box
Murder in the First Person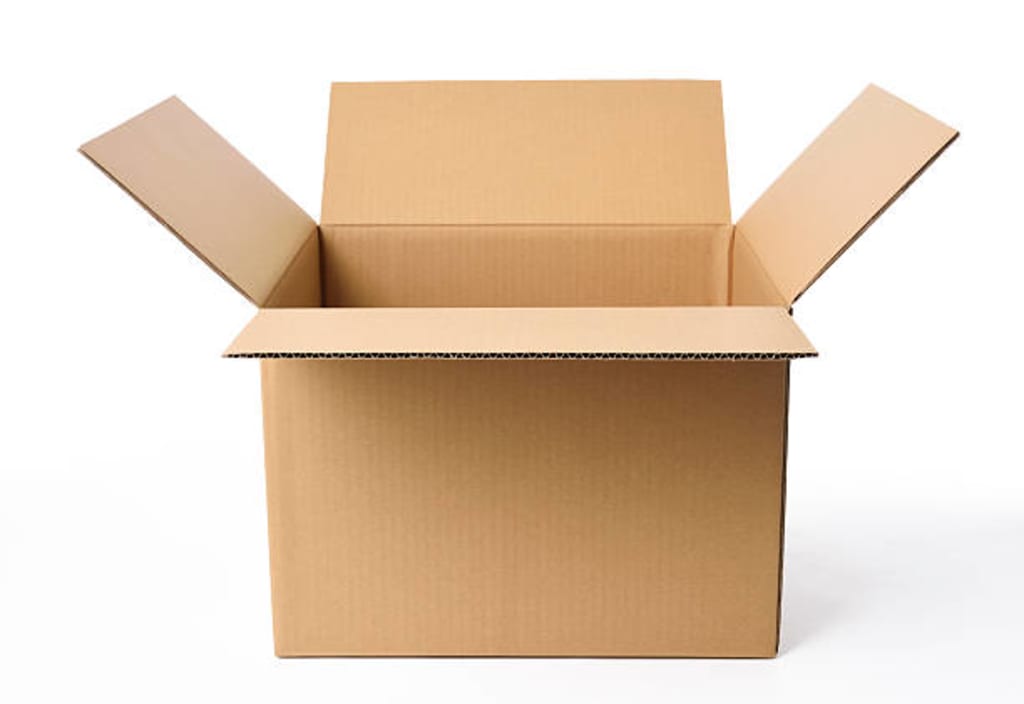 The Box
Tyler
Tyler Priestly was his name. Seven year old and an absolute terror. The amount of effort and resources that had to be put in that little shit was unbelievable. I have had to endure his presence in my life since Reception. The tantrums, the cursing, the spitting, the hitting, the bullying, the all lot. My mum, being my mum asked me to be patient, it was not his fault, he had behaviour problems, his Dad was in prison, blah, blah, blah. Not his fault, my arse… Tyler Priestley made our lives hell. My Dad was less empathetic. "If he hits you, Simone, hit him back." – he would say. "Don't let yourself be terrorised by that little shit."
Well, that's what I did when I saw him coming with his fat face covered with baked beans, his enormous body charging like a raging bull, yelling the only words he knew, "You fucking bitch, you give that right back to me or I will fucking kill you!". His face distorted with anger, my friend Daisy's tears, Miss Parris tired, "Not again" face and I just thought, "Not today, Tyler! You can go to hell!"
Everything happened quickly. He wanted the special football and it was the girls' turn to play Football that week. We had our little team and were very serious about it. We wanted to defeat the boys in an ultimate football match on Friday. I did what I had to do. When he came with his fists ready to punch me, I summoned all the strength I had gathered from Years of Gymnastics, Ballet and Swimming lessons and pushed him as hard as I could. Tyler lost balance and fell. Tyler hit his head on the playground bench. That was the end of Tyler. He died almost instantly.
You can imagine what happened next. We moved out of our lovely home. It was impossible to continue living in there, so close to the school after the accident. That was the word everyone used when we had to talk about it. We were lucky Dad was an Estate Agent and we managed to find a new place very easily outside London in one of Kent's seaside towns. Mum quit her job as an English Teacher in the local Secondary School, and I had years of therapy lined up in front of me.
I was 7 years old and I had killed someone. Self-defence, everyone said. A terrible and unfortunate accident. He was a very difficult child. May his little soul rest in peace. Yeah, right! I could read deep inside their thoughts. They were relieved. No more Tyler Priestley to ruin their days. Amir, who had been Tyler's victim his entire school life could now go to school every day without feeling threatened and humiliated. Miss Parris could actually teach, instead of spending her time and energy dealing with Tyler's behaviour issues. I knew that deep inside they all thanked me for what I had done. Or so I thought.
Sarah
I know what you might be thinking. That I am some kind of sociopath. That is fine. Absolutely fine! You are entitled to your own opinion. However, I cannot let it go that easily. This is my personality we are talking about here. First, let us have a look at the definition of the word. "A sociopath is a person with a personality disorder manifesting itself in extreme antisocial attitudes and behaviour." I am far from antisocial; in fact, I am a very popular girl. After moving to Rochester, we started fresh. Dad still commuted to London every day and Mum gave up teaching all together and opened a little bookshop in town. I enrolled in the local Primary School and made friends straight away. Friends for life, as a matter of fact. Mum was a firm believer that children should have the opportunity to try as many activities as they could possibly fit in their timetables, therefore between Swimming, Ballet and Guitar lessons, Brownies and sleepovers, life was pretty good.
I do have feelings, you know. I love my parents and grandparents. Even now, as an adult, I love my best friends, Maya and Tamzin with whom I share my flat in London. I could not live without them. So please, do not go around making assumptions about me.
That brings us to Sarah. I met her at university. I was on my first year of a BA in Music Production and Sarah was my roommate. We started on the wrong foot and soon realised that we were completely the opposite of each other. Sarah was a depressing little creature, too wrapped up in her own world to appreciate life and to show any respect for other people. She envied everything I had, from my looks, to my friends, boyfriend, clothes, parents, everything.
Let us face it, she was not attractive, never had been popular, spent entire weeks stuck in OUR bedroom and stank. We had to have our windows opened every day even in the winter. She told me once that she had a hormonal problem as a kind of apology for the unbearable smell I had to learn to live with for a whole academic year. I cannot even remember what degree she was doing. I am sure it was boring as hell.
It all happened during the exams week in one of the hottest days of June. I had a band with some friends and we booked a few gigs for the end of term. Between exams, rehearsals and my part time job at the university bar, I was pretty stressed out. I am not the tidiest person on planet earth. It can be very infuriating to share a space with me. But talk about nagging. The woman was a nagging machine. Nag, nag, nag. It was not my fault she spent all her life inside the room. It was not my fault she was ugly as hell. It was not my fault she stank worse than a sack of rotten potatoes. It was not my fault she never got laid and that she did not have any friends. So when she came at me with her nagging little voice demanding that I cleaned up my side of the room or she will throw away everything she saw lying on the floor, I lost it. I grabbed her by the neck and smashed her face against the pillow, holding it until she stopped breathing. Sarah was a tiny little thing. She did not have a chance against me. I have been always the athletic type. I can eat for ten but I will not put on weight. I am just lucky, I guess.
She was also asthmatic, so everything happened quite quickly. After I killed her, I laid her on the floor and searched for all her asthma pumps. She had a few, in case she lost any of them, all of them neatly labelled with her name. I dropped one behind the toilet sit, then went to the library and left one on a desk in the empty study area, the only place she went apart from lectures and the university shop and threw the others away.
Then, I went home and spent the weekend with my parents. On Sunday morning, I got a call from University. They had found Sarah's body in the bedroom floor. Someone had called security due to the atrocious smell coming from the room. They asked me a few questions and told me not to worry, all my stuff had been transferred to another room.
I did not go back to the university that year. My parents booked another course of therapy sessions and I took a Year off so I could deal with the trauma the best way I could. I went travelling for six months around South America with my friends Tamzin and Maya that used my ordeal to escape from their boring degrees and give me their emotional support during such stressful time.
The Box
We came back from South America refreshed and ready to embrace life in London. I started teaching guitar in a few Primary Schools around Southwark Borough while working in a Bar in Covent Garden during the weekends. Tamzin and Maya also managed to find themselves part-time jobs, which gave us enough money to rent a flat in New Cross. We were young, independent and happy.
The first box arrived by post on a Saturday morning. I was too hangover to open it straight away even though it was addressed to me. I forgot all about it and went to work that night. When I got home on Sunday morning, the box was still there on the kitchen counter, big and brown. I opened it trying to remember if I had ordered anything from Amazon or any other site. When I looked inside the box, I felt my insides twisting and had only time to run to the kitchen sink and vomit everything I had consumed the night before.
Inside the box, there was the special football I had played with during Year 3 in Miss Parris' class. The reason, I had killed Tyler Priestly, by accident, of course. Everything had happened by accident. I hid it under my bed and filled the bath with warm water. I needed a bath. I needed time to think. Someone knew what had happened over twenty years ago.
I spent Sunday in bed thinking about all the people that could have sent this to me. And with what purpose? I was terrified that my past actions were going to catch up with me. I cancelled my lessons on Monday and drove to where it all had started in a Primary School in North London. Everything looked pretty much the same. Miss Parris was now Deputy Head teacher. She recognised me straight away and even looked happy to see me. I told her I was looking for closure, even though I had closed that chapter of my life long time ago. She kept referring to the incident of Tyler's death as an accident and I should not feel guilty about it. I should move on with my life. The fact was I never felt any guilt, remorse, anything really. Tyler was a horrible kid and would be a horrible man.
I went back home feeling uneasy. I hated to be powerless. I felt that someone was observing me. I felt violated. I spent the rest of the afternoon in the local library searching for anything about Tyler's family in the papers. Nothing really turned up. Just a small article, written at the time of the accident.
The second box also arrived on a Friday. This time, I did not wait to open it. I could taste bile on my mouth. The box was exactly the same size of the first one but what was inside was small and neatly labelled. It was Sarah's asthma pump. This had not been an accident. Sarah was my annoying roommate and I had killed her because of that. Because she was ugly, stinky and extremely annoying. Did I feel bad about it? No. Was I scared? Yes. I was petrified. Was I going to let myself be bullied by whoever is doing this? Not in a million years. If there was one thing I learned about life is, life is a waiting game, you just need to learn how to wait. There was nothing I could do about it. When the time comes I will be ready to whoever is coming for me. I had killed before and I can kill again.
Short Story
About the author
Primary School Teacher and Drama Practioner, Ana Sofia Brito lives with her family in London, UK. She loves writing, cooking and travelling. The Adventures of Clarisse in the Birds Valley is her first novella.
Reader insights
Be the first to share your insights about this piece.
Add your insights