The Blood that Flows
Excerpt of the novel by Stephanie Van Orman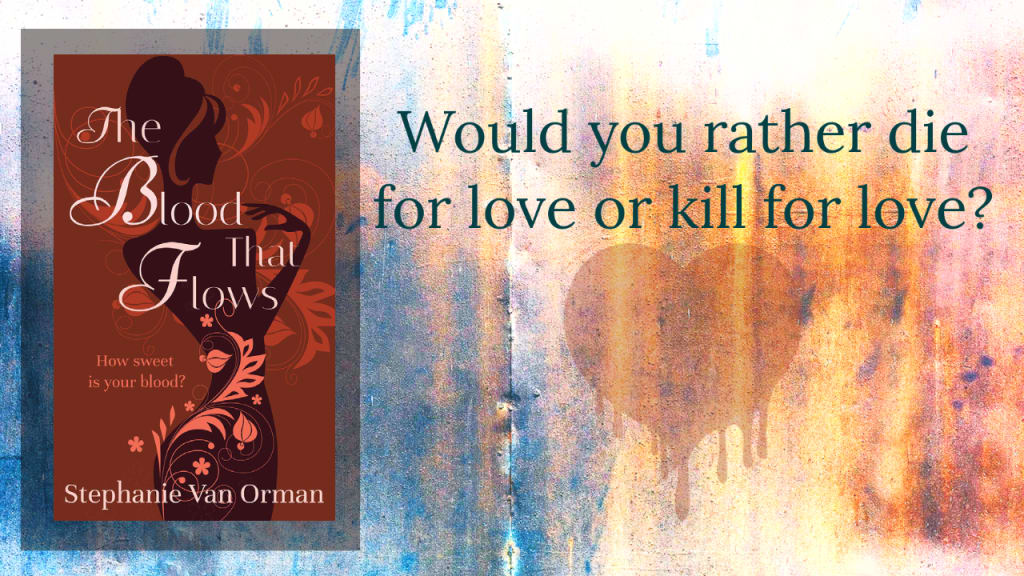 "A vampire goes through four phases in its development. One of you two must be able to tell me about them," Detective Marshall said gruffly. He looked from Dudley to me, like he was expecting us to raise our hands.
Neither one of us moved. Why should we? This wasn't bloody school. We were sitting on mismatched chairs in his cramped office, which smelled of tobacco and old French fries. A pile of paper was on the verge of sliding onto the floor from the top of Marshall's filing cabinet and I suspected a wad of gum ground into the carpet was stuck to my shoe.
Marshall just enjoyed talking like this. A former police chief in some distant city before he'd resigned and moved here to lay down the law about vampires—which would have worked, except here the Chief of Police, Pierce Wagner, was a closet bloodsucker. With Marshall's passion for slaying vampires, it was impossible for him to work with police who sympathized with the undead. So, now he worked as a detective for the masses of humans who hadn't quite got the memo. This was a vampire city.
Me? Yeah, I got the memo. I got it when I was fifteen. Did I know the different phases a vampire went through? Well, I knew some of them but remained unclear on what happened after a certain point. One thing I knew for sure—vampires were not invincible. As for the rest, I'd come here hunting for the gory details of their lifespan, since things in my life had taken a distinct turn for the worst. I couldn't let Marshall know that. He wouldn't trust me if he thought I had my own agenda, so I returned his gaze patiently and acted bored but willing to let him play teacher all day.
I didn't know Dudley's story. He looked like he was in his late twenties with dark eyebrows and a rough five o'clock shadow. His expression read like a tombstone. The message was simple—dead men don't talk and neither do I. Too bad really, since he looked like a movie star from black and white film noir, despite his rough edges.
Marshall waited for several long moments before he grunted, "Get out. You're both worthless."
Unfortunately, both Dudley and I were in Marshall's office for job interviews. Dudley was applying to be Marshall's partner while I was applying to be his receptionist. Dudley was a private detective already. And me—as I said before, my aspirations were fewer. I just wanted to root around Marshall's files and get as much information on vamps as I could before I got canned.
I cleared my throat, directed my gaze pointedly at Dudley, and said, "Sorry, I rather hoped this would be a private interview."
"I don't have time for private interviews," Marshall said crossly.
I ground my teeth together. I didn't want to have to do this, but it was better to act like a fool than to let a vampire hunter masquerading as a private detective in on my true stance. Dumb girl routine number four coming right up. "I'm not interested in vamps," I said, twirling a lock of my hair. I wouldn't be able to use that routine after I turned twenty-four, so I had to get good use out of it while I could. "I'd rather answer your phone, sort your messages and keep your files straight than get involved with crap that could kill me. I thought you just stalked married women who strayed from the path."
Marshall gave me a weird look and then opened a jar on his desk and offered me a piece of round pink bubblegum. Probably the same stuff that had been stomped into the carpet.
I shook my head and said, "No thanks. I'm trying to cut back."
He smiled. He liked me. No problem. I was in.
"Okay, so girlie here is too smart to get involved with vamps. What about you, boyo?"
Dudley shook his head coolly and recited in disinterested tones, "A vampire goes through four cycles. First, they are a human who has been tagged by a vampire to be their mate. If the human is unwilling, it will die."
"And if the human is willing?"
"Then they will end up sharing massive quantities of their own blood with the vampire as well as drinking the vampire's blood. A human won't transform into a vampire unless they consume at least ten liters of vampire blood over two months. During this time, both parties experience a drug-like euphoria where they believe that they can't possibly live without the other. Even ancient vampires can fall into this hole. Many of them can't bear to kill their lover, even though they know what will inevitably happen next. Once this first phase is complete, the human is a new vampire and even if it is unreasonable, both the new vampire and the old one are filled with suspicion and anger toward each other. The old vampire liked the human and is disgusted by them once they change, so much so that they will murder them if they have the chance. The new one thinks the old one is jealous of their newfound power and beauty. I'm sure there are plenty of different emotions experienced, but in the end—one of them will kill the other. I've never heard of a case where one of them didn't die. Then there's the third phase, where the vampire who survived is not a nuisance to anybody. They don't kill in the third phase."
All of this, I knew. It was beyond this that I hit unfamiliar territory. What happened in the fourth phase?
Dudley looked indifferent, but he continued. "In the final stage, they want to mate, but vampires don't exactly mate. They either make a new vampire out of a human and die, or they repeat the process of falling in love over and over again without giving up their legacy. That path turns them into killing machines and causes no end of trouble. I'm sure you've seen it."
Marshall shook his head carefully. Then he looked at me and said, "Be careful who you date."
I turned my head away saucily. "Why would I want to date anyone?"
Actually, I was having a hard time hiding my discomfort, and turning my head gave me an out. What Dudley said was exactly what I suspected, but I didn't want to believe it. What mess was I going to have to clean up?
Marshall talked to us some more before he told me I got the job and dismissed me saying, "If you want to stay out of trouble, then you've probably heard enough."
I nodded, shook hands with both of them, and headed out. I particularly looked into Dudley's face before I left. I wanted to know what he thought of me. His expression was exactly what I expected. He thought I was a piece of fluff—completely unworthy of his attention. Perfect.
Neither of them would have suspected that I was a murderer.
Thanks for reading! The Blood that Flows by Stephanie Van Orman is available in ebook (and possibly paperback) in the following bookstores: Amazon, Apple Books, Barnes and Noble, DriveThru Fiction, KOBO, Smashwords, and more! Enjoy!
About the Creator
I write novels like I am part-printer, part book factory, and a little girl running away with a balloon. I'm here as an experiment and I'm unsure if this is a place where I can fit in. We'll see.
Reader insights
Be the first to share your insights about this piece.
Add your insights