The Ambitious
Guest part -2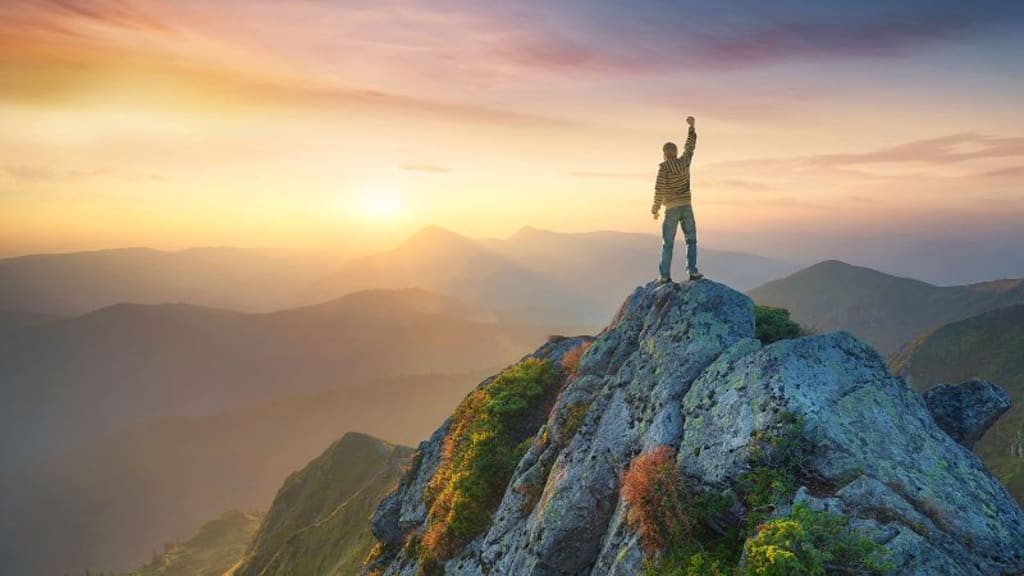 The secret of the young man's character was a high and abstracted
ambition. He could have borne to live an undistinguished life, but not to
be forgotten in the grave. Yearning desire had been transformed to hope;
and hope, long cherished, had become like certainty, that, obscurely as
he journeyed now, a glory was to beam on all his pathway- though not,
perhaps, while he was treading it. But when posterity should gaze back
into the gloom of what was now the present, they would trace the
brightness of his footsteps, brightening as meaner glories faded, and
confess that a gifted one had passed from his cradle to his tomb with
none to recognize him.
"As yet," cried the stranger--his cheek glowing and his eye flashing with
enthusiasm--"as yet, I have done nothing. Were I to vanish from the
earth tomorrow, none would know so much of me as you: that a
nameless youth came up at nightfall from the valley of the Saco, and
opened his heart to you in the evening, and passed through the Notch by
sunrise, and was seen no more. Not a soul would ask, 'Who was he?
Whither did the wanderer go?' But I cannot die till I have achieved my
destiny. Then, let Death come! I shall have built my monument!"
There was a continual flow of natural emotion, gushing forth amid
abstracted reverie, which enabled the family to understand this young
man's sentiments, though so foreign from their own. With quick sensibility
of the ludicrous, he blushed at the ardour into which he had been
betrayed.
"You laugh at me," said he, taking the eldest daughter's hand, and
laughing himself. "You think my ambition as nonsensical as if I were to
freeze myself to death on the top of Mount Washington, only that people
might spy at me from the country round about. And, truly, that would be
a noble pedestal for a man's statue!"
"It is better to sit here by this fire," answered the girl, blushing, "and be
comfortable and contented, though nobody thinks about us."
"I suppose," said her father, after a fit of musing, "there is something
natural in what the young man says; and if my mind had been turned
that way, I might have felt just the same. It is strange, wife, how his talk
has set my head running on things that are pretty certain never to come
to pass."
"Perhaps they may," observed the wife. "Is the man thinking what he will
do when he is a widower?"
"No, no!" cried he, repelling the idea with reproachful kindness. "When I
think of your death, Esther, I think of mine, too. But I was wishing we
had a good farm in Bartlett, or Bethlehem, or Littleton, or some other
township round the White Mountains; but not where they could tumble on
our heads. I should want to stand well with my neighbours and be called
Squire, and sent to General Court for a term or two; for a plain, honest
man may do as much good there as a lawyer. And when I should be
grown quite an old man, and you an old woman, so as not to be long
apart, I might die happy enough in my bed, and leave you all crying
around me. A slate gravestone would suit me as well as a marble one--
with just my name and age, and a verse of a hymn, and something to let
people know that I lived an honest man and died a Christian."
"There now!" exclaimed the stranger; "it is our nature to desire a
monument, be it slate or marble, or a pillar of granite, or a glorious
memory in the universal heart of man."
"We're in a strange way, tonight," said the wife, with tears in her eyes.
"They say it's a sign of something, when folks' minds go a-wandering so.
Hark to the children!"
They listened accordingly. The younger children had been put to bed in
another room, but with an open door between, so that they could be
heard talking busily among themselves. One and all seemed to have
caught the infection from the fireside circle, and were out-vying each
other in wild wishes, and childish projects, of what they would do when
they came to be men and women. At length a little boy, instead of
addressing his brothers and sisters, called out to his mother.
"I'll tell you what I wish, mother," cried he. "I want you and father and
grandma, and all of us, and the stranger too, to start right away, and go
and take a drink out of the basin of the Flume!"
Nobody could help laughing at the child's notion of leaving a warm bed,
and dragging them from a cheerful fire, to visit the basin of the Flume--a
brook, which tumbles over the precipice, deep within the Notch. The boy
had hardly spoken when a wagon rattled along the road, and stopped a
moment before the door. It appeared to contain two or three men, who
were cheering their hearts with the rough chorus of a song, which
resounded, in broken notes, between the cliffs, while the singers
hesitated whether to continue their journey or put up here for the night.
"Father," said the girl, "they are calling you by name."
But the good man doubted whether they had really called him, and was
unwilling to show himself too solicitous of gain by inviting people to
patronize his house. He therefore did not hurry to the door; and the lash
being soon applied, the travellers plunged into the Notch, still singing and
laughing, though their music and mirth came back drearily from the heart
of the mountain.
"There, mother!" cried the boy, again. "They'd have given us a ride to the
Flume."
Again they laughed at the child's pertinacious fancy for a night ramble.
But it happened that a light cloud passed over the daughter's spirit; she
looked gravely into the fire, and drew a breath that was almost a sigh. It
forced its way, in spite of a little struggle to repress it. Then starting and
blushing, she looked quickly round the circle, as if they had caught a
glimpse into her bosom. The stranger asked what she had been thinking
of.
"Nothing," answered she, with a downcast smile. "Only I felt lonesome
just then."
"Oh, I have always had a gift of feeling what is in other people's hearts,"
said he, half seriously. "Shall I tell the secrets of yours? For I know what
to think when a young girl shivers by a warm hearth, and complains of
lonesomeness at her mother's side. Shall I put these feelings into words?"
"They would not be a girl's feelings any longer if they could be put into
words," replied the mountain nymph, laughing, but avoiding his eye.
All this was said apart. Perhaps a germ of love was springing in their
hearts, so pure that it might blossom in Paradise, since it could not be
matured on earth; for women worship such gentle dignity as his; and the
proud, contemplative, yet kindly soul is oftenest captivated by simplicity
like hers. But while they spoke softly, and he was watching the happy
sadness, the lightsome shadows, the shy yearnings of a maiden's nature,
the wind through the Notch took a deeper and drearier sound. It seemed,
as the fanciful stranger said, like the choral strain of the spirits of the
blast, who in old Indian times had their dwelling among these mountains,
and made their heights and recesses a sacred region. There was a wail
along the road, as if a funeral were passing. To chase away the gloom,
the family threw pine branches on their fire, till the dry leaves crackled
and the flame arose, discovering once again a scene of peace and humble
happiness. The light hovered about them fondly, and caressed them all.
There were the little faces of the children, peeping from their bed apart,
and here the father's frame of strength, the mother's subdued and careful
mien, the high-browed youth, the budding girl, and the good old
grandma, still knitting in the warmest place. The aged woman looked up
from her task, and, with fingers ever busy, was the next to speak.