Technology's Final Betrayal
A revenge like no other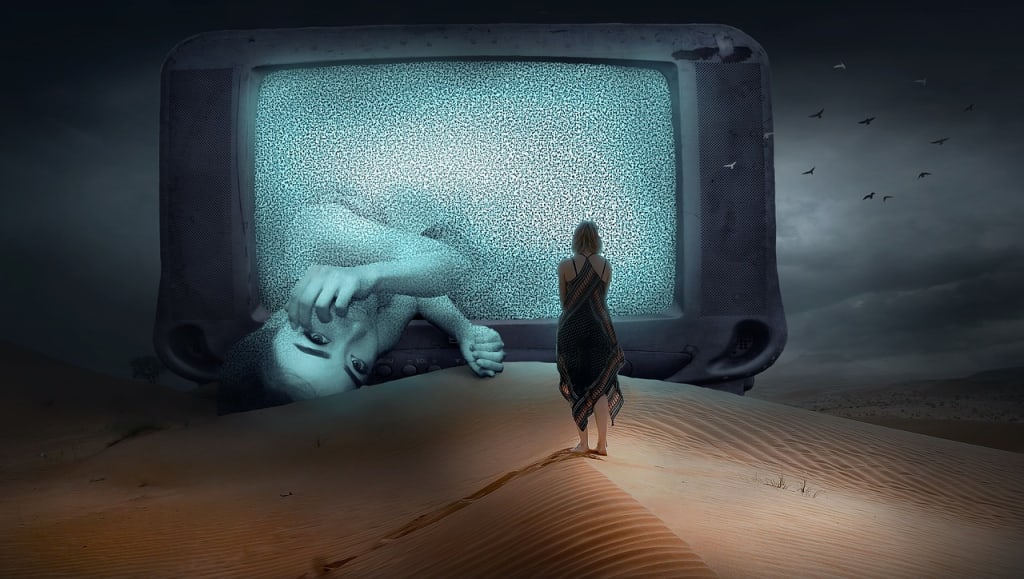 Image courtesy of Pixabay
Chapter One
Nobody can hear a scream in the vacuum of space, or so they say.
I'm not so sure that's true, as I continue to scream in terror. I can certainly hear my screams!
I think I've been taken for a ride. To where, I hear you ask. If I knew the answer to that question, I'm sure I wouldn't be so frightened and I'd stop my screaming.
***
My boyfriend and I are sitting on the roof of my house. It is a hot summer night and we are enjoying the slightest cool breeze, as we plan our future together.
"Simon, wouldn't it just be the bomb, if we could travel to a new world? Just you and I, the initial explorers, the leaders in migrating mankind to a new planet, clean and fresh, to develop as we please," I say as I point to all the glorious stars in the sky.
"Why not Cathryn, anything is possible. We just need to believe," Simon responds.
As we both lay there, daydreaming of the possibility of space travel, star gazing and deep within our own thoughts, we doze off, to dream of the possibilities of a new adventure together.
***
Suddenly, I am rudely woken, with that dream feeling of falling. Except it's not a dream, or so I find, when I hit the ground with a heavy thud.
Did I fall off the roof? Where is Simon? Am I still dreaming?
I look behind me, expecting to see my house but there is no house there. In fact, all I can see behind me is the dark sky and millions, upon millions of stars.
As I turn back to look in front of me, I begin to scream in fear.
"Where am I? Can anyone hear me?" I scream out, hoping that I am not as alone as I feel.
"No you are not alone," I hear someone speak quietly and I turn my head in that direction.
There standing in front of me is a young woman, dressed in what looks to be, colourful triangles of material hastily stitched together. She stands barefoot, on a sand dune, that stretches as far as the eye can see.
I notice how barren, how desolate those dunes look, with tiny tuffs of some sort of grass or weed, growing randomly here and there. Not another plant or even any trees to be seen.
The sky is made up of dark menacing clouds, not a star in sight and a small flock of white birds. Birds, the like, of no other bird I've ever seen.
"Where on Earth am I?" I whisper in terror.
"Earth, you arrived from Earth? Oh, please tell me you know how to travel back there," the woman asks, with sheer desperation threaded throughout her question.
Her words beat hollowly against my ears. I don't want to believe what I already know. I don't want to believe that I'm in a new world. That I'm no longer on Earth.
This barren, desolate world is not the world Simon and I dreamed of!
In my panic I attempt to stand, uncertain why I'm laying on my side, half in the sand and half in — what? A large computer — how did I travel to another world, landing here and half spilling out of an old computer?
I must still be dreaming. I start to convince myself this is a dream. I'm still laying on my roof, next to Simon, dreaming. I must be!
I look at the woman standing in front of me, "please tell me you're a figment of my dream, that none of this is real. That I did not just teleport from the roof of my house, to a desolate far-off planet, via an old computer screen. Please, say it isn't so!" I plead.
With tears running down her face, the young woman whispers, "I'm sorry love but you have landed on the planet Saroga. You are the first human being I have seen in three years. I have been here alone, as I woke one morning, like you, unexpectedly lying in the sand of this deserted planet. I seem to have travelled here via a stereo system. The last thing I remember is dancing to my favourite song, one that yearned to travel to far off distance stars. The next thing I know I'm laying half in and half out of an old stereo speaker and I've been alone ever since."
As she finish explaining, I take one look at her face and I begin to scream.
***
Nobody can hear a scream in the vacuum of space, or so they say.
I know now that's not true because both of us can definitely hear my screams.
To be continued
**********************************************************************
If you liked my writing, please click on the small heart underneath, near my name. Or send me a tip and let me know you enjoyed it.
****
Please click the link below my name to read more of my work. I would also like to thank you for taking the time to read this today and for all your support.
If you enjoy this piece, you may enjoy this one too.
Sci Fi
About the author
I've written poetry most of my life, but never had the courage to publish my writing before. So here goes ........ I'm feeling the fear and doing it anyway (my motto in life).
Reader insights
Nice work
Very well written. Keep up the good work!
Top insight
Compelling and original writing

Creative use of language & vocab
Add your insights