Tacos & Trivia
Bridge Lounge technically used to be a barn; although not the typical livestock residence. In the 19th century the edifice known as TNT Stockyard, housed two-legged beasts of burden fresh off boats, to prepare them for the auction blocks. On the outside nothing had changed, on the inside, everything.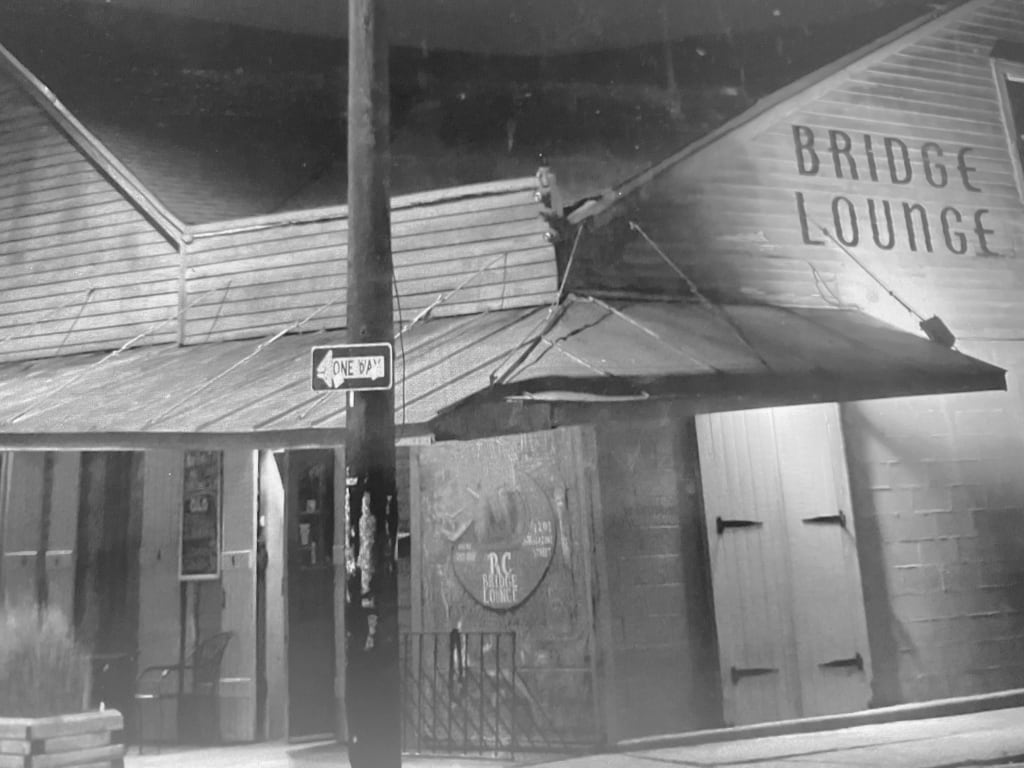 "... it survived Katrina, Betsy and the Hurricane of 1915 and it will be here when your ass can't cut it," was the second thing the owner told Naymon.
Maybe Max would not have been as ornery if one of his bartenders had not called out after crashing his motorcycle a couple of days ago while drag racing down the yet unfinished Old Hammond Highway. To be fair, he's usually quite pleasant. Okay, Max is a happy drunk that always was concerned about the welfare of his employees. Max was cranky because of his own prepping of the bar to open for one of the best nights of the week. His best bartender, Wayne, promised to cover the shift, but he has a day job - barber.
Max happily agreed to prepare the bar for Wayne's arrival. But when he actually got down to it, each minute was worse than the last. First, he nicked his right index finger. And then, as Murphy's Law would have it, fresh citrus juice leaped onto the same finger that doubled as his knife's guide. The juices were like a feral calico scratching a half-blind man's one good eyeball. Oh the burn. Even the normally politely sweet strawberries, locally harvested seedless watermelons, and scrumptious blueberries, blackberries and raspberries, that were the not so secret ingredients of Bridge Lounge's much acclaimed fruity mojitos, were all terrorizing Max's finger. It wasn't that he was not competent in the art of the bar sciences; but rather, since he went from being an employee to the owner, he hadn't been doing barback duties with any regularity needed for continued competence.
So when the 6'4" Naymon walked in to the doors of Bridge Lounge and saw Max's plight he thought that he would receive a welcome. So he introduced himself, "Naymon Jean-Baptiste, I come from Chicago, looking for a place to pour," as he outreached his hand towards Max.
No such luck. Max's heart rate increased. Not because he was alone and Naymon was Black. Nor was it because of the pain he was feeling in his fingers. It was because Naymon was unfamiliar. In New Orleans, being unfamiliar is leprosy.
Unfazed by the awkwardness, Naymon continued, "I was in Wayne's chair when you called him at noon."
Max's pulse started to come down, some.
Naymon continued, "he suggested I come and talk to you about a gig tonight at the famous Bridge Lounge. You are clearly in need of, ahem, some competent help. I'm the best mixologist this side of the Mississippi and one of the best on the other."
"Look son, don't try to bullshit a bullshitter. You see this old converted barn, it survived Katrina, Betsy and the Hurricane of 1915 and it will be here when your ass can't cut it tonight."
They shook hands just as Wayne walked in, and as he slapped Naymon on the back he said, "told ya."
Naymon was not let down. The scene was crescendoing into a typical Tacos and Trivia Tuesday at Bridge Lounge. And while it was exactly what Wayne had described to him when he was cutting the hair of the New Orleans neophyte; little did Naymon realize, tonight was the beginning of his journey.
The cigar smokers had not so quietly began to hold court in the wrought iron patio furniture decor of the walkway adjacent to Bridge Lounge that was slightly tilted streetward. There were, among others, judges, ex-convicts, doctors, retirees, members of the local advance team for the United States Secret Service, professors emerita, and young protégés. Everyone paid or was paying their dues. Ridicule was the price of admission to this sidewalk court. A siege of grounded flying cockroaches served as sentinels scurrying about in their own entomological determination. They marched back and forth from the hideaway planters containing weeds and vote-for-me signs waiting for bits of food and dribbles of grease from the vintage Rambler, that was converted into a food truck and parked illegally in the tow zone.
The white noise of the evening's chaos was only interrupted by the rumble of three XL black SUVs. Two were Suburbans and the last was an Escalade. The entourage of trucks appeared confused that the food truck was occupying their God given parking spot. With palpable consternation, the operators adapted and pulled around the front of the mobile pop-up kitchen and parked in front of the neighbor's overgrown driveway.
The suits exited the vehicles with tactical precision. A couple waved at familiar colleagues that once served on the NOPD police force with them. Most of the others were apparently staffing the last occupant of the trail vehicle, Mayor Gunner LeBlanc. Only in New Orleans would the mayor be out drinking on a Tuesday, with a full entourage nonetheless. This mayor's God complex was strong. Only in New Orleans would a neighborhood bar be the setting for such a soap opera-esque evening.
Old money debutantes were there cheating in plain sight with no money political lackeys of the longest serving dynasty in the city, the LeBlancs. At the orders of his new boss, Naymon served a unnamed federal judge in a back secret room, 23 year old Pappy every 16 minutes. Also there was the mayor's chief advisor, money man and cousin shared the first and surname of Marilyn Monroe's favorite US President. Naymon witnessed all this firsthand and by night's end understood why Mark Twain included New Orleans as one of three great American cities.
In the middle of all of the excitement, Naymon received his first lesson on being accepted by New Orleans and her people - pronouncing her streets correctly. Jack Kennedy escorted his purveyor of vice outside to the street corner.
"Look up. What does that say, and I don't mean Magazine Street, wise ass," Jack inquired of Naymon with a dash of preemption.
"C'mon sir. It's Calliope Street! Named after my favorite of the Nine Muses, Calliope, the muse of poetry." Naymon responded while whistling a familiar but nameless and wordless ditty. Puffs of confidence mixed with the thick autumnal humidity of a New Orleans evening rose above Naymon's head like a halo. But to Jack, it smelled of youthful hubris - all wrong.
"You wish! It's cal E-OH," Jack said to Naymon in a professorial tone but with the forgiveness and understanding of a kindergarten teacher painted across his face like street graffiti. "WE, young man, say things differently, and you need to learn how WE talk if you want to be accepted here. Start with the streets and then listen to how we talk. From our pronunciation through the cadence and gestures, it's all apart of our speech."
By the time Naymon was back behind the bar, it was time for him to head back to the secret room in the back to serve Max's VIP. Naymon fixed the drink and headed toward the back. The barn door that was once closed protecting the man he was forbidden from speaking to, was opened. So he creeped past the doorway, and was nearly knocked over by a man he didn't know by sight. That man was Mayor Gunner LeBlanc leaving the secret room.
"The words are excuse me, asshole!" Naymon didn't know that was the mayor yet. The same mayor that didn't acknowledge that he had bumped into someone and that someone had just cursed at him.
By the time Naymon had gotten to his VIP patron. The man that hadn't uttered a word, while Naymon was on one of his 16-minute cycles to ply him with bourbon. This time there was more life in the secret room.
Naymon overheard him refer to a man on the other end of his cellphone call, Percy. The VIP was panting on the phone like a wild animal that was about to devour its prey. It was the tone of the conversation. It was the contradictory nature of what Naymon was witnessing contrasted with what Max told him about the VIP. It was the seemingly ambivalent atmosphere of that back room that Naymon personally witnessed all night long - at least until that moment. Especially, when the VIP almost immediately calmed down after ending the call.
Naymon couldn't help but wonder about what was being said on the other end of the call. As Naymon replaced the empty rocks glass with the new drink, his fear index continued to escalate. The frail VIP reached out and grabbed Naymon's wrist, firmly, at that. He gave Naymon two crisp $100 bills. As Naymon escaped to the door, Naymon was most disquieted to feel his phone vibrate in his pocket simultaneous to hearing the VIP call out, "Mr. Jean-Baptiste." Naymon turned around and saw a shiny item being flung his way and it had the familiar sound of car keys. Contemporaneously, the VIP instructed him with the same feeble resolve in his voice, "answer your phone."
Naymon caught the keys and with his shaking free hand, he reached in his pocket for his still vibrating phone. He silenced the phone by answering the call that said, "UNKNOWN CALLER." On the other end, before he could say a word he heard a familiar voice.
"Bonjou Mesye Jean-Baptiste, this is Percival…"
Naymon walked out of the dark back room of Bridge Lounge escorting the VIP. That moving tableau would not be surprising to anyone who did not know Judge Marcus LeBlanc. But tonight, Bridge Lounge had a few people who knew him well and they were floored. Max was still in the company of a vixen from before so he didn't see that his instructions were being disobeyed by his newest bartender. Jack had already left. Those were the immediate threats because they had met Naymon and had substantive, instructive conversations with him about how to behave around the VIP in the back, they referred to as "Uncle Marcus."
Naymon attempted to pull away from Uncle Marcus to go tell Max he was going to drive Uncle Marcus home. He was physically reprimanded for the last time, as Uncle Marcus tightened his grip on his guide's elbow and steered Naymon toward the exit. With the keys to Judge LeBlanc's vintage Porsche in his hand, Naymon asked, "where did you park, sir?"
Judge LeBlanc gave Naymon lasting permission, "call me Marcus," and told him where he was parked. As the two passed Mayor Gunner LeBlanc and his trivia team's table they all stood at attention. Gunner hugged the oldest surviving member of the LeBlanc family and bid his uncle goodnight. His imagination, however, went to a perverse place.
"Who's this Marcus and where's Percy? Just kidding Marcus," Gunner said to his uncle after they disembarked from embracing and was close to walking out the door. Gunner had allowed either the power of his position or the alcohol he'd certainly been consuming to cause this irreverent question to be asked.
"You don't question me," the octogenarian chastised Gunner. He wasn't finished, he continued, "If you were in my courtroom, you'd be spending the night in jail for contempt."
Naymon had no idea where the power of Uncle Marcus' voice came from and he had only a petering certainty of what had just happened. When they finally got to the car, Naymon waited for instructions, not daring to look at Uncle Marcus. A few moments passed and the silence was broken.
"Today, I had to release the former governor who was charged with conspiring to torture, rape and kill his wife, while he was in office, I just couldn't deal with anymore from an elected official, even if it was my nephew. Now drive Mr. Jean-Baptiste."