Sybil's Classroom at Trok
Correspondence from the Travelers (Planet of Panoras Series)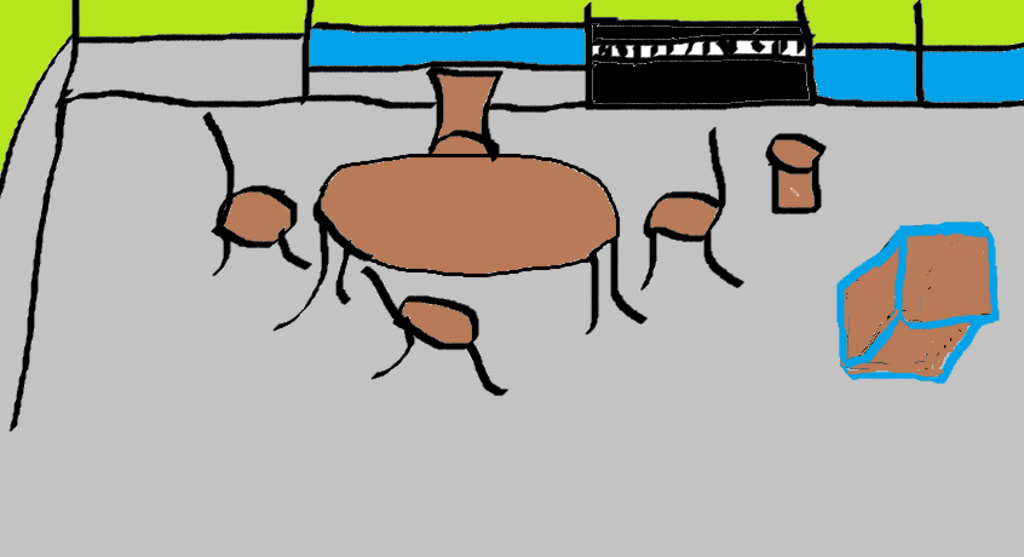 Painting of Classroom by Sybil
Dear Sally,
I got your last letter and I loved the small painting of the mountains that you sent. That's your view? Amazing. Those mountains are as scary as I imagined. I wish you had sent a sketch or painting of you. Is your hair still long or did you cut it? I have that old sketch of you that I did when we were at the Necromancer school, but I would love a fresh image. I haven't seen your face in so long and I don't want to forget it. I know I say it too much, but I miss you.
I'm sending you a rendering of the classroom. It's very basic, but it works. It's efficient and organized. The only problem I have is that the mosquitos are relentless and we can't focus on our studies or projects when they attack us. In a few months, the winter will kill them off and we can enjoy the classroom better, although we will have to bundle up to do so.
Halloween is almost here. The five students you want me to talk about have been expressing to me their thoughts and feelings about the season and my favorite holiday. The twins (Cecelia and Fiona) already have their costumes: a bat and a witch. Fig says he wants to be a ninja, but I have no idea how he's going to pull that off. Frances says she can't decide whether she wants to be the Pumpkin King or a Spider. I thought that was a weird choice. And your favorite, Norman, he told me "Everyday is Halloween" and he doesn't see the point of a costume. I wonder if he thinks he's funny. I did not see the humor in that. For our party, I have treats (candies, cake, pie and fun beverages) and tricks like games and silly prizes. I was going to include the old "bobbing for apples" gimmick, however my cauldron is not deep enough and I didn't want to acquire another cauldron. So no apple bobbing for this party. Do you remember that party we went to when we still lived in our home village as children? I think it was your cousin Grace who threw that party. That was so much fun. She had every decoration, every game, and every treat a child could imagine. The apple bobbing and the apple pie eating contest were hilarious. My brother had pie all over his face and I couldn't stop laughing. And that girl who couldn't get the apple out of the water. She almost drowned herself she was so determined. They had to disqualify her just so she wouldn't kill herself trying to get an apple. I never laughed so much in my whole life. That had to be one of the best Halloween parties I ever went to. You'd think with all the schools and places I've been to, I would have been to another party that was better, but honestly they've all been pretty boring and laughless compared. Oh well. I guess the bar was set too high early on.
I remember when we were both dressed up in the cowgirl costumes. We looked so cute. I loved my costume that year. Every detail was perfection including the suede fringe on my skirt and the silver spurs on my boots. I wish I had that painting of us. I wonder if my brother still has it. We were the best cowgirls of the season. Everyone in the town agreed with us. Our treat bags were never that full again.
I'm so lonely, Sally. I think about my grandmother and her friends. I think about when I went to Havad. They tried to teach and tell me about the Olden Age, but I was still too young in my mind and body to comprehend what they were saying. Now I feel I've caught up, and the sadness is so powerful. Not like the pain we learned about at Yaille or Bullo, but a bittersweet melancholy that intrudes on the peace or joy of the day. I try to temper it down with smoke and liquid, but I'm thinking soon I'm going to have to hunt for Cloves. My habitual cleansing routine is getting too stale to fight off these gloomy feelings.
I thought about taking my free time to teach myself how to make a boat. I have a salary, but I am also owed some money for the classes I taught last year. I was going to use that money to purchase a boat, but the money hasn't come yet. The salary I do have is spent mostly on my debts and the classroom. I make some progress, but it goes very slow. I can't get excited about three steps foward, when two steps backwards seems to follow. I can't even foresee how long it is going to take before I get my own boat. I can't ride a horse anymore. Don't cry. I didn't want to tell you. I know you loved when I went riding with you. Yes, I gave away my last horse, Pinky. She was lovely and beautiful, but she was wasting away in the barn and I found someone who promised to love her. I could not ride anymore. I can't even get up on the horse anymore. I know we are the same age, and if you can still get up on the horse, you are probably wondering what the heck I'm talking about, but it's true. Don't forget, you've stayed more active and you've always been taller than me. I always struggled with riding at my height, and now that I've been so sedate, whatever ability I had to accomplish it, is lost. At least we made some wonderful memories together when we had the chance. If you have a horse or get a horse, send me a small painting of you and your horse. You know I will cherish it.
The sadness is upon me and I feel it is time to go lick my emotional wounds. I saw the most beautiful white wolf the other day. He smiled at me and wanted to stay with me. He had a collar on though, so I knew it was just one of those moments and nothing more.
Write back soon. Thank you Owls.
Sybil
About the Creator
Born on Earth day, I'm a tree hugger, animal lover, and a hermit who swims like a turtle. I stink like a skunk, bark like a vicious dog, and flirt like a cat. I write my rants, rambles, and sometimes poetic genius at All Poetry.
Reader insights
Be the first to share your insights about this piece.
Add your insights