Snow Day Believer
under the spell of winter magic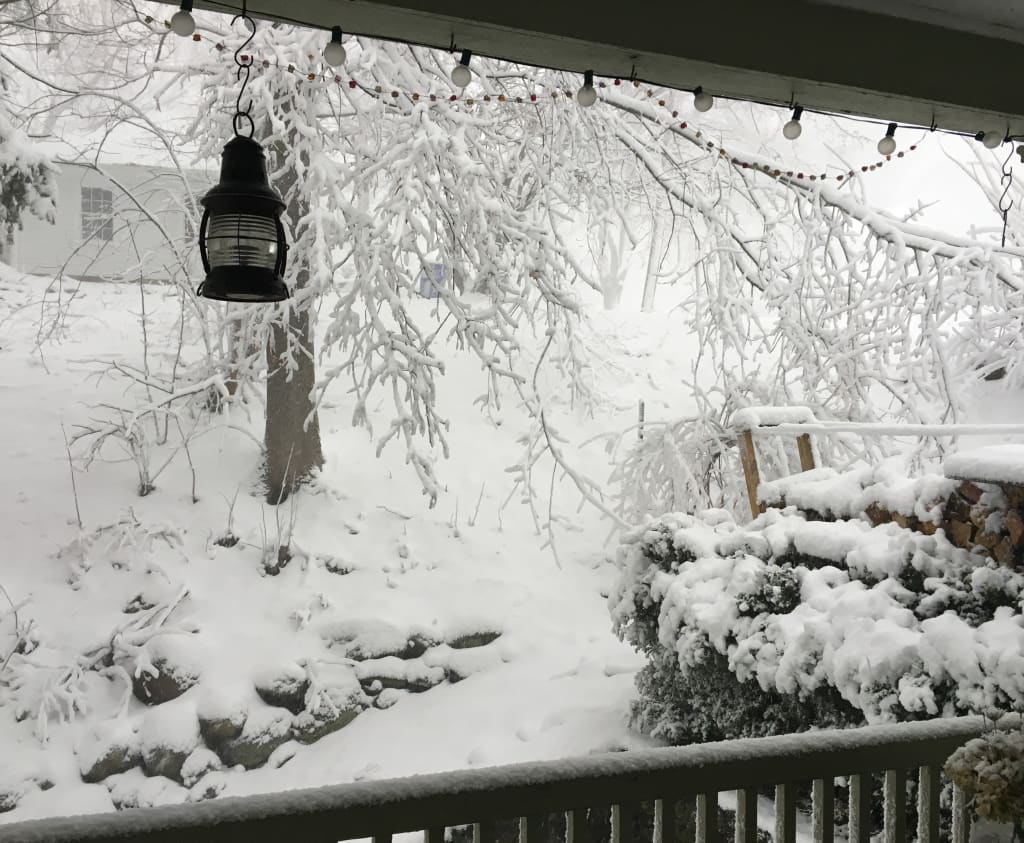 The snow fell insistently, covering roads and driveways and trees. Heavy snowfall brings a quiet you can hear and it's comforting and overwhelming all at the same time. I woke at five-thirty a.m. to the chirp of my cell phone bearing the news: Snow day. Annie and Christopher counted on staying home from school and stayed up late to check the 11 o'clock news to confirm it. It wasn't official even then, but they were now sleeping the sound slumber of a child's intuition, hibernating under their quilts. Not a peep from either of them.
As is my habit, I got up to turn on the TV and monitor the snowstorm. It was too cozy-warm to emerge from my own quilt and change out of my flannel nightgown, so I added more clothes-black cotton leggings, shearling slippers, my most comfortable wool sweater and a handmade knitted shawl--for good measure--over my shoulders. Walking through my darkened house, I felt safe from the elements outside.
In the last stages of my divorce, it took ages to find a home for me and my kids. After many showings of houses, apartments and duplexes, my exasperated real estate agent brought me to a small, sage green colonial set back from the road. The minute I stepped inside, I knew I was home. I don't know what it was--maybe the charming and quirky features like the built in laundry chute from upstairs to the basement or the inviting covered porch. The feature that clinched it for me, though, was the brick and stone fireplace and hearth in the living room. It dominated the northern wall of the house, and it had built-in cubby holes on the side. After we moved in (and as a nod to my Swedish heritage) I added touches like Dala horse crockery for the kitchen and a weathered wooden sign that promised good health by eating bread and cheese above the fireplace mantle. My kids and I could weather any storm together in this home.
I started a pot of coffee, then walked into the living room to get a fire going. We were ready; enough kindling and wood for a week stacked on the hearth. I swept ashes away from the screen and shoveled more ashes to the back of the fireplace; this was not the day for cleaning it. I laid a few pieces of kindling on the grate, stuffed some sheets of yesterday's paper in between and positioned one, dry log in the center of it all. This is the way I build a fire, although I had been advised otherwise by almost everyone who ever watched me. The reason I never changed my procedure? I am always successful.
By then, the toasty, intoxicating aroma of fresh brewed coffee tugged at me. I had a momentary struggle about where I wanted to be more: sitting at the hearth being warmed by the dancing flames or pouring myself a large mug of coffee. Easy. . . coffee. In the kitchen, steam from the coffee swirled out of my red pottery mug and I retrieved Annie and Christopher's mugs--smaller, but matching my own--and set them out on the counter in preparation for the inevitable cries for cocoa. With mini marshmallows!
I cupped the mug in both of my hands, savoring the comfort, and walked back through the still house to my perch at the hearth. Outside, the snow fell and the quiet grew louder. The house was under a spell of winter magic and, instead of turning on lamps and risk breaking it, I lit a few candles on the mantel. I sat as close to the hearth as I could and leaned back against the overstuffed cream sofa, which barely budged as I sat down. I closed my eyes to revel in some rare found time alone.
I didn't fall back asleep, but suddenly I felt awakened by a slight sound; a tinkling, like glass bottles against the windowpanes and I had the sense of someone with me. Obviously, there was no one else in the house except me and my two sleeping children; I wasn't alarmed. The only other sound in the room was the crackling fire. I remained quiet to see if this "presence" would reveal itself to me.
The image of a woman dressed similarly to myself--long cotton gown, black shawl, warm slippers began to take shape in my head. I closed my eyes again. It was like seeing myself, but not myself. Somehow I knew she came from the past, my family's past. Gradually, the vision of this woman made herself at home in my mind. I could imagine her tending her own fire, caring for her own home and family. Her existence was reassuring rather than startling; gentle rather than ominous.
I'm not one for believing in the supernatural. I don't have premonitions, nor am I particularly religious, although I believe in an energy that is beyond my understanding of life and living. My road to independence had been a long one and I think this woman, this ancient Swedish woman, appeared to me in some combination of imagination and collective unconsciousness to sanction the path I had taken. Her appearance was a visual manifestation of her essence in the cells that make up my body and brain. This cold winter morning had summoned her, the brewing coffee tempted her to stay and the glowing fire welcomed her. There was strength emanating from her that sang of centuries of women before her, tending hearth and home, and her companionship comforted me.
From above, I heard the groggy mumblings and then excited footsteps of my children. In seconds they would be shrieking with delight at the mounting inches of snow. I raised my mug and smiled to the woman as she slowly faded from sight. I felt I'd see her again.
family
Fable
About the author
Cindy Eastman is a teacher, speaker & award-winning author of Flip-Flops After 50. Some stuff is funny, some is thoughtful.
Follow me on Facebook and read more here & let me know what you think.
I look forward to hearing from you.
Reader insights
Be the first to share your insights about this piece.
Add your insights