Restoration for a Cause
Sights for the Blind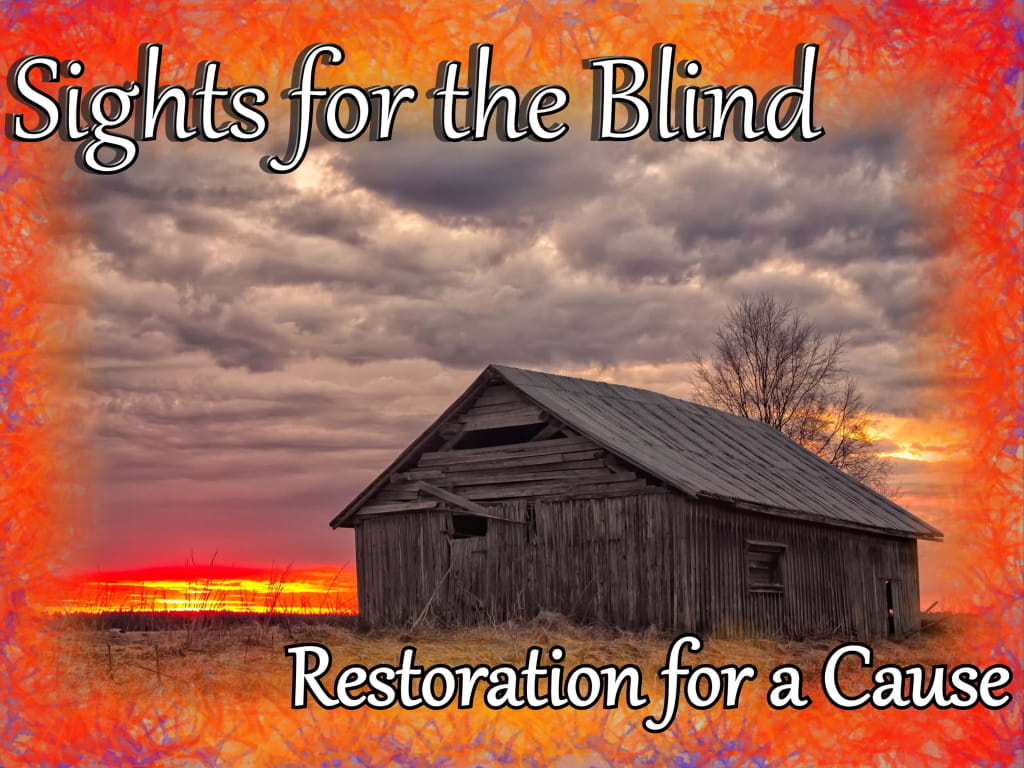 Mike! Did you see this? Listen.
"Restoration for a Cause is teaming up with local merchants to help restore abandoned or unused buildings and structures. The winner will receive a $25,000 cash prize and $10,000 will be donated to a local charity chosen by the winner."
We could restore that old barn down at Shep Wilson's place. I'm sure he'd let us. It's such an eye soar. Anything we could do to it would be an improvement.
Becky, are you out of your mind? It would cost too much, and it would take until to Christmas to finish it. Besides, I don't have a lot of free time. Dad needs my help down at the feed store since mom has been sick.
Oh, come on Mike. I'm sure I could get Shep to spring for the materials and I could do most of the work myself. I would just need your help with some of the carpentry stuff.
Beck, I don't know how you talk me into this stuff. Okay, I'll help you!
Thank you, Mike! You won't regret it, I promise!
-------------------------------------------
It's going to be beautiful when I am finished with it. Mr. Valdamar. I just need a small personal loan to get a few more supplies. Mr. Wilson paid for building materials but it's up to me to supply the paint, trimmings and the decor.
I'm sorry Becky. We just can't approve the loan. If you don't win, how will you come up with the money to repay it?
I will win. I am sure of it. But even if I don't, I am going to start working part time down at the feed store and…
No Becky. I'm sorry. I just can't help you.
-------------------------------------------
Mike, I need a huge favor. I really hate to ask but I need $1,500 to finish the barn and I got turned down for a loan at the bank. Do you think your dad might loan it to me and let me work to pay him back?
Becky, you know my mom is sick. The medical bills are mounting, and business slows down during the Holidays.
Oh Mike! I have a great idea! Shep said he doesn't care what I do with the barn once it's restored. What if we use it as way to raise money to pay your mom's medical expenses? We could have a carnival, with live music, a barn dance. Oh, I can just see it now. It would be so much fun!
Okay, but you have to ask my dad yourself. And don't bring me into it. I mean it. This is all your idea.
-------------------------------------------
Look, Mike, the flyer turned out great. Now to put these up all over town and hope for a good turnout.
"Come one, come all. Halloween Carnival to be held at Shep Wilson's Farm. Hayrides, apple bobbing, dunking booth, live music, barn dance, a petting zoo and more! Proceeds benefiting Morris Family Medical Fund."
-------------------------------------------
Becky, I can't believe what you've done with the place. And all of Serenity Falls must be here! I have never seen this many of the townspeople come out for anything and I have lived here all my life! I'm sure sorry the bank couldn't loan you the money, but I knew you would get it done.
Thank you, Mr. Valdemar. Mike and his dad have helped a lot. I couldn't have done it without them. You know, Mike's mom isn't doing very well. The brain tumor has advanced, and she has lost her vision. She never got to see the barn once we finished it.
Becky, you just gave me a great idea! You know, my wife and I are on the board for the Sights for the Blind. It's a non-profit that helps provide field trips and activities for blind children. With all there is to do here, the kids will love it.
Mr. Valdamar, that's a great idea! At the petting zoo they could bottle feeding baby cows, pet the goats, feed the chickens and donkeys, milk cows. The possibilities are endless.
That's right, Becky. And the barn is the perfect setting for the annual Sights for the Blind Christmas Party! And even if you don't win the contest, you have made such a difference in the community and for so many people.
-------------------------------------------
Becky, Dad and I are so grateful for all you did. You know, the carnival and all. We just can't thank you enough for all your hard work. Ya know, it raised more than enough to pay off the medical bills. Dad used what was left over to help pay the funeral home. We are going to sell live Christmas trees at the feed store this year in hopes of bringing in some extra money.
I'm really sorry for your loss Mike. Your mom was such a great lady. We will all miss her. Maybe the old barn will win the contest and I can help you guys out. The winner is supposed to be announced at the town hall meeting tonight. Are you going?
You've already done more than enough, Beck. And dad said he wouldn't dream of letting you pay back the loan, so don't even think of it. And am I going? Is that even a question? Of course! Dad said I could close up early and he will meet me down there. We want front row seats to watch you accept your award, Becky. You deserve it!
Oh Mike! I could have never done it without you and your dad!
-------------------------------------------
And the winner is Becky Edwards for her work on restoring Jeb Wilson's barn! Come on up Becky and tell us what inspired you and which charity will be the benefactor.
First, I have to thank Mike and Mr. Morris for their help and Mr. Wilson for allowing me to restore his barn and for providing the building materials to do it. I also want to thank Mr. Valdamar for inspiring me to turn that barn into a year round petting zoo and venue for the people of Serenity Hills. And Mr. Valdamar introduced me to the charity I would like to contribute the $10,000 to "Sights for the Blind".
With my winnings, I would like to donate half to a new charity in town. The Elizabeth Morris Animal Rescue. Animals with special needs will be housed and cared for on the Wilson Farm with help from Sights for the Blind. They are going to host day camps for the children to teach them how to feed and care for farm animals. Rescuing special needs animals is an endeavor Elizabeth was not able to follow through with because of her health issues.
I hope all of you will join me and the Morris family in helping provide a safe haven for and the rescue of special needs animals.