"Rajinikanth: The Iconic Actor and Philanthropist of Indian Cinema"
FOREVER SUPERSTAR OF TAMIL CINEMA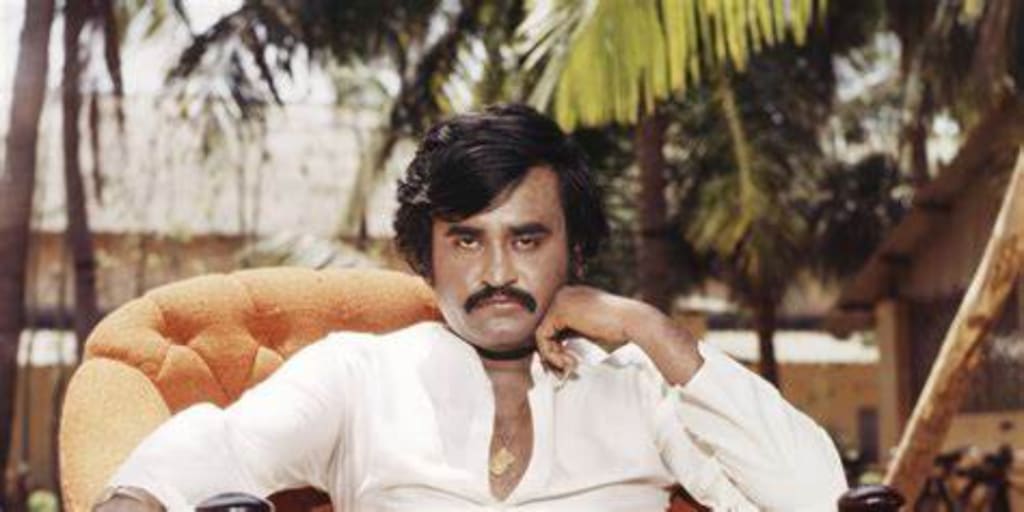 #FOREVER SUPERSTAR OF TAMIL CINEMA
Rajinikanth is one of the most beloved actors in Indian cinema, particularly in the Tamil film industry. He has amassed a huge following over the course of his career, which spans over four decades.
Born Shivaji Rao Gaekwad in Bangalore, India, Rajinikanth worked as a bus conductor before getting his break in films. He made his debut in the Tamil film Apoorva Raagangal in 1975, and has since gone on to appear in over 150 films in various languages.
Rajinikanth's appeal is multi-faceted. He is known for his powerful performances, larger-than-life persona, and his unique style of dialogue delivery.
He is also renowned for his philanthropic work, having established the Rajinikanth Charitable Trust to support various causes.
One of the defining characteristics of Rajinikanth's on-screen persona is his ability to portray both hero and anti-hero roles with equal aplomb.
He is equally at ease playing the suave, sophisticated protagonist as he is playing the rough-and-tumble villain. This versatility has endeared him to audiences of all ages and backgrounds.
In addition to his acting prowess, Rajinikanth is also known for his impeccable sense of style. He is often seen wearing sunglasses and a fedora, and his signature walk is instantly recognizable to fans.
He has also been known to incorporate elements of his personal life into his on-screen persona, such as his love of cigarettes and his spirituality.
Despite his larger-than-life image, Rajinikanth is known for his humility and down-to-earth nature. He is highly respected by his colleagues in the film industry, and his fans view him as a role model and inspiration.
Rajinikanth's popularity shows no signs of waning, even as he approaches his seventies. His most recent film, Darbar, was a commercial success, and fans eagerly await news of his next project.
Whether he is playing the hero or the villain, Rajinikanth continues to captivate audiences with his magnetic screen presence and powerful performances.
Rajinikanth's influence extends beyond the world of cinema. He has also dabbled in politics, with many fans and supporters urging him to enter the political arena full-time.
While he has not officially joined any political party, he has made his views known on various political issues, and his statements have often been seen as influential.
In addition to his film and political work, Rajinikanth has also been involved in several philanthropic initiatives. He established the Rajinikanth Charitable Trust in 2002, which provides aid and support to various causes such as education, health care, and disaster relief.
He has also been involved in several other charitable initiatives, including donating to relief efforts during the COVID-19 pandemic.
Rajinikanth's popularity extends beyond the borders of India, with fans all over the world. He has been recognized with several awards for his contributions to Indian cinema, including the Padma Bhushan and Padma Vibhushan, two of the highest civilian honors in India. He has also been honored with awards and recognition from other countries, including a Lifetime Achievement Award from the Indian Film Festival of Melbourne in Australia.
Despite his many accomplishments, Rajinikanth remains a humble and down-to-earth person. He is known for his simplicity and his ability to connect with people from all walks of life. His fans see him not just as a great actor, but as a true icon and a role model for generations to come.
In conclusion, Rajinikanth's contributions to Indian cinema and society at large cannot be overstated. His powerful performances, unique style, and philanthropic work have made him a beloved figure in India and beyond. Whether he is on screen or off, he continues to inspire and captivate audiences with his talent and his charisma.
"Rajinikanth is not just an actor, he is a phenomenon." - Amitabh Bachchan, Bollywood actor
"He is a complete package, a superstar, an enigma, and above all, a wonderful human being." - A.R. Rahman, musician
"Rajinikanth is a cultural icon of India. His movies are not just watched, they are worshipped." - Karan Johar, Bollywood director
"His larger-than-life persona on screen is matched only by his humility off it." - Kamal Haasan, actor and filmmaker
"Rajinikanth has not just acted in films, he has created a whole new genre of cinema." - Rajamouli, filmmaker
These quotes are just a small sample of the widespread admiration that Rajinikanth enjoys in the film industry and beyond.
About the Creator
As an article writer, my passion is to write great content.
I have honed my skills as an article writer through extensive reading and practice.
In my free time, I enjoy exploring new topics and experimenting with different writing styles.
Reader insights
Be the first to share your insights about this piece.
Add your insights