Properly Served
Adventures in Key West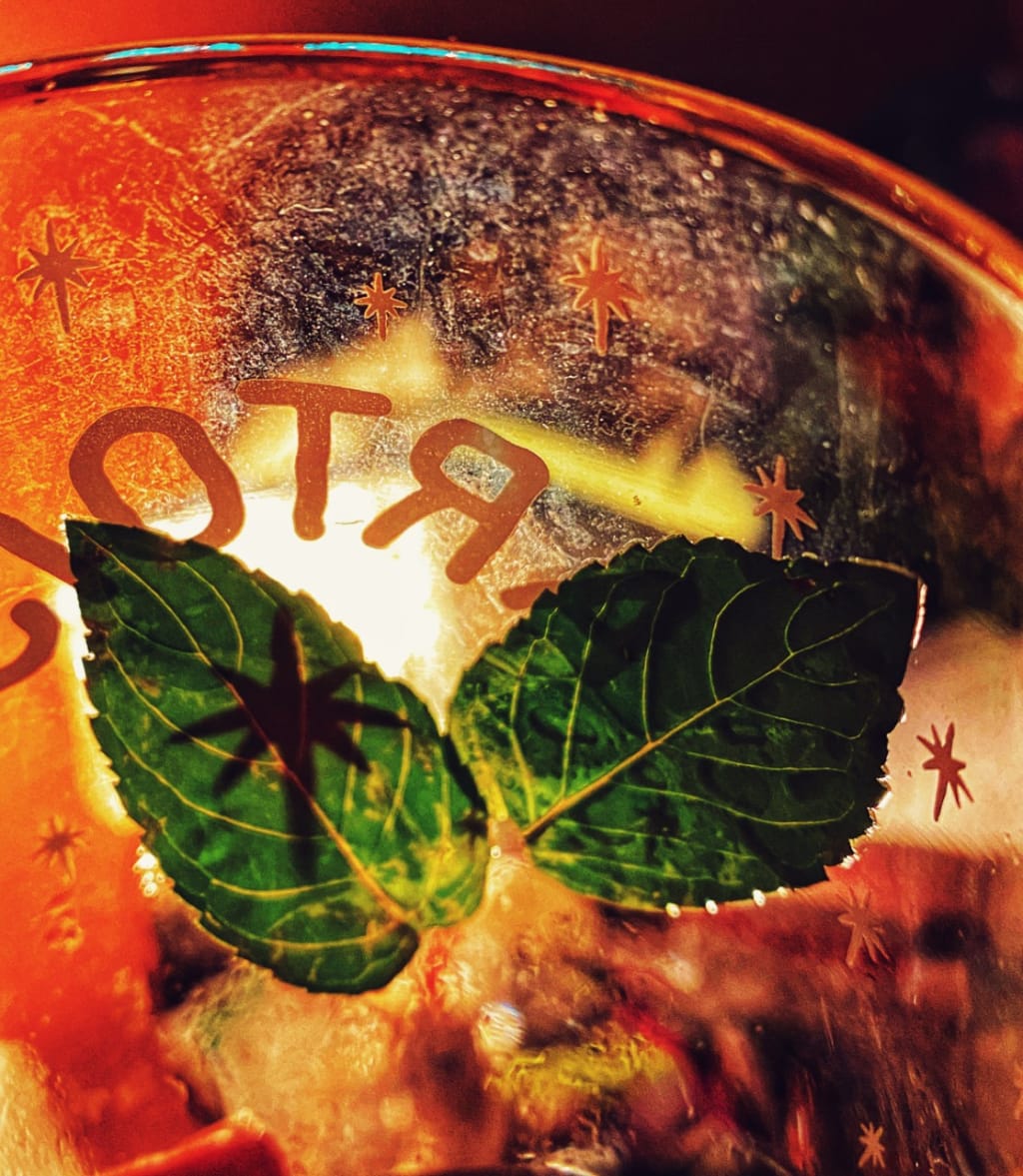 A wave of her hand brought the conversation to an end. There was no point in continuing; Joyce had stopped listening. I left her in her dressing room, bathed in the green glow of her antique chandelier. She was probably getting ready to meet HIM.
I called a cab. I left the keys to the Porsche on the marble table in the foyer along with my wedding band.
The cab driver commented on the size of the estate "I didn't know they had homes like this in Oakville. Where can I take you, Sir?"
"Where? Toronto Pearson airport, I guess." I answered.
The driver turned his head, "Which terminal do you need?"
"Just drive. I'll let you know which one when we get there." I watched his shoulders shrug, and he mumbled something.
I stared straight ahead, watching as the cab swallowed the oak tree-lined drive. My horse, Jude, looked up from his grazing. Too bad you can't fit a horse in a cab. Why Joyce felt it necessary to hurt me this way was confusing. My fault, I suppose. I'd known she had issues when I fell in love with her. I'd been the one to diagnose her as a narcissistic sociopath. It didn't matter; she'd slipped into my soul like a spirit. Nothing mattered, not my career, parents, brother, nothing. Now nothing was all I had.
"Mister, what terminal do you want?" The cabbie asked for the second time.
I met his eyes in the rear-view mirror. "Uh, international, please." I took the wallet out of the inner pocket of my leather jacket and checked to see if I had any cash. Good, enough to pay the fare.
"What airline? Should I wait? Are you picking anybody up here?"
"Anywhere here is fine, and no, don't wait." He pulled over; I gave him a C-note. He handed me his card, but I shook it off. "I won't be needing a return cab, thanks." I walked into terminal three and scanned the illuminated flight schedule board. A flight to Key West was leaving in a couple of hours. I needed to get very drunk. I remembered all the Jimmy Buffet songs we'd listened to last summer on her yacht. Key West seemed like the perfect place.
I lined up at the American Airlines counter and pulled out my old credit card. It had a few more months before it expired. I didn't want to touch her money now. She'd insisted that I use the joint accounts for all our purchases. Thinking back, it was probably more to keep track of me than it was out of love. Well, good, I had enough of my own money left from my days shrinking heads to wallow away in Margaritaville for a long time. Probably long enough for my liver to stop, if my heart or head didn't take me first.
The ticket agent smiled, showcasing brilliantly white teeth. "Okay, Mr. Thomas, here is your ticket. You'll be boarding at gate twelve at seven-thirty, switching planes in Miami, and you should be in Key West by midnight. Maybe you can catch a drink at Sloppy Joe's before they close. Enjoy."
I thanked her. I bought a black Roots carry-on at the duty-free, some sunglasses, a bottle of tequila, and an outrageously expensive travel kit. Since I had to clear customs in Toronto, I put all the items in the carry-on. I felt it would be easier to go through customs if I had a suitcase. I arrived at the gate just in time to board. I pulled the window shade down and leaned against it. I didn't want to watch the city fall away.
I arrived in time to catch a few drinks at Sunset Pier. The sun had disappeared hours ago, but the crowd was keeping the party going. I ordered a mojito, and the bartender apologized for putting it in a Stella glass.
"It's been an insane night. We can't keep up with the glasses. Everyone was ordering mojitos tonight. I guess I shouldn't make such good ones!" She winked as she wiped the sticky bar.
I held up my glass and saluted her. "It's a damn fine mojito. Cheers!" I looked at my glass in the light. The mint leaves glowed green against the bar lamp and illuminated what looked to be a tiny palm tree. I took that as a sign. I was meant to be here in this tropical paradise.
Someone shouted, "Bartender, I wish to buy a round of shots for everyone at this bar." A man was trying to stand up on his barstool. The woman beside him was doing her wobbly best to keep his feet on the ground. There was a tearing sound, and his Hawaiian shirt ripped along with several of her French-tipped acrylic nails. They tumbled onto the boardwalk.
I hopped over the bar and hoisted the man up. "Okay, buddy, let's get you to your room. I think you and your wife have had enough for tonight."
He was drunk, but not enough to be saved from the embarrassment of the situation. He grabbed his wallet and handed me a fistful of fifty-dollar bills. "Please, get all my friends a drink. I'm gonna call it a night." He grabbed his wife's hand and pulled."
"Ouch! Harold, my fingers are bleeding, you big idiot. I'll have to get all of these redone tomorrow." They stumbled up the wooden steps and into the back door of Ocean Pointe.
I ordered a bottle of tequila and asked for shot glasses, "Okay, the man said free shots for his friends. Who among you are his friends tonight?" It was, of course, a rhetorical question. I poured shots of Patrón all around the circular tiki bar.
The bartender, Angie, pocketed the fifty-dollar tip I put on the counter. "Thank you for that. You handled the situation brilliantly."
I shrugged, "It's kind of what I do, or rather what I did. I don't know what I do anymore!"
Angie pointed to a sign on the post behind the bar. She read it out loud, "Bartender needed. Must have great people skills. A little Ninja training wouldn't hurt." It had a cartoon Ninja holding up a drunken man in one hand and a flaming drink in the other. I laughed.
Angie said, "I'm dead serious. I'm offering you a job! Apparently, you are without gainful employment. It's Key West, and you gotta earn your drinkin' money somehow."
I wasn't looking for a job, but there was only so much beach and Margarita's a guy could handle, so I took her up on the offer. As it turns out, it was a perfect place to meet women. Along with the tequila, that provided a great distraction from the life I left behind. It fit the bill for a long time.
A woman sat staring at one of the televisions and sipping her beer distractedly.
"You know, you don't have to drink that if you don't like it," I said.
She shook her head as if she was clearing water from her ear. "Ah, I guess I was daydreaming."
"Hopefully, it was a good dream and not a bad one," I said.
"Not good, but I've never heard of daymares, have you?" She took another sip.
"Absolutely, I lived one for years until I moved here a couple of years ago. How about you?" I wiped the bar in front of her and put out a fresh bowl of pretzels.
She crunched one and then grabbed a handful. "I think I just avoided one. I was working for this woman who was sucking the life out of me. My ethics were teetering on an abyss. I imagined if I had stayed on the job and carried out her evil doings." She shuddered.
I laughed, "Seriously, what was her name, Ms. Goldfinger? Now I know what you need to drink. A Vesper Martini, shaken not stirred." I spun around and grabbed gin, vodka, and Lillet Blanc, measured them into a shaker of ice, strained it into a martini glass, and added a lemon twist.
"Very funny. As it happens, I love James Bond, but I've never had a martini. Not much of a drinker. I've just recently started drinking. I don't think I would have survived a month in my last job without it. My boss always had a pitcher of mimosas at her dreadful morning meetings." She took a sip of the martini, and she swished it around her mouth. She looked like an adorable chipmunk. "Yum, I could get used to this."
"Oh, the bartender's dilemma! Do I give the pretty woman lots of booze and then escort her back to her hotel for the evening, or do I do the honorable thing and cut her off and call her a cab?" I lined up the Gordon's Gin, Grey Goose Vodka, and the Lillet and waved my hand over it, Vanna White style.
"Hit me again, bartender." She tipped back the drink and leaned over the bar.
I looked at her slate-blue eyes. Damn, I hadn't felt this way for years. This woman was getting to me! "I don't want to discourage you from this establishment, but I'm off in ten minutes, and I don't like to drink where I work. Can I buy you a drink at The Hog's Breath?"
"I've passed it several times this weekend but been afraid to go in. It looks kinda biker-ish." She downed her drink again. I refilled it.
"I need to close off your bill. I assume you're done?"
She swayed slightly and swirled her martini in her glass. "That's a good bet, but I'll take a free drink at the pig place."
"That's Hogs Breath. Maybe I should just make sure you get home safely and call it a night." I took off my apron and started cashing out.
"I'm fine, but you know, I've been curious about what goes on at the upper deck of the Bull and Whistle. I think it's called the Garden of Eden." She stood up and teetered slightly.
What the hell? I had a definite attraction to this woman. "Garden of Eden it is then!" I held her hand as she climbed the stairs. I watched as she took in the various states of undress of the clientele on the rooftop patio. Some wore clothes; they were the ones who stared. Others were topless. Some were enjoying the Eden aspect of it and were utterly starkers. She caught me off guard and stripped off her tank top.
"Okay, I'm cool with that," I said. "But if you don't mind, I would like to know your name. I just realized I don't know who you are."
She grinned, "Name's Iris Stanton." She extended her hand and said, "And you are?"
"Kevin Thomas and I will fall at your feet or any other appendage you wish me to worship at." I took her hand in mine and brought it to my lips.
Iris's expression changed. She looked like she was in pain or was suddenly disgusted with herself. I thought she would put her shirt back on, or perhaps she suddenly realized she was topless. Instead, she was fumbling in her purse.
She pulled out an envelope. "Kevin Thomas, you've been served. I'm sorry," she added.
I opened the envelope and saw the divorce papers with the accompanying warrants to appear in court. I looked up at Iris. Her shirt was back on, and she was walking down the stairs.
You'd think as a psychiatrist, I'd be better at reading women.
Short Story
About the author
Mary Haynes splits her time between a romantic old sailboat in tropical waters and a beach home in Ontario. A wanderer, by fate, she embraces wherever she roams! Mary recently completed her first children's book, "Who Ate My Peppers?"
Reader insights
Be the first to share your insights about this piece.
Add your insights