PLACE OF MANY DREAMS
PART TWO - UNKNOWN DESTINY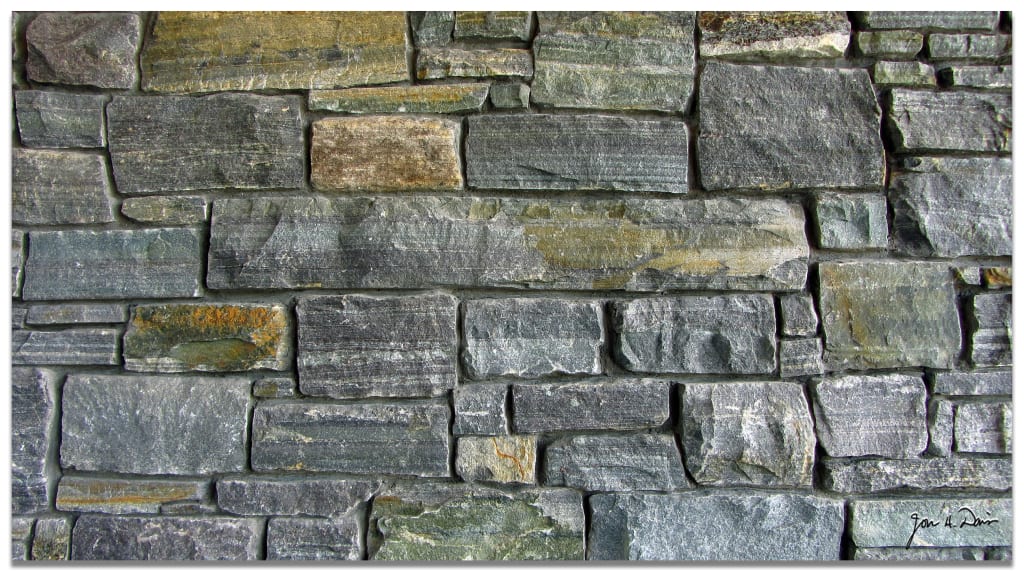 WALL OF LIVING STONES © JON H. DAVIS - NORTHERN LIGHTS STUDIO
If walls could talk, they could also teach. Our ancient wall has seen history in the making, all throughout the ages since the time of our creation, ten thousand years ago. I am called the Wall Of Dreams, serving as a teacher and a guardian. I am made of many stones together, special in their nature. We, the wall are steeped, in knowledge and wisdom, engaging in conversation among ourselves, and with humans telepathically. If you read Part One, "Ancient Future," then you'll know our true nature.
Thousands of years ago, one of your ancestors looked up at a starry sky and wondered. What could have been going through their mind? The splendor of the stars amid dark night skies was awesome. The natural, unspoiled world was pure. The air, sweet with fragrance of springtime flowers drifts by gently. Sparkling clean waters flowed in the lakes and rivers winding to the seas. The ocean's rhythmic waves, eternally making sand upon its shores, left nothing behind but seashell treasures, and a few occasional coconuts and driftwood.
In ancient times, Druids lived upon the islands of their native lands. They were in tune with nature's cycles and could read the distant stars. The constellations of the zodiac spoke to them, as spirits from afar, while celebrating the solstices and equinoxes.
Some of us lived in Europe during the Renaissance and have visual records of the masters working on marble sculptures and painting masterpieces in colors, vibrant to this day. Architects turned dreams into temples of stone, still standing. Writers and scribes illuminated treasured manuscripts and scrolls. Scientific discoveries were made and recorded. The Akashic Record holds visions of light since the time of creation of our universe.
Now the Earth is near the tipping point and time is of the essence. If humans choose not to act in concert with some mindful others, they'll only have themselves to blame for the ultimate disasters, that catch them unprepared. Extremes of forces, now beyond control and imagination are continuous and worsening all around our fragile planet. Those events are experienced by many humans trying to survive in places around the Earth.
Mother Nature is quite restless, and the only constant in the universe is change. Human activity has interrupted many natural cycles and the results are clearly evident. No longer is your Earth naturally in balance; it has lost its equilibrium.
Our Wall Of Dreams hopes to impart wisdom to all who read this story in the present day. A means of creating a healthier future for our lives and the planet may come from mindful intentions and through mandala art, with its mythic powers.
MANDALAS HEALING ABILITY
Mandala art is a soothing supplement for your eyes; its wave form brings you into balance through centering your focus. Creating a state of equilibrium is essential for health and one's well-being. Gazing at a mandala is a relaxing method for your mind, releasing the stresses of the day, inducing calm, and a time for being and healing. Balance and harmony are important elements of sacred geometry, encompassing the four directions, echoing the symmetry found in the natural world. Inspiring creative energies, mandalas are empowering.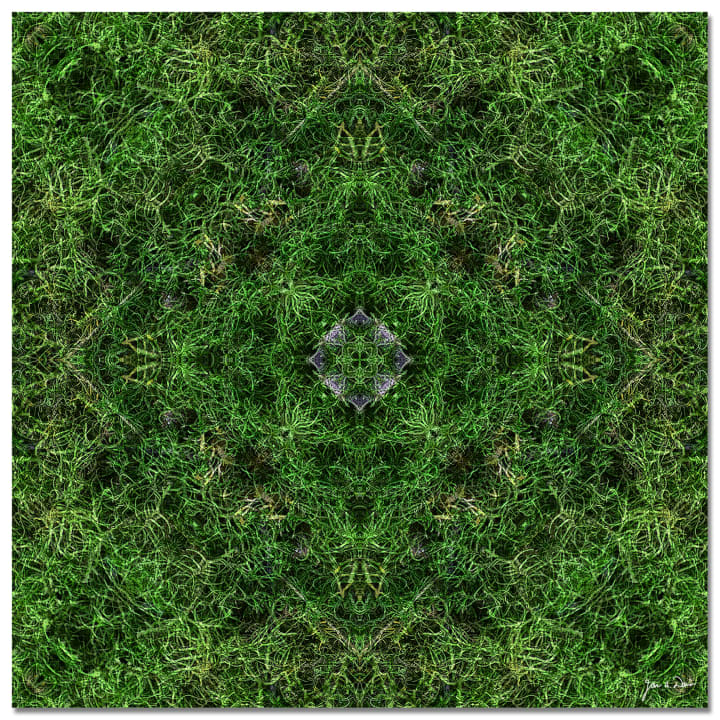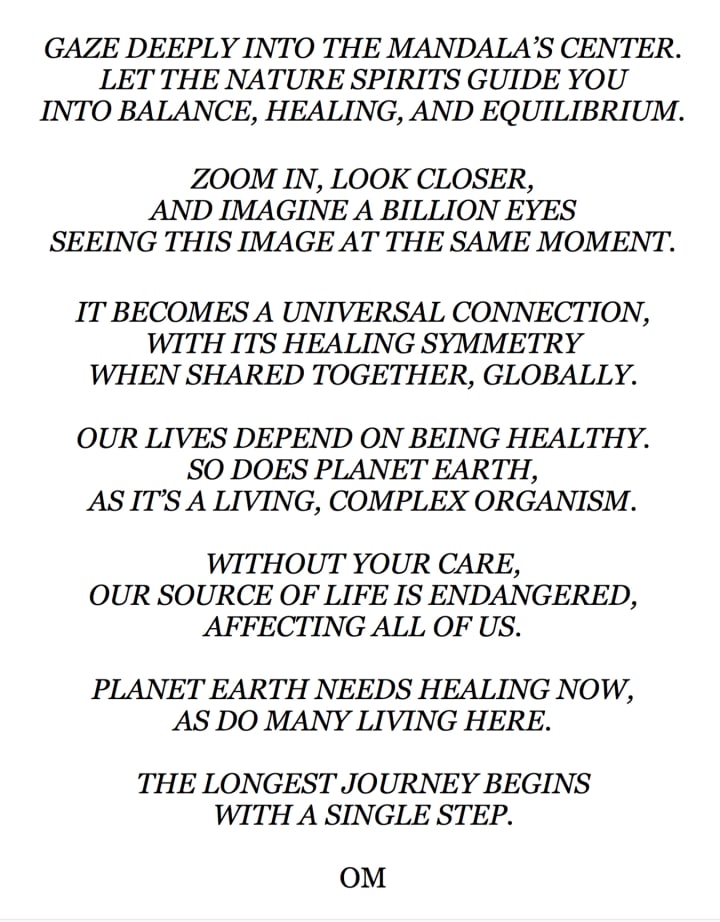 Readers may have a digital copy of this mandala as my gift, hoping you discover its healing magic, sharing it in an ever-widening circle of awareness. Remember, that real change begins within. Let your imagination touch the infinite.
EQUILIBRIUM DAY
Equilibrium Day could be celebrated every equinox, featuring mandala viewing, games of skill and balance, and a tasty menu offering creative new recipe ideas. It would be a lot of fun!
New ideas could be explored, while gathered around a bonfire underneath the stars, tuning into ancestral wisdom.
Most important is taking time to synchronize our minds; gazing at a mandala is the key. A new mandala will be created, organic in its nature, for each season's celebration.
Beings on the same wavelength from around the world may achieve wondrous things together. Select a date to begin, (hopefully the equinox). Then plan a 15-minute space of time, in a quiet place away from distractions. The purpose is for bringing our minds together, coming into focus with others. Network all your contacts, with the equinox as a suggested date for mandala viewing and more. Imagine sharing a most healing vision with a billion minds or more from all around our planet!
Can you guess how many lifeforms are within the Equilibrium mandala? The first correct answer is rewarded with a signed, limited-edition print. (Leave a note with your guess.)
For Your Consideration:
Kahlil Gibran, who lived long ago, wrote: "Trees are poems that the earth writes upon the sky, we fell them down and turn them into paper, that we may record our emptiness."
Remember what Einstein said during his lifetime, when he questioned which was more infinite—Human stupidity, or the universe? He was not so sure about the universe.
I am the Wall Of Dreams, and open to suggestions.
Please leave a note below, if you have any questions.
About the Creator
ABOUT THE AUTHOR:
Jon H. Davis, is a digital alchemist, and explorer, who documents the natural world and cultures with words, photos, and videos. View more of his work with partner Iris Brooks at their NLS website, www.NLScreativemedia.com
Reader insights
Be the first to share your insights about this piece.
Add your insights