Out of The Box
counting your chickens before they hatch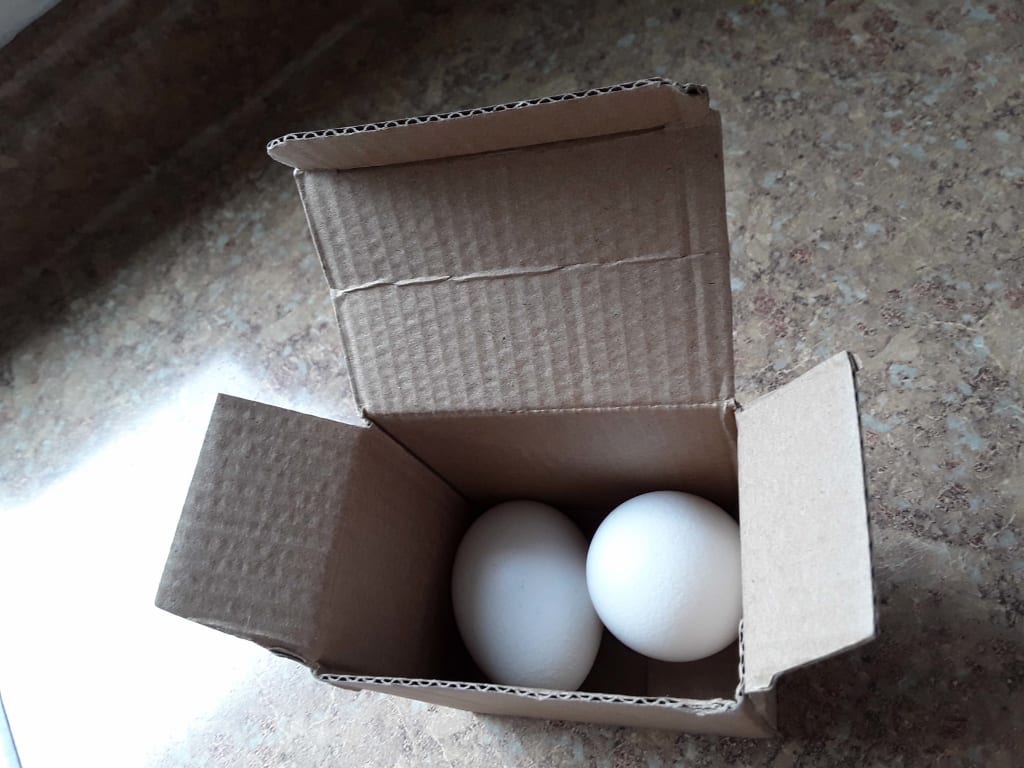 Out of the Box
It should have been a somber moment. Professor Melgowkz was much beloved by his anthropology students and had really added to the prestige of the university where he taught. Most of his peer reviewed papers had been published because he had such a wide range of studies. American Anthropology, Sapiens, The Journal of Physiological Anthropology, Prospectives in Anthropology were just some of the publications that published his papers. Much admired, much appreciated and loved by all but his family. His passing should have made all concerned saying 'he'll be missed or such a loss to our college or who will fill ever his shoes".
This was not the case. It was more like a celebration. Of the six personalities sitting in the waiting room of the prestigious James T. Dagott, Attorney at Law & Associates there was only one that sat silent looking at the plush carpeted floor, a former grad student. The two x-wives were bickering over who would finally get the house on Lake Wallenpack. The daughter kept trying to make small talk with the silent young man.The president of of the University was trying to belittle the cab driver who just sneered back and said ' what its to ya'. Mr. J.T. Dagott kept watching the clock and clearing his throat.
It had been exactly a year to the minute of Professor's Melgowkz death. The clock struck twelve minutes past noon and suddenly the room was quiet. Clearing his throat one more time Lawyer Dagott began.
"In compliance with the dear departed wishes," Lawyer Dagott cleared his throat again, "Micalan P. Miller is to receive $200,000 on the agreement 'to dispose of my remains as instructed and to never speak to any of my family at any time'." With that said Dagott waddled over to Mr. Miller and handed him a cashiers check for that amount. There were puzzled looks on the faces of the remaining four recipients as they watched him leave. It wan't the dollar amount, as the professor has been born into money, the the disposal of remains that sounded ominous.
"Mr. Tippton, as your university representative I will need you to stay on to sign some papers as Professor Melgowkz has willed all his library, including his private collection at his home, along with all rights to publications, to the university."
A gratifying look settled in on Tippton's face. He had hope for a substantial amount of funds but still there was money to be made off of Melgowkz work.
Next the plump, double chinned face turned to Matilda. Lifting the will up Dagott read in a hushed almost embarrassed voice, "My dear daughter is to have a trust of $1,000,000 with funds to be paid out annually. The amount of payout is to match, dollar for dollar, the amount she has earned from being gainfully employed for that year. This my dear is to show you the value of honest work as I do not want you to become a leach like your mother."
A big "humph" sound filled the room and x #1 got a pouty look. Dagott put the papers down and reached under the desk. He retrieved 2 boxes wrapped in brown paper.
"The professor said that all you ever wanted will be in the box." The boxes were labeled x 1 and x 2. The ladies were so excited they didn't wait to open the boxes with any respect or dignity. Ripping them open they were caught speechless.
Not knowing quit how to react, Dagott quickly turn to the cab driver. "He said you were understanding, inspiring, and a good friend. Here is the deed to the house on Lake Wallenpack and there is a banks account for $100,000 in your name. He hoped you would sell the house, but you can do what ever you want with it.
X-wife 1 sat in her chair, tears rolling down her face. She was shaking and then started to wail. She reach in and pulled out a brown dried clutched hand. Hundred dollar bills sticking out between the fingers.
The box marked X2 flew onto the floor. The professor's head rolled out, mummified, with a piece of paper sticking out of it mouth. Dagott quickly motioned Mr. Tippon into his inner office and closed the door, but the sound of vomiting and crying still could be heard.